With extreme weather events and climate-related catastrophes becoming ever more prevalent in Australia, the issue of building homes that are resilient to bushfire, floods, cyclones and more couldn't be more topical. The Fortis house project is a timely response.
As CEO and founder of the Bushfire Building Council of Australia (BBCA) Kate Cotter has spent over a decade in the bushfire resilience advocacy space and says the scale and regularity of Australia's natural disasters resulting in home loss has become so pronounced it's now nigh on impossible to help people individually.
"After the 2019/20 Black Summer bushfires there were just so many people impacted, we really couldn't resource helping everyone, due to the scale of the problem," she says.
She has also had the personal experience of trying to build a house in a bushfire prone area, which took six years to complete. The scanty advice available for people either in this position or trying to rebuild post-disaster led to the idea of bringing together a wide range of experts to "try and articulate clearly some good pathways for rebuilding," she says.
The BBCA already had fire engineers and structural engineers in its group, but added to these were independent storm, flood and cyclone resilience experts and a Queensland-based architecture practice with particular skills in this area, JDA and Co. Shoalhaven City Council also came on board, with members of its community, who had been particularly impacted by such disasters, being consulted to inform the development of the design. The result of the research is a series of plans, drawings, specifications and handbooks aimed at revealing best practice pathways to building in vulnerable areas – the Fortis house project.
"The first point of contact for us was working with recovering communities and saying, 'What do you want, what do you want it to look like and how do you want to live?' – getting them to create the design brief and then providing the technical response that builders, designers, architects and the trades can then take and apply to their own work," explains Cotter.
Insurance
Compounding the urgency of the BBCA's endeavour, in early May 2022, the Climate Council issued its 'Uninsurable Nation: Australia's most climate-vulnerable places' report, predicting that one in 25 properties in Australia will be classified as 'high risk', and effectively uninsurable by 2025.
Using Fortis house designs will assist homeowners facing such a challenge, because the resulting builds will exceed minimum standards of design performance. "What we wanted people to be able to do is say, 'I've gone above and beyond' and that's the key piece missing for insurers," says Cotter.
In partnership with NRMA insurance (which has funded the initiative), the BBCA has released a raft of resources to make it both easier and more affordable for Australians to build or rebuild, creating sustainable homes that are resilient to bushfires, floods, storm, heatwaves and cyclones.
Existing properties can benefit too. "James Davidson Architects has been working on a retrofit program with the Queensland Government," explains Cotter, "so we're applying a lot of those learnings to the new builds as well."
Most importantly, all of these resources are free of charge. "The idea is to filter the information to the industry," says Cotter. The available resources make it possible to either build a Fortis house outright, or use the information in the handbooks to adapt Fortis house principles to any house design, site or local set of circumstances/risks.
The BBCA stresses that the solution isn't a silver bullet and that evacuation is still the first and best response to bushfire, flood or cyclone emergencies. But houses built following the Fortis principles are designed to be self-defending, to increase the chances that people will have a home to come back to once the danger has passed.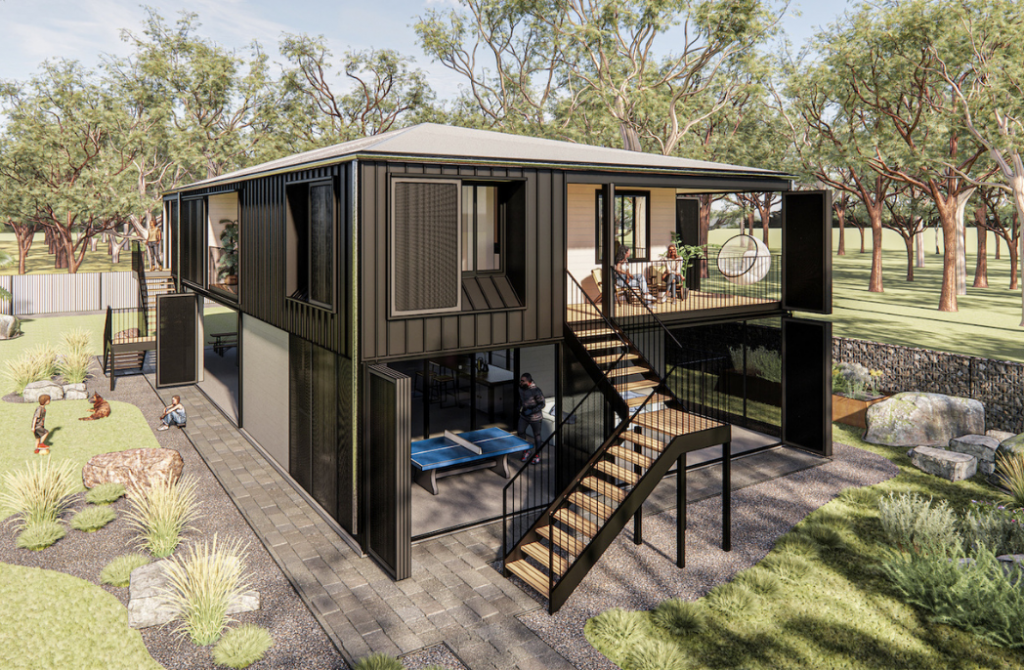 Variations
Different extreme weather and natural disaster events require different responses, of course, so the standard Fortis house has a level of resilience to all of these possible threats, but then there are adaptations laid out for specific situations. "What we've done is explained what you would change if you were in a particularly high-risk area for one hazard," says Cotter. "For example, we change the wall systems for floods and we've an external shell that gets an upgrade for cyclones."
While discussion is ongoing about the very idea of building or rebuilding in the most vulnerable environments, Cotter says the Fortis message is "when you can't avoid building in a high-risk area, or there's no buyback program, here's an approach".
"Obviously there are a lot of other mechanisms about how to reduce that vulnerability," she says, "including relocation or landscape diversion pathways for flooding."
Help now where it's needed
Although the initiative was only announced in early May, Cotter says the BBCA already has a list of people who are looking to build as soon as possible. "There are some people that have not had a house for about three or four years after floods or bushfires, so we try to get things moving really quickly for them," she says. "They're all over. We have people in northern New South Wales and Victoria, who lost their homes in the bushfires, and then there have been very recent enquiries from people in northern NSW and Queensland [impacted by] the floods. Sadly, there's a need there. People are just really stuck without accommodation at the moment."
But it's not just the people in areas currently deemed high risk who should consider the Fortis principles, warns Cotter. "There's also a general increase in severity and reach of disasters. You may not have the risk mapping telling you 'today, this is a high-risk area', but we're trying to build general resilience into all the building stock, because even if it's deemed a low-risk area now, it probably won't stay that way."
Features
As well as being 100 percent electric, with self-sufficient water and solar power, designed for energy efficiency and potentially prefabricated for the reduction of building waste, the Fortis house uses recyclable materials. Other resilient-focused design features include:
screens and set-back glazing
insulated steel frame, roof and structure
double-glazed toughened glass
steel mesh gutter guards and half-round steel gutters
non-combustible decks, wall system and landscaping
screened sub-floor and suspended slab
steel, anchored water tanks
all-electric house with solar
separate resilient shed
underground cables/pipes
concealed roof ventilation
minimal building penetrations, and
aerodynamic roof shape.
To find out more or access the free Fortis house designs and handbooks, visit www.fortishouse.org.
This is an extract of an article that will appear in the next issue of Architectural Review, AR171.