Creating a warm and convivial atmosphere in a space designed for the production of gourmet sausages presented an interesting challenge for Sydney architect Adele McNab.
The fitout of an existing warehouse space required the creation of additional production and storage space as well as a new product showroom and kitchen.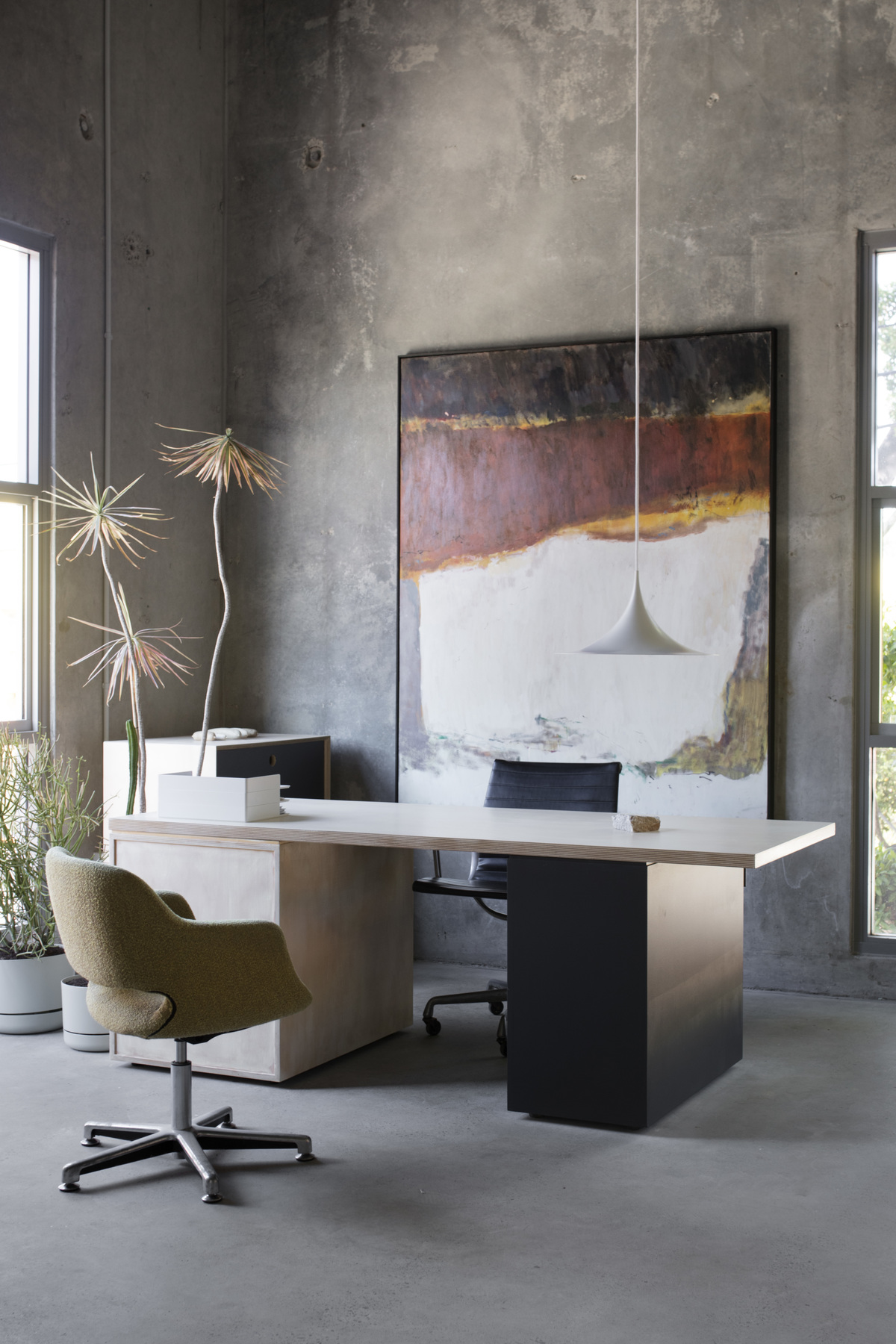 "The kitchen is at the heart of the warehouse space with its open, warm and comfortable design," says McNab. "The concept is designed for people to gather, converse, cook and inspire conversation about sausage making. With capacity for cooking classes, a specially designed sausage making room, and interactive product display, the space makes butchery fun and accessible to all."
Increasing the internal space was important in creating an enjoyable and inspiring environment. The upstairs area was doubled through the creation of a new mezzanine. A new double height ceiling was integrated with pendant lighting to create both a lofty and intimate experience. The ceiling is in a tonal green to complement this.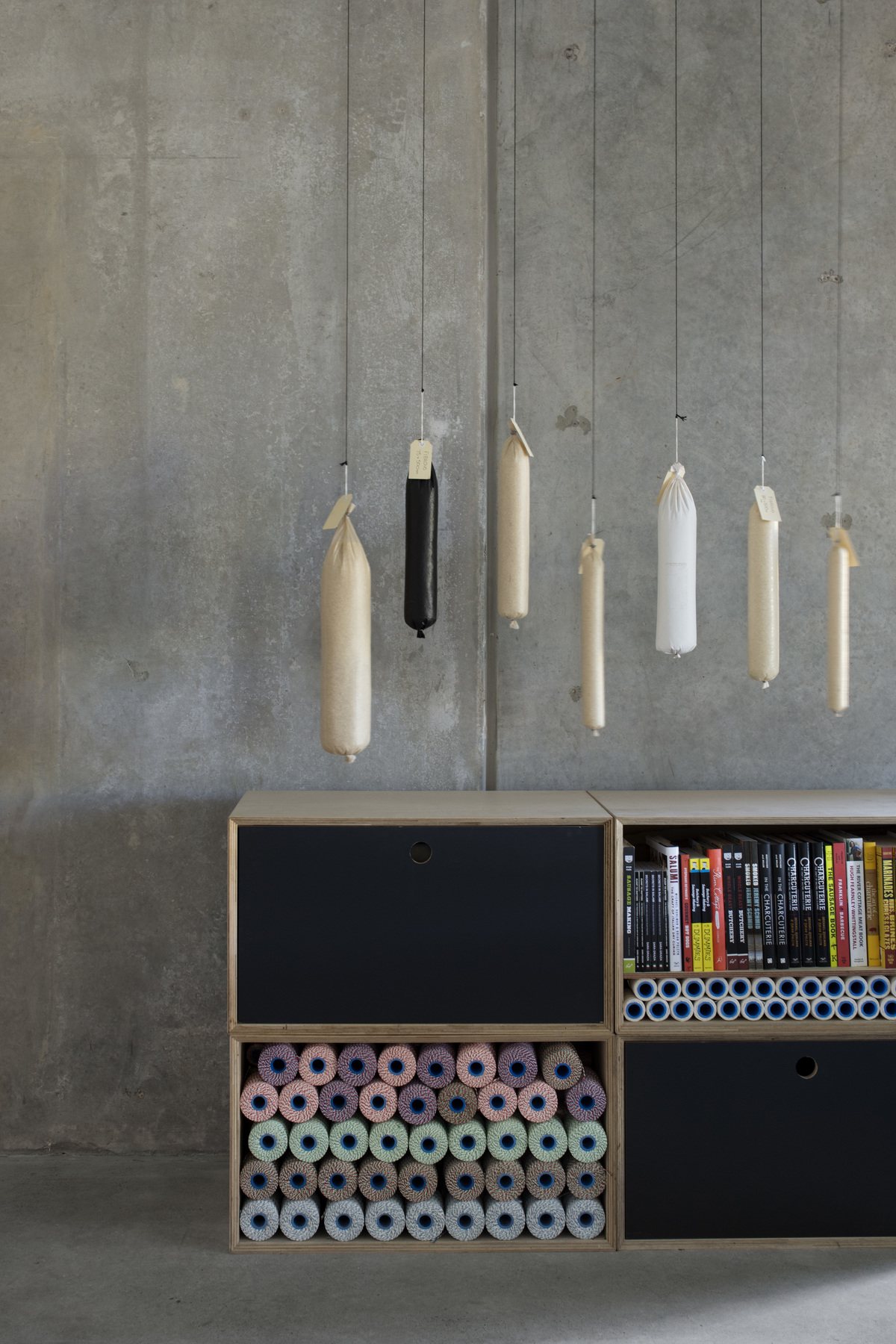 The material palette consists mostly of concrete, stainless steel and plywood to create a no-frills and fresh look consistent with the business' focus on transparency and innovation, says McNab.
Translucent polycarbonate walls and lightwells spread natural light throughout the whole warehouse. Round portal windows also provide light and visual relief from the confines of the refrigerated area. These features limit the need for artificial lighting and make the space more enjoyable to work in.
Exposed raw concrete replaces the old plaster board walls and an open balustrade allows visibility and flow into the downstairs production area.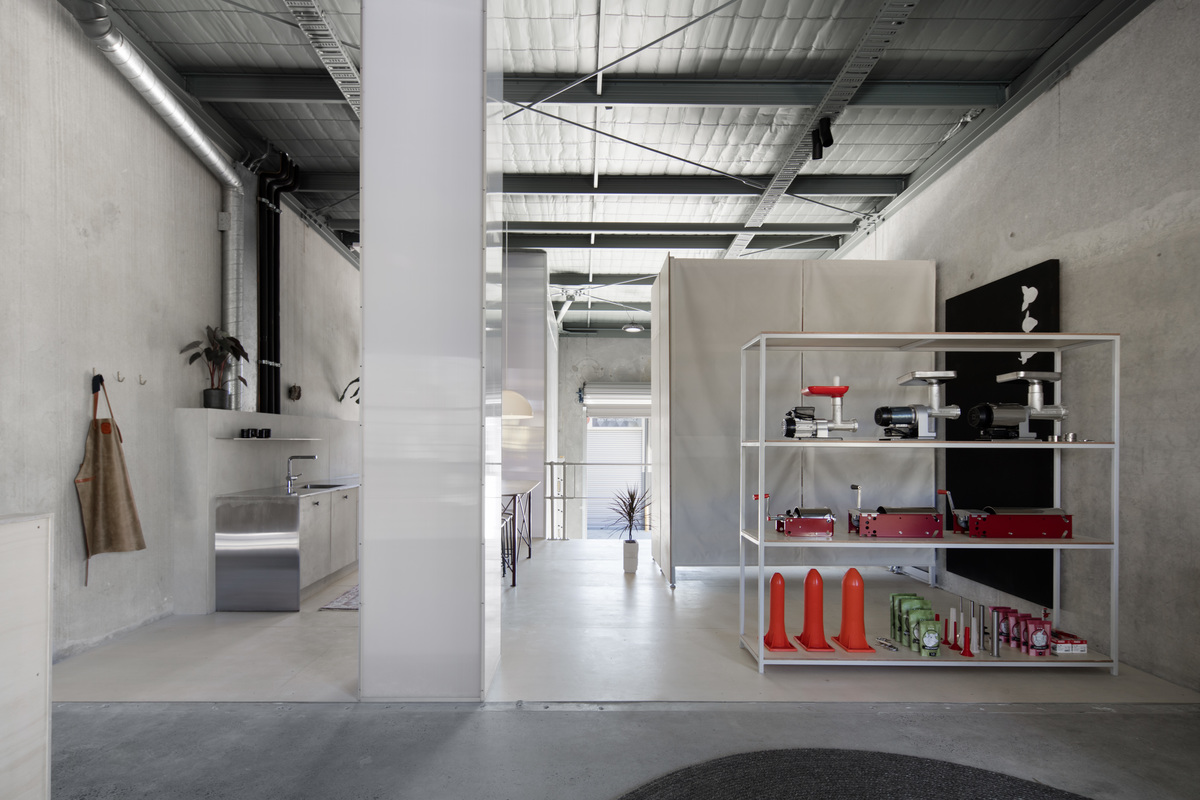 McNab says sustainability was a key concern in her design and adaptive reuse of materials was thoughtfully considered. For example, new cupboard fronts were added to the existing kitchen joinery internals. Existing furniture was restored or materials reused for new furniture pieces.
Stripping back the existing plasterboard walls to expose the structural concrete walls beneath reduced the need for new material and expresses the simple and functional finish pallet of the project.
This project implements new styles, for example, fibre cement panels are used for the kitchen joinery and polycarbonate panels for internal wall panelling. These atypical approaches to the material enhance the industrial nature of the project and make for a more memorable customer experience.
Fixed windows can now be opened for cross ventilation and connection with the outdoors. This connection is strengthened through the placement of potted plants.
The passive cooling and lighting reduce power usage. These features have added benefit for the business through increased worker satisfaction.
Images by Ben Hosking
Architect: Adele McNab