Often the most effective working partnerships spring from stimulating collaborations, as is the case for Melbourne-based architectural practice, Studio Osk. Longtime friends Ben Waters, Will Loft and Tom Pendergast collaborated in 2012 for their first art exhibition, which proved such a successful and fulfilling creative experience the trio formed their practice in the same year.
Entitled Fundamental Landscapes, the immersive project of photographic works and living green installations converted Fitzroy's Dear Patti Smith Gallery into a restrained, minimalist jungle, contrasting the organic with the geometric, exploring and altering perceptions of space and nature.
As Waters recalls, their first project "initiated our interest in the interactions between art and architecture… setting the trajectory for our practice".
Studio Osk celebrates the varied contributions of each of its three principals, Waters and Loft, both architects, and Pendergast, a fi ne arts practitioner. In pursuing their individual interests, the practice can involve itself in a range of projects, blurring the boundaries of formal discipline. "We share an interest in space, critical and conceptual art practice, and testing and experimenting through building and making," Waters says.
Indicative of their cross-disciplinary outlook is an eclectic inspiration for their work. "At the moment you can fi nd books on our desks on abstract and conceptual art in the 1960s, drawings by Bernard Tschumi, photographs by Jeff Wall, writings by Sol LeWitt and lots of empty coff ee cups!" says Waters. Supported by graduate architect, Pricilla Heung, the practice works out of the Schoolhouse Studios in Collingwood, an alternative off ice hub housing filmmakers, game designers and choreographers alongside other practices, including Sullivan and Charles.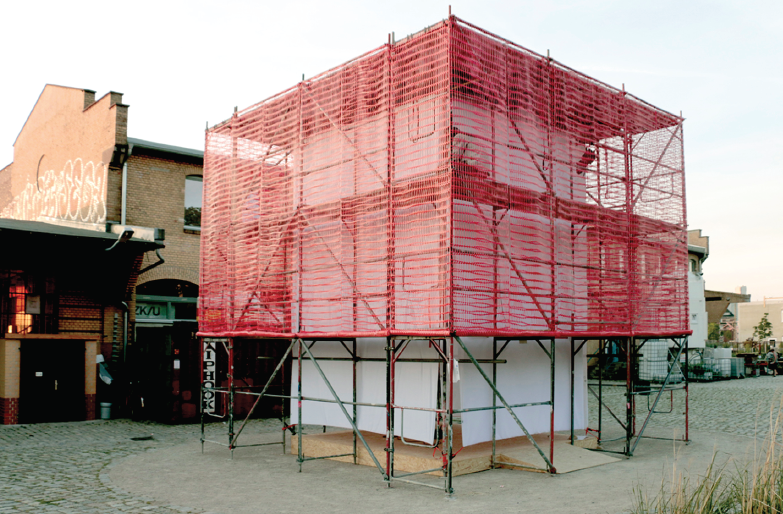 Since Fundamental Landscapes, Studio Osk has continued to operate at the intersection of art, architecture and urbanism. In 2014 the practice was awarded a four-month residency at Berlin's Centre for Art and Urbanistics (Z-KU), resulting in the construction of a temporary pavilion.
The cubic space, a box of white sheets within, appeared on the outside as a work-in-progress, covered in highly visible scaffolding – alluding perhaps to its transient presence and ongoing artworks. Stadtumbau – A Space for Art and Architectural Experiments gave Studio Osk the opportunity to engage with notions of culture in an urban context and experiment with the built fabric of Berlin. The team assembled the sizeable pavilion at a public park in the developing inner-city precinct of Moabit, to host a series of installations, film screenings and performances. Curated by Studio Osk, these works explored concepts of shared public identity and a sense of place. One sonic installation by Luca Forcucci transported recorded soundscapes from São Paulo, Brazil, mixing these with the ambient noise of urban Berlin. Jesper Aabille of Denmark, a cross-media artist involved with food and social experiments, hosted a communal cooking session, drawing in crowds with specially built pizza ovens.
"There are certain conditions that are very particular to Berlin that could not exist anywhere else in the world. Public space is used and protected with an almost militant energy and within this space art and architecture play a very active and political role," Waters explains, adding, "Australian cities would do well to learn some lessons from Berlin's public spaces."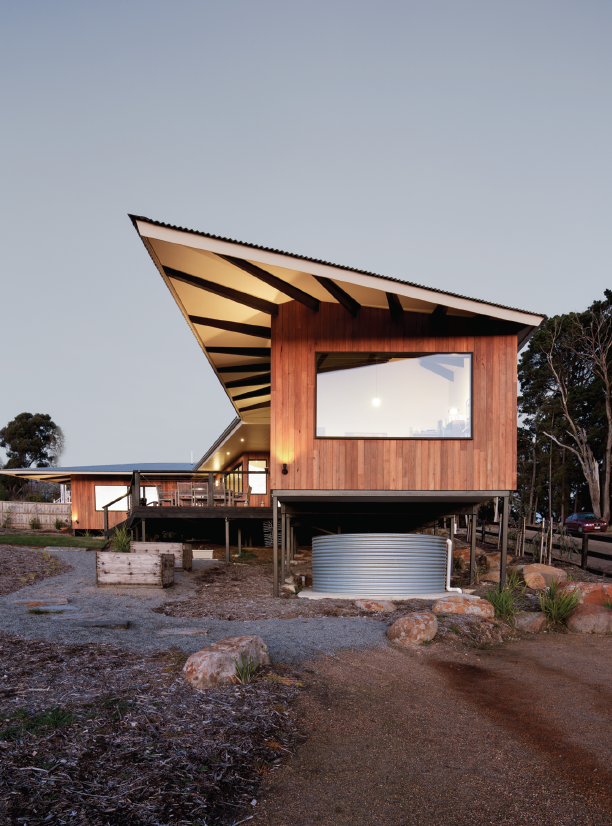 Last year was a pivotal one for the young practice. Following its success in Berlin, Studio Osk returned to complete its first house in late 2014. The construction of the contemporary home in the rural Victorian town of Woodend signified a coming of age for Studio Osk, taking it from the nebulous realm of conceptual interventions to the realities of bricks and mortar. Or in Waters' words: "It was about time we got on with it and built a building."
Woodend House, with its corrugated steel roof and timber cladding, is firmly rooted in the materiality of the Australian bush. Its boxed mass sits lightly on impossibly thin stilts, providing storage space for a water tank and allowing the natural fall of the land to continue beneath the house. Large windows maintain the dialogue between the building and its surrounds, open to the northern sun. While its chunky form makes a bold statement at the top of the sloped site, upon closer inspection, the house is strewn with unpredictable fi ner details. The roof, itself a dynamic feature, is accentuated by beams that penetrate from under wide eaves at the exterior to converge at a central point within, creating a radial eff ect on interior ceilings. Triangular sconce lights echo the angular geometry of the building, a small but satisfyingly unconventional feature adding to the overall character of the house. "We learned more through this project than we have in any other," Waters says.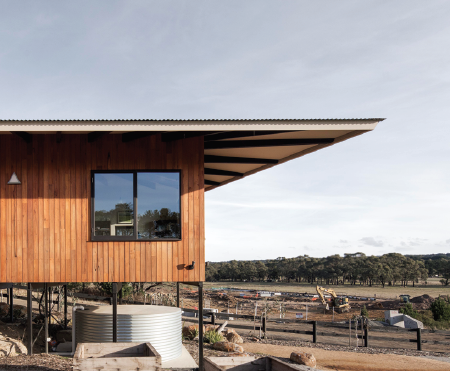 Studio Osk avoids tokenistic motifs within its work, cultivating unique architectural approaches over an identifiable aesthetic. "More and more architecture is being reduced to very superfi cial imagery – one line stylistic outcomes that are easy to digest for the public," Waters says. "We do our best to reject that type of architecture and instead focus on process."
Cultivating the art of focus will be the challenge for Studio Osk in the coming months. The practice is currently on the verge of completing its second residential project: a compact home for three generations of one family on a restrictive inner urban site. Another dwelling in country Victoria is being drawn up, as well as plans for the studio's second temporary pavilion, this time for an art and music festival on the outskirts of Melbourne. For the festival project, Studio Osk looks forward to the opportunity to "continue testing and experimenting with collaboration", an approach that seems common to each entry in its burgeoning but diverse folio.