Location: Melbourne, Australia
Architect: Woods Bagot
Review: Graham Crist
Photography: Peter Bennetts
Woods Bagot's Burwood Highway Frontage building is a fine example of well-crafted and thoughtful architecture, with clearly articulated and well-lit interior volumes in contrast to a monumental solidity, strongly marking its presence on the Burwood campus of Deakin University. It succeeds on its own terms.
The building, however, contends with two design problems. First is the question of contemporary learning spaces and their place in a contemporary institution; and second, a viable or believable approach to the dispersed metropolitan/highway suburb. Each is a problem of differentiation and distinction. How is a university different from an office workplace or a retail space? How can the vague terrain of metropolitan Burwood – in Melbourne's sprawling east – be distinguished from the inner-city?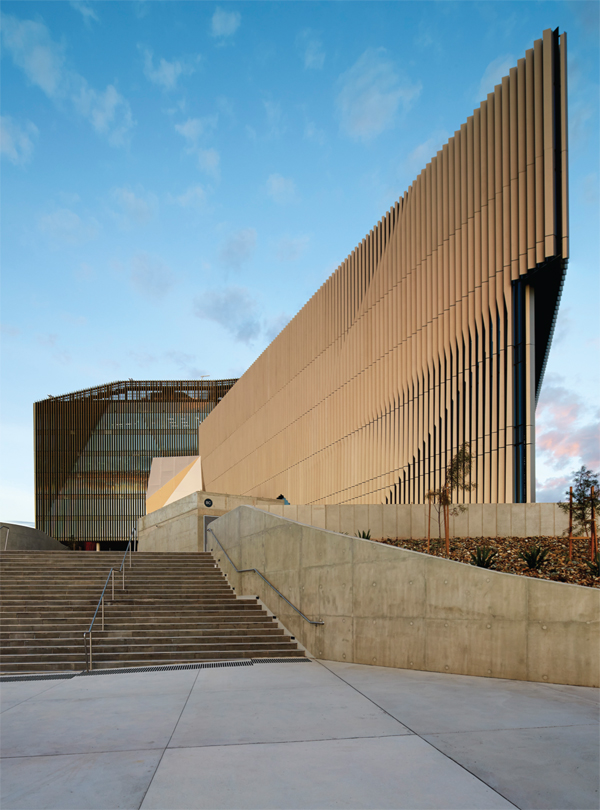 The entry level of the building is above a car park podium and is populated by a merchandise store, a commercial cafe and flexible, drop-in workspaces. It is unambiguously a workplace in the same way that the term merges office, commercial and retail spaces, while the contemporary corporate environment in turn models itself on an education campus. Near the lifts, students and staff interact casually as a small group gathered around a hot desk/cafe bar area; adjacent to which is an information kiosk. They all seamlessly flow between one another. At upper levels, niches of breakout space next to the lift lobby are set in shafts of light cut down through the building. Such spaces are equally familiar to large office environments and to tertiary institutions. The familiarity represents a convergence of these institutional models and keeps open the question of how one is distinguished from the other.
If the difference between an office, university, law court or food court is of less relevance, its location on a substantial infrastructural highway may be the trigger for testing difference. This highway frontage building is in a middle- outer suburb, remote from the civic urban centre and a part of the large field of low-density sprawl. Could (or should) the architecture of the dispersed road be of a different order from, for example, Melbourne's Docklands precinct? The sprawling metropolis is a difficult terrain, at times desperately undifferentiated and often difficult to understand. In this context, by far the biggest audience for the architectural object is speeding past it. It is curious then that the most heroic image of the building is the rear facade, facing away from the highway. This is the projecting wing, hovering over an open space on pilotis and pointing back toward the centre of the campus.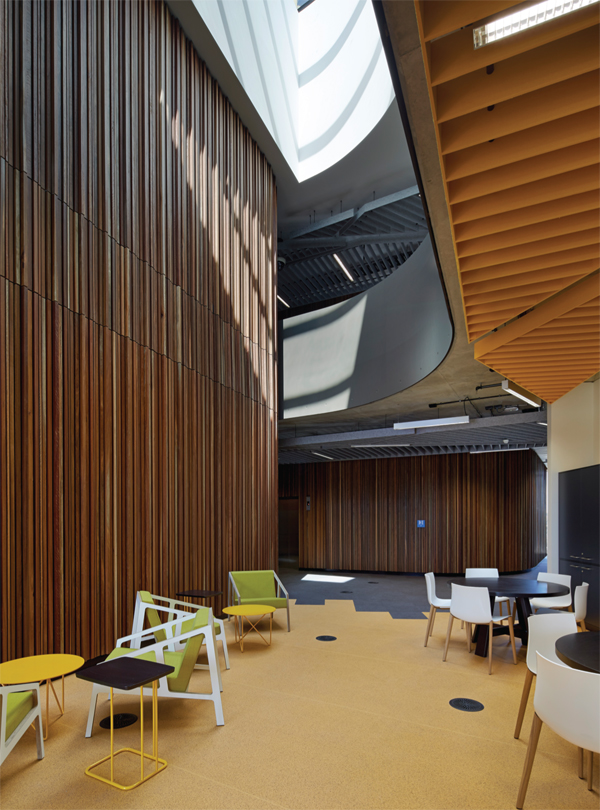 The highway itself is not simply a strip for cars, with a tram stop in its centre, the stop connected to Deakin via an underpass, which pops up on the podium over car park levels. The sculptural ramps, which descend to the campus ground, make the best of this circuitous route across its base. The Burwood Highway Frontage building reconnects directly with the road and its ground by descending internally from the entry podium level to a small flat floor auditorium, fully glazed as it faces the buildings. The equivalent of this solidity internally is the rusticated wooden battening lining the lift core at each level. Squint, and these light, linear elements of aluminium and timber form a massiveness, which might start to set the building's distinguished identity.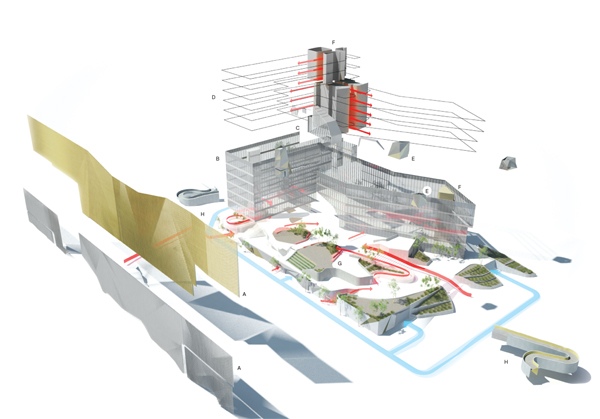 Thinking of a university building through differentiation of its type or of its urban location might seem nostalgic for a period when universities were 'other worldly' and architectural Modernism thought it could be an expression of that through experimentation. Such big ideas are worth struggling with. Embodying that struggle for transformation and differentiation in buildings makes a salient point about the acquisition of knowledge. Differentiation from the real world could seem an outdated understanding of a university, or it could be the marketing of a point of difference. In an urban environment where learning, offices and food courts programmatically and aesthetically merge and hybridise, we can be positive about that merger and still confront the question of differentiating the spectrum of urban experiences and institutional types.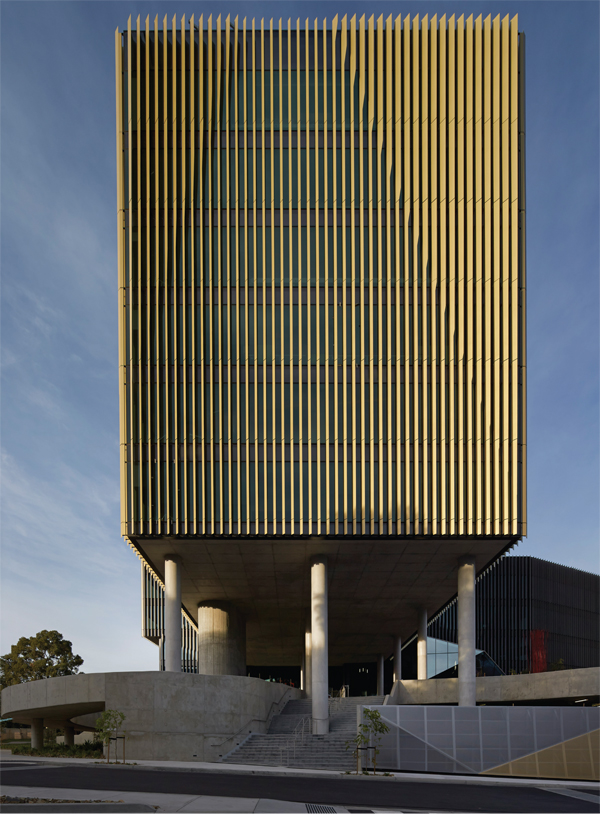 Project Credits:
PRINCIPAL AND PROJECT MANAGEMENT: Sarah Ball
DESIGN LEADER: Bruno Mendes
TECHNICAL LEADER: Karl Engstrom
PROJECT TEAM: Mark Kelly, David Ley, Melissa Blandford, Rob Donegan, Richard Galloway, Henry Ly, Emma-Louise Matthews, Ian McDonald, Matthew Si
LANDSCAPE ARCHITECT: Rush Wright Associates
SERVICE ENGINEER: Umow Lai Pty Ltd
STRUCTURAL AND CIVIL ENGINEER: John Mullen & Partners
BUILDING SURVEYOR: PLP Consultants
QUANTITY SURVEYOR: Wilde & Woollard.
Article by Graham Crist, as featured in  Architectural Review Asia Pacific.