Some would find working alongside their partner a sure path to divorce, but Rosa Coy and George Yiontis says the only drawbacks are talking about work too much at home and organising family holidays…
There are many different business models for an architecture practice, but one of the most fraught, surely, would be one run by life partners? Isn't it hard enough to deal with the stress of operating a business without taking onboard any emotional baggage that comes when personal relationships are added to the mix?
Not so, say Rosa Coy and George Yiontis, who have run their titular Melbourne-based practice together since 1996. The duo established the studio after finding success in their respective individual careers overseas. "We were both working for interesting practices," recalls Yiontis. "And it came to the point where we had to make the decision about digging in there for the long-term.
"Rosa was with Renzo Piano and I was with a young company called Brunet Saunier Architects, which is now a very large company. Because of the cycle of the projects, I'd just finished three years working at a big music conservatory, and thinking, do I launch into the next cycle? Which commits me to maybe another five years of living there, or do I start thinking about the future?"
The couple's children were another consideration. "We decided, both the practice and the children would be a lot easier to establish back here, in terms of contacts and familiarity with the local scene," adds Yiontis. "We fell into it a little bit naturally…" "And a little bit naively, it needs to be said," adds Coy.
Naively? "We knew we both were inspired and excited by the same type of architecture, so it wasn't too much of a gamble, but we had never worked together. In that sense, it was a little naïve that we just should quit work, get on a plane and come back to Australia. We both gave up very good jobs, and then we launched ourselves here. And it was a shock coming back here from big practices and starting out. It's been a long process, obviously. We didn't strategically think; it just felt like the right thing to do," she says.
Importantly, that naivety had nothing to do with the practicalities of running a business. "We had a lot of good grounding – project systems, the way a practice and a project runs," says Yiontis. "We were confident there," agrees Coy. "It was more about how it might affect our relationship. So, in one sense, we're very lucky that it's grown with us and it's brought us closer in a lot of ways."
When it comes to the administration of the practice, they share the load, but play to their individual strengths. "Rosa is more financials, the accountant end of the business and I tend to be more systems, processes and IT," says Yiontis. "I'm the guy who fixes the printer."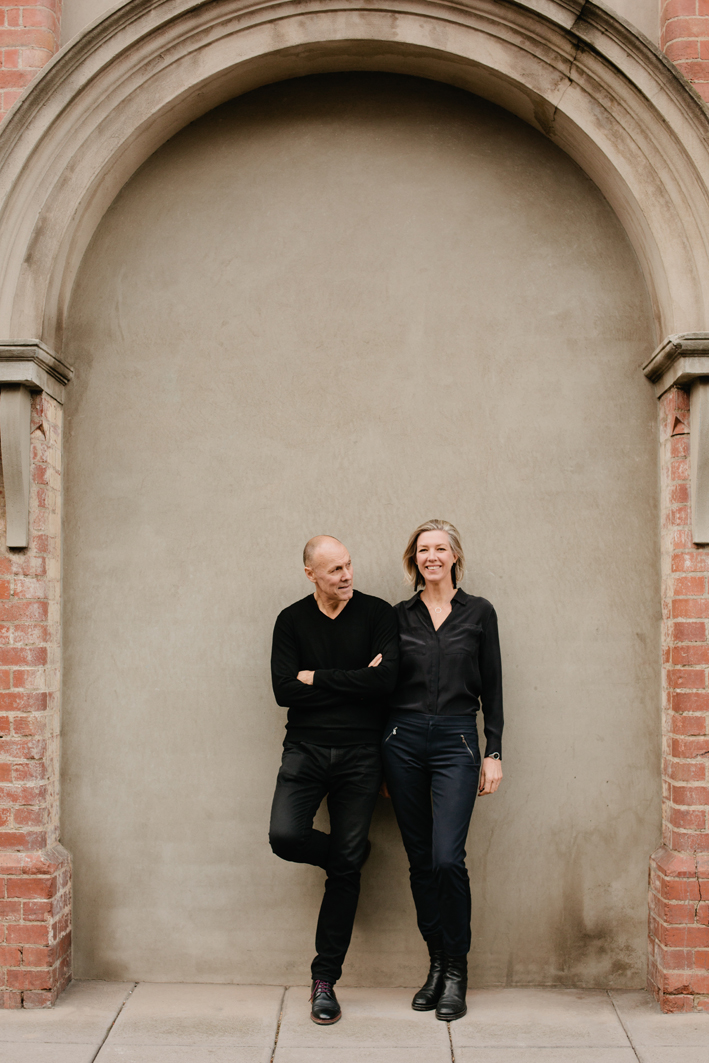 "We're lucky we have complementary strengths," says Coy. Currently, the practice has four full-time staff, three part-timers looking after admin and a bookkeeper. There is also a communications intern and an architecture student who comes in one day a week. "That's part of the training, the responsibility we think we owe to mentor young architects," says Yiontis.
In particular, Coy is conscious of attitudes to gender in the industry. "I feel quite strongly about being a role model to the younger female architects, as well, out on the site and in the office," she says. The couple say that staffing is very much merit-based, but at the moment they have a female heavy presence in the office. "That's just because, when that position was available, the best candidate was a woman. That's how it worked," says Yiontis.
They both believe that building sites have certainly evolved from the sexist bastions of old , but there is still a lot of unconscious bias from clients. "I don't think it's changed at all, to be honest," says Yiontis.
"We typically meet the clients together," says Coy. "That's a very telling moment, that first interview. We are actually interviewing the client, more than they are interviewing us, most of the time. It's at that point that we decide which one of us is going to be the project architect on the job, whether they're better suited to having a female. Sometimes the wife insists that only a woman can design a kitchen. Which is totally wrong."
"I do great kitchens!" says Yiontis.
"These preconceived notions… it's all about just making the client feel comfortable though," says Coy.
In a practice of this size, getting staffing levels right is an ongoing challenge and something they're very careful about. "We try to to forecast the jobs we do," explains Yiontis. "We've got some software now, so we try to use that to figure out when things are going to happen. The problem is most of our work is residential, and it's work for individuals, so that can be quite temperamental.
"What we've come to is that we have our core group and we try to develop all facets of the business. So, they're all involved in design and documentation and contract administration."
"We do take on young people with the intent of keeping them," adds Coy." That's the ideal. We don't just take people on to drop them when workloads change."
The pair clearly have good instincts when it comes to hiring and firing as, over the 22 years in business, they have only experienced a couple of staff members leaving because the fit wasn't right.
One of the greatest advantages of running a practice with your spouse is that you can combine commitments. The couple say that their business plan has been strategic from the start, with regular directors' summits, where they spend a couple of days away from everything, sitting at a table and working. "So we'd go with an agenda, and we'd minute it," says Yiontis. "And then we'd take that away the next year, hoping we'd go, 'These were the objectives we set back then, have we met them?"
The bonus of course is that this summit also acts as a break from their children. They have four, aged 21, 19, 14 and 11. "Everyone laughs when we say directors' summit, but we'd actually go away to a nice place and have nice food," says Yiontis.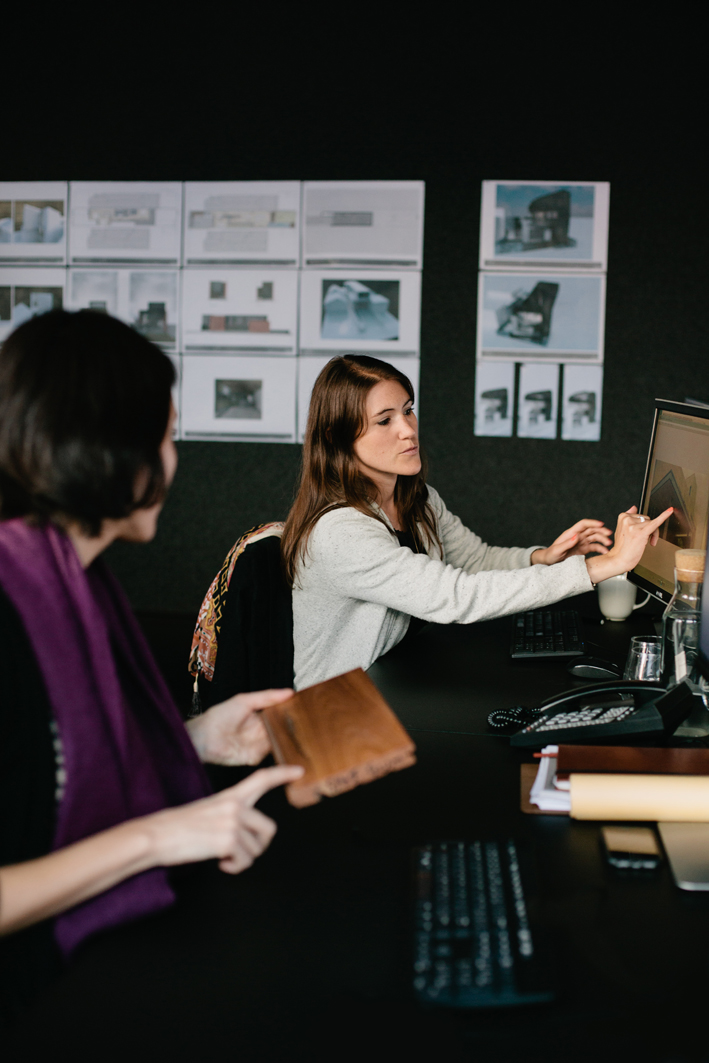 "It has to be said it wasn't just for business," continues Coy. "It was family planning as well. The business is really an extension of the relationship, and the family and the whole gamut. We were planning the impact of when a child arrived, and all of this came into the annual planning. We were quite meticulous with all of that."
This even included creating an office manual based on their combined experiences. They created templates and processes so that anyone new joining the practice wouldn't have to constantly reinvent the wheel.
"I still have it," says Coy. "And a lot of hours went into it. There were templates for everything – how you write a letter to a consultant, how you respond to a tender price that's come in. All of that. There were very strong office standards that were set up from the start."
One thing that is hard to plan for is the vagaries of the global economy. Being such a boutique sized firm, the practice was hit hard by the global financial crisis (GFC). "We contracted from about 10 or 11 people down to no one, in fact," recalls Yiontis. "There was a period in 2010 where we just packed the office into a garage storage unit. We had some work that was ongoing – town planning applications. From experience, we knew that would take six months to come out at the other end. So we boxed the whole thing up, took the whole family and lived in Italy for four months."
Becoming re-established after this period was a natural evolution, they say, helped by a couple of repeat clients and industry recognition.
"There was an award that relaunched us, effectively," says Coy. "We were the winner in 2015 [of the Australian Institute of Architects – Victoria Residential Alterations and Additions award] for our own house, House 3. That generated a lot of media…" says Coy.
"There has been more of a focus on recognising that PR has helped relaunch us as well. Certainly in the earlier years we weren't very good at putting our projects in for awards."
Yiontis is particularly self-critical, they say. "He wouldn't let us put anything in unless it was perfect," says Coy.
"But I've learned my lesson!" stresses Yiontis.
This GFC experience reaffirmed their commitment to keep the practice small, agile and manageable. Around three years ago, they felt ready to expand again. But only slightly.
"The intention is that we don't get too big. During that small stage, when we had some bigger projects come in, what worked really well was joint ventures with bigger architects and we're clued into that process now," says Yiontis.
The advantage of staying small is that all staff are involved, share in the responsibility and there is totally transparency in the workplace. "They can see the impact, if they spend too much time on a job, that the office actually makes no money," says Coy. "They can understand that the hours that they put in have to be constructive, and we don't waste time on things. But I hope they would say that they felt involved in the entire process."
When it comes to the split between design and administration, the couple say it's not a nine-to-six distribution. "It's one day in 10 sitting at the table designing," says Coy. "And the rest is juggling admin, PR, finance, project management on-site. It's probably about 25 percent design, 75 percent admin."
Yiontis says he actually likes the strategic business side but would "rather be doing a little bit more design". And Coy concurs.
They haven't begun outsourcing documentation, but say that's a possibility in future. They use professional render artists for commercial developers, but for clients they do everything in-house and have recently moved to Revit 3D software. Having younger team members is a definite plus in this regard. "It's something they bring to the practice, their skills with all of that," says Coy. "They advise and help us decide which are the right ones to go towards."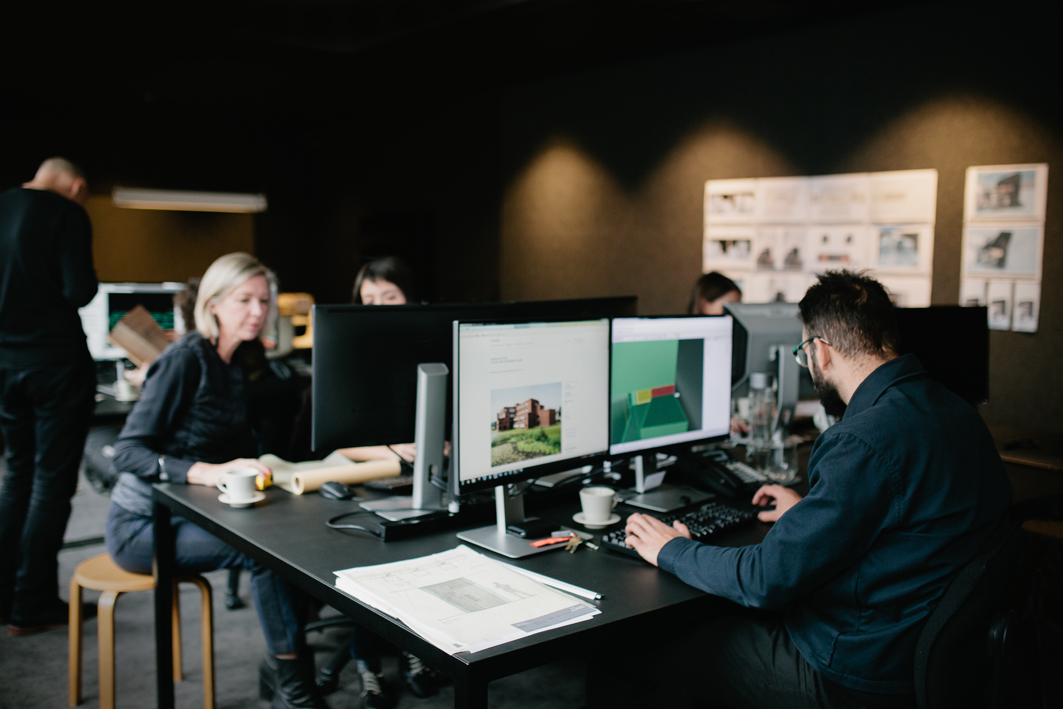 Advice is two-way, however. One of the things they're keen to impress on their colleagues is the importance of employee well-being. "When we came back and set up our practice here, we felt very strongly, particularly because we were juggling kids as well, that we needed to enforce a real work/life balance. So the staff leave the office at six and we get in at nine, typically. That's the standard work hours. And we don't work on the weekends. We try to encourage that the staff have a life outside of the office," says Coy
Their life outside the office is unsurprisingly busy – with a family of six it goes with the territory. But it works because the support is there. "When the children were younger, I used to, and I still do to an extent, try and leave about four o'clock. And do my other job, when I get back to the house. And George is just as involved in the household. The whole package is really a team effort. That's how we make it work," says Coy.
A team effort? Will the practice become a family dynasty at some point? "I think we have bored them silly with talk of architecture; it's very much just a part of their lives," says Coy. "They're all creative children. They're all studying design subjects at university, and they certainly gravitate towards creativity at school."
"One's showing a little bit of interest in interior design, or even industrial design," adds Yiontis. "We definitely don't have a banker or an accountant in the family."
Photography by Elleni Toumpas
This article originally appeared in AR156 – available online and digitally through Zinio.