Articolo is an Australian lighting design studio that is making its mark on the world of fine product design. With Nicci Green at the helm, the pendant lights, lamps and wall sconces she creates can be found, specified and bought across Europe, the UK and the US. From humble beginnings, it's clear to see that success is here to stay.
For those who are certain of their chosen career, the road is often a straight line of achievement with no deviation; for others, it can take time to find that perfect profession with an occasional detour and a stumble or two along the way before arriving at the ultimate destination.
For Nicci Green it seems that all the threads of her past lives have been woven together and, through a diverting route, have led to her greatest success to date, the lighting design and manufacturing company, Articolo. Green's journey, along with that of business partner Vic Kavals, has been one of continual learning and adaptation, where a variety of professions and a little adversity have been catalysts for something exceptional that has taken the world of lighting design by storm.
The story began far away from the glare of pendant lights and table lamps as originally Green studied to be a chef and (as you do) subsequently moved to Paris. A chef's life is challenging, hard work with long hours and, although successful, Green decided to adjust her cheffing role to become a food stylist for French magazine Votre Beauté.
Returning to Australia she again realigned her career and became Melbourne editor of Vogue Entertaining + Travel; however, the opportunity to work at Country Road as a homewares/hard goods buyer propelled her into the retail sector.
After some years and feeling the urge to create for herself, she branched out on her own and, seeing a gap in the market, developed a range of Scandinavian-style coloured glassware. The product was cutting edge, ahead of its time and initially sales were slow; however, on the verge of her returning to work with Country Road, orders arrived from Selfridges and the Conran Shop in the UK and success was imminent.
Over the next four years, the business became one of the largest affordable fashion drinkware suppliers producing product for high-end department stores in the UK, Europe and the US. However, the GFC (Global Financial Crisis) changed everything overnight.
To survive, Green adapted her business model from supplying the retail market to the hospitality sector and survived. Again thinking creatively, she began to experiment with other uses for the glassware, trialling the pieces as vessels for candles and modifying them as lights, drilling the glass and turning it upside down. Exhibited at a Maison&Objet fair, one such light was displayed on her stand of glassware and caught the eye of design icon Christian Liaigre and this was the catalyst for taking perhaps one of the biggest risks of her career. Green decided to begin producing lights under her own brand and so Articolo was born in Paris in 2010.
Returning to Australia, she began to work in earnest to produce the Lumi table lamp, the very first light, and with such design practices as Bates Smart requesting the product, and asking for more, Green set about creating companion collections.
A Melbourne flagship showroom was established in 2014 and then in 2017 the business moved to larger premises. Concurrently, a trip to New York to exhibit at the International Contemporary Furniture Fair (ICFF) saw Articolo come of age as Green achieved the prestigious accolade of Best Product in Show for a New Design for the Float wall sconce and was also awarded runner-up for Best Stand.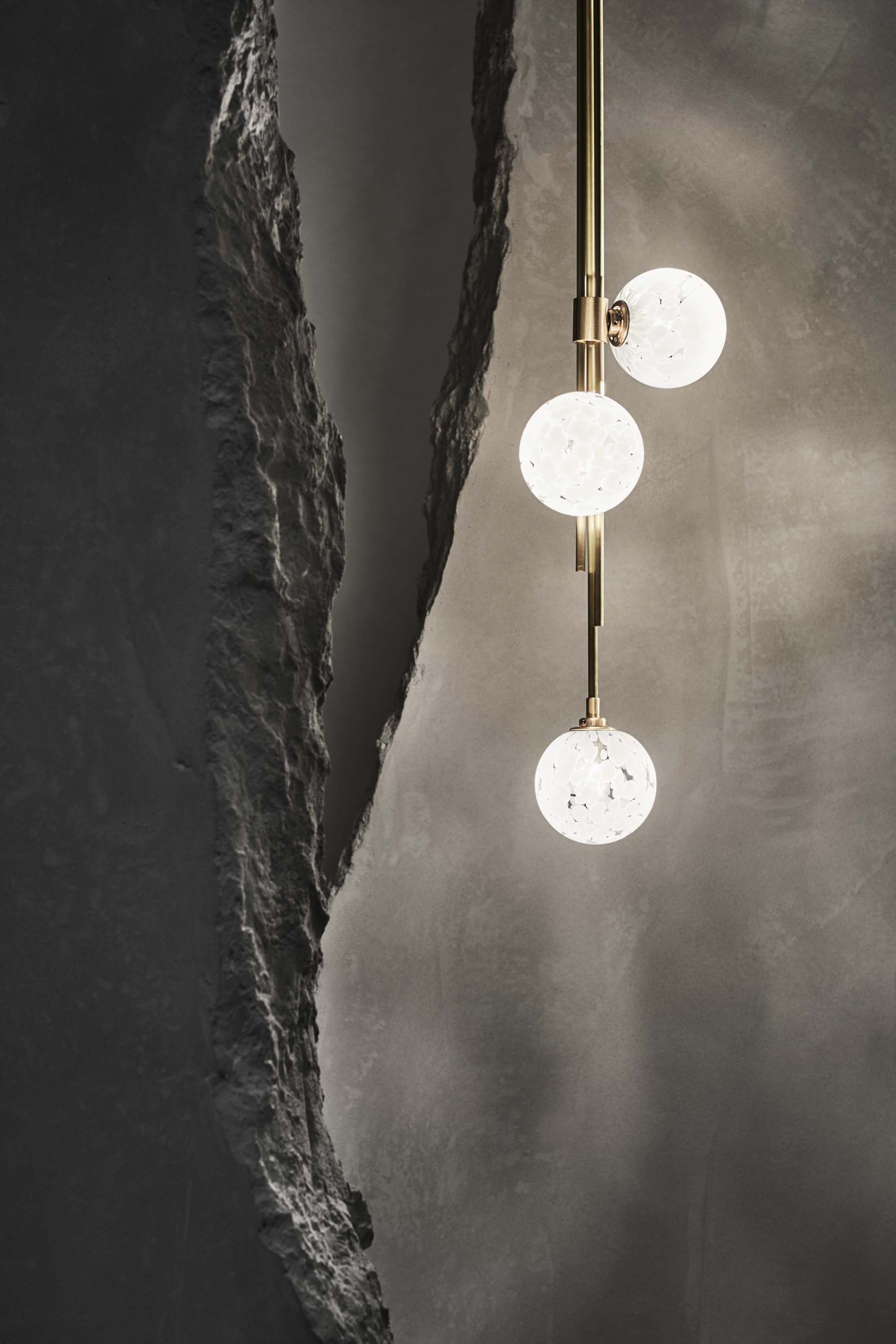 Things are moving fast; however, Green is taking a measured approach planning for the future as the brand grows exponentially. There has been a new showroom launched in New York in May this year and a Paris location will be opened in 2020 to complement Articolo's representation in Sydney, London, Los Angeles and Summerland in the US.
Green also understands that presentation of product is paramount, and all showrooms, as well as the stand at I Salone this year, are designed by David Goss of Studio Goss, who has worked with Green from the beginning and represents the brand of Articolo perfectly.
Articolo's success is a triumph of fine design and workmanship coupled with the business of service with worldwide certification and a door-to- door delivery time of eight to 10 weeks. Each of the collections is, of course, individual, but the continuum is reflection, transparency and detailing with hand- blown glass, fine leather and metal trims presented in a linear style. Artisans are employed both in Australia and Italy with Murano glass supplying unique and bespoke components.
Now with more than 15 collections under the Articolo brand, the business is known throughout the world and the products celebrated for their smooth contemporary lines and artisanal detail. It's always heartening to see Australian products at the forefront of innovation and design, and Green has chosen her moment well, producing a range of collections that speak of today, albeit with a timelessness that sits comfortably for the future.
From experience has grown knowledge and the ability to navigate design and business. Green has at last found her place in a world that is uplit, backlit and softly illuminated by designing beautiful lighting that speaks of sophistication and pared back refinement. Articolo is not just an article (as translated from the Italian); it is the article that is now shining very brightly indeed.
This article originally appeared in inside 106 – available online and digitally through Zinio.
Photography by Sharon Cairns and Willem-Dirk du Toit