Silver Thomas Hanley called upon the expertise of dedicated facade products supplier HVG Facades in the major redevelopment of Sunshine Hospital's emergency department.
Already home to one of the busiest emergency departments in Victoria, Sunshine Hospital undertook a $34.9 million expansion to meet the needs of an expanding population.
Officially opened in March this year, the redevelopment has added 55 spaces to more than double the current capacity and expands the range of services to best suit the community.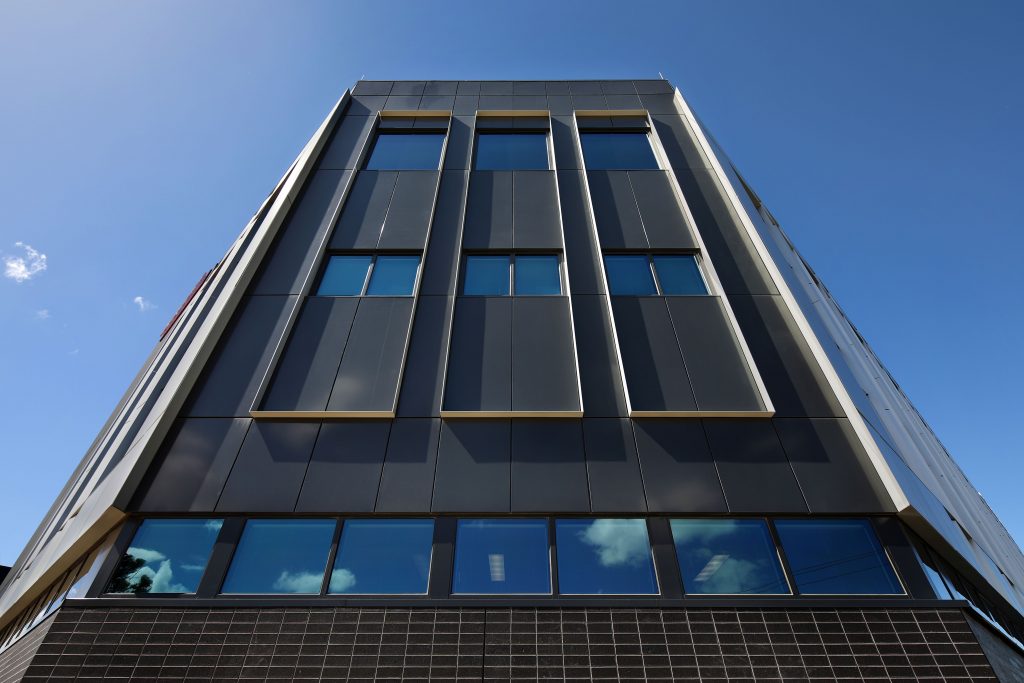 The hospital now offers nine additional dedicated treatment spaces for children, new assessment rooms and support spaces, increased paediatric waiting and amenities and a new paediatric triage and reception.
There are also new fast-track treatment spaces and support areas that include x-ray.
The expansion was overseen by architecture health care practice Silver Thomas Hanley (STH) with the design intent to "reduce stress and facilitate ease of movement".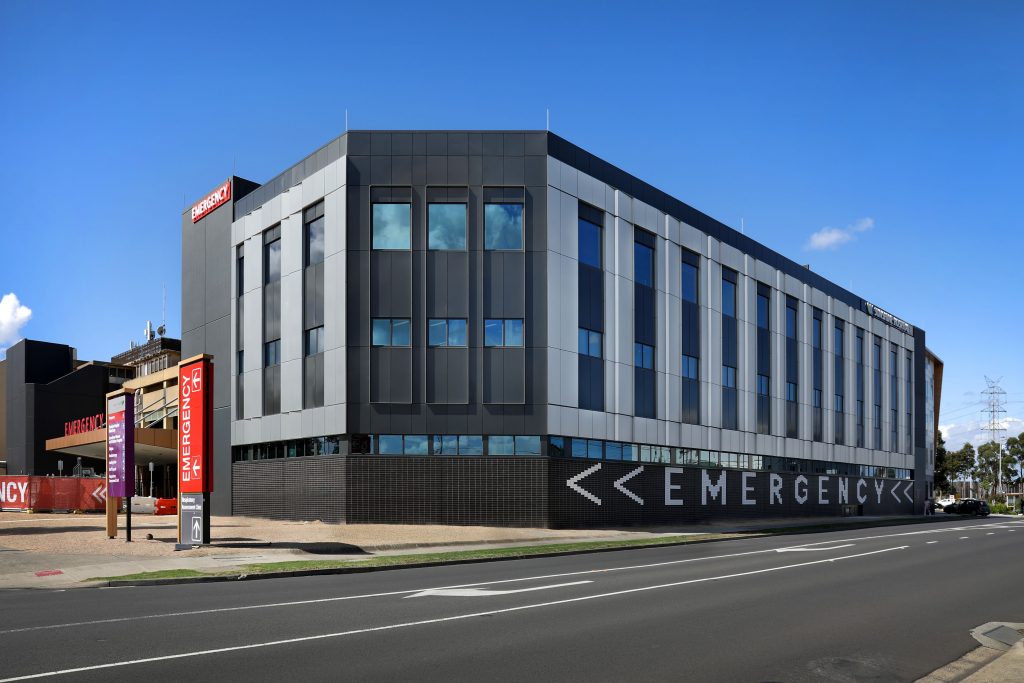 STH principal architect Maxim Bachimov says the highly experienced and knowledgeable HVG team was a "pleasure to work with" in achieving the overall brief.
The Sunshine Hospital Emergency Department Project featured the company's MondoClad Natural Brushed Finish, the same product used on the St John of God Geelong expansion, also completed by STH.
"This particular product is special because it highlights the natural qualities of the material," says Bachimov of MondoClad.
"It's honest in its expression. Being aluminium, it shimmers without being too reflective and has depth to its appearance with the finish maintaining interest at various viewing distances."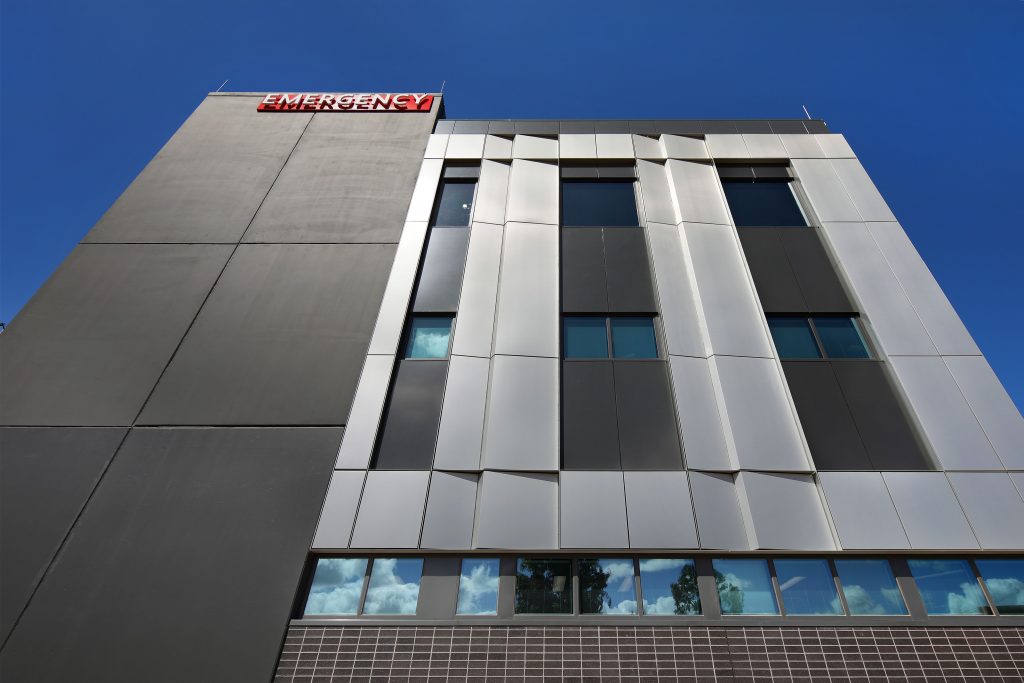 As well as being aesthetically appealing, the metallic finish of the MondoClad facade also helped STH convey the "sophistication of service and equipment" of the Sunshine Hospital Emergency Department.
Both internally and externally, this sense of sophistication is paired with a warm aesthetic that is designed to help calm patients and the public when they enter the building in a heightened sense of panic.
In both spaces, the patient is very much at the centre of the facility with the exterior acting as the structural bedrock of the medical hub.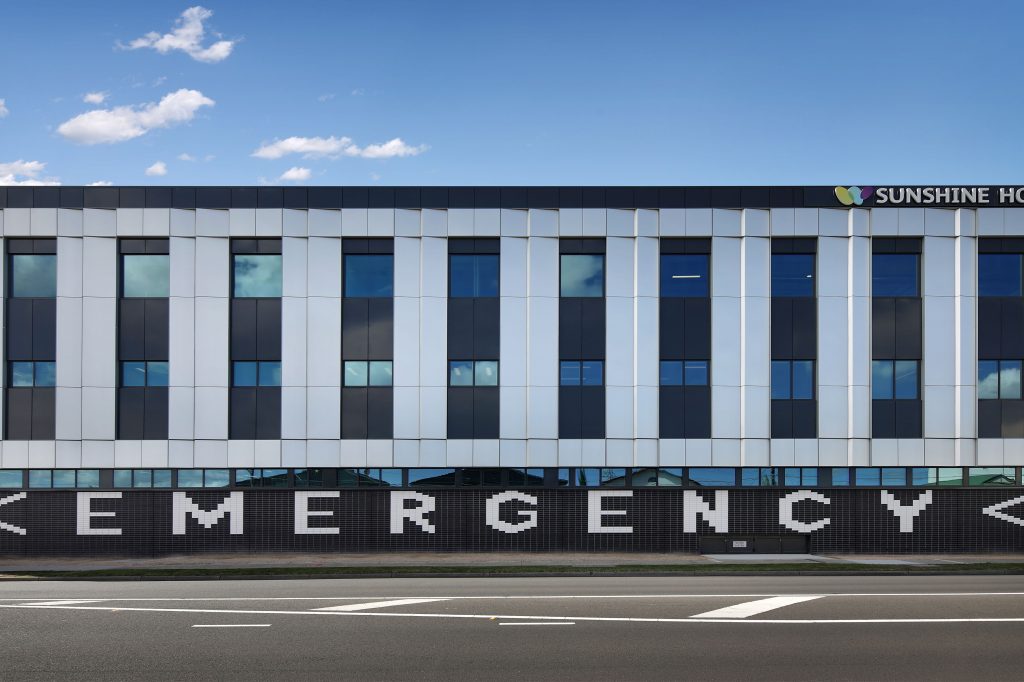 "The overall result is a dedicated and calming space, purpose-built for families and designed to treated around 19,700 children every year," says STH.
"Once fully operational, Sunshine Hospital's new emergency department will treat an extra 59,000 patients each year."
Photography: Michael Gazzola.
With a history dating back more than 50 years, HVG Facades has supplied the Australian construction industry with an extensive range of products for new builds, or remedial and recladding applications.
No matter what stage of the process, HVG Facades has a range of supplies to help your design project realise its architectural backbone. Visit the HVG Facades website for more information about MondoClad and its other products.
---
HVG Facades is a dedicated façade products supplier of trusted brands including MondoClad, ZINTL, ALUCOBOND PLUS, Swisspearl and Trespa.
Its highly experienced team is here to support the ideas and aspirations of architects, property developers, designers and builders at every stage of the process.
Developed from marine grade aluminium, MondoClad is its premium solid aluminium panel solution. Offering exceptional quality and fire performance, MondoClad provides a definitive, non-combustible cladding solution with compliance and safety in mind. Categorically non-combustible certified to AS1530.1, its CodeMark certified MondoClad solid aluminium cladding panels come in a wide range of finishes and sizes to ensure even the most complex designs can be achieved.