Unusual and iconic best describe Rogerseller's new collections Caldera and Eccentric. Conceptualised by Rogerseller's in-house product design team, the collections celebrate true innovation and the unprecedented expertise gained from the company's 120-year history.
Caldera by Rogerseller is a collection of sculptural washbasins that are inspired by the irregular shapes that result from earth's greatest enigmatic processes. As the name suggests, the basins mimic the shape of a volcanic crater formed after the collapse of an emptied magma chamber, boasting expressed crisp peaks that plunge into an elegant depression below the surface.
Perfectly suited to semi-inset installations, the collection represents two varying organic Caldera forms; one comprising of an elongated asymmetric oval shape, and the other rectangular in geometry. The asymmetric oval shape is completely organic with varying edge dimensions and contours while the rectangular shape is more conventional.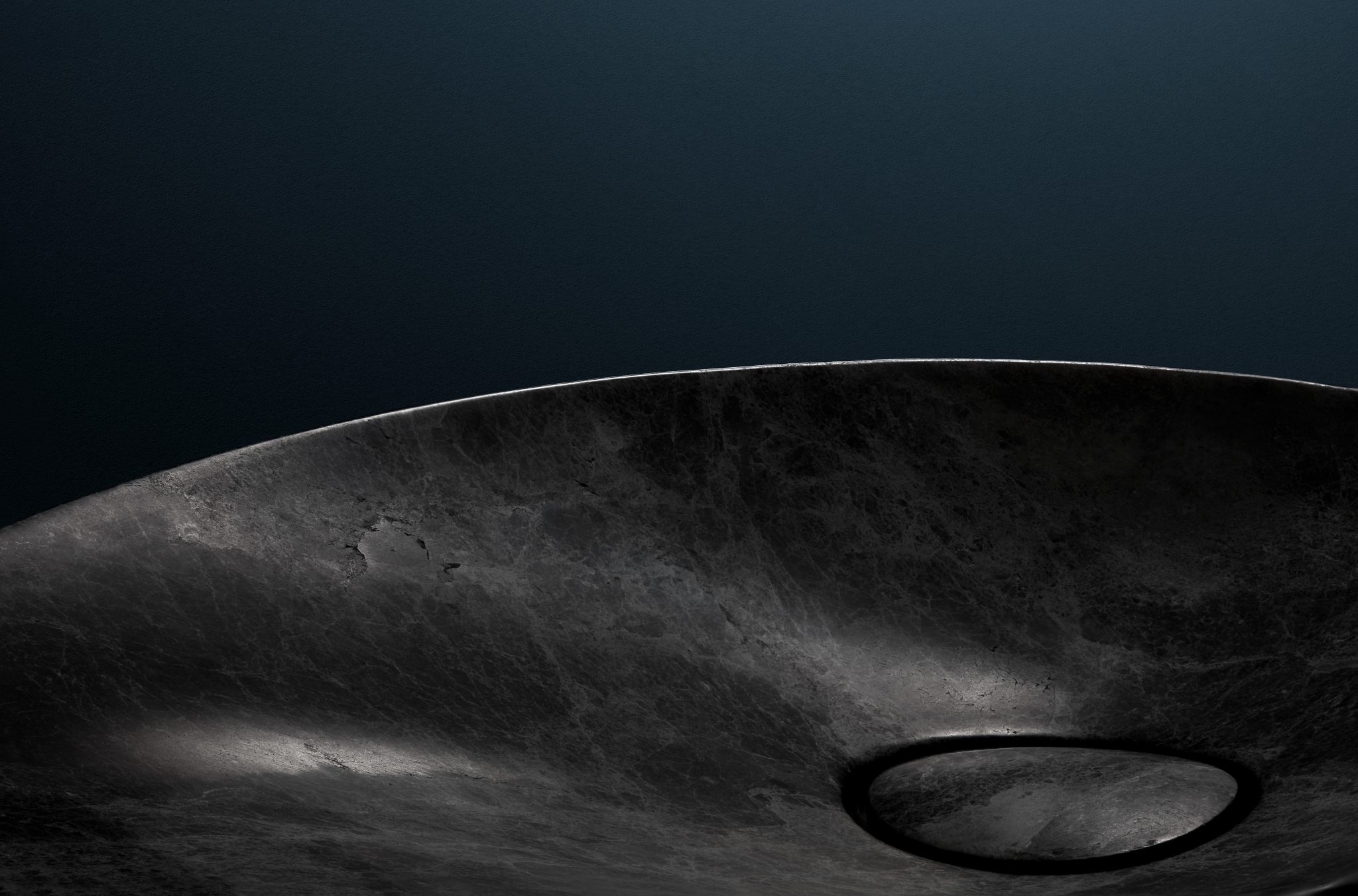 The range is available in white engineered Ceramilux as well as Bianco Carrara or Emperador Grey carved from solid marble slabs and comes complete with a matching free flow waste. Mineral patterns within the marble guarantee a completely unique product and no two basins will be the same.
Drawing inspiration from nature of another kind, Eccentric by Rogerseller tapware pays homage to the quirky nature of the greatest minds in history. "Albert Einstein's bizarre habit of picking up used cigarettes, Nikola Tesla's daily toe exercises and Yoshiro Nakamatsu's oxygen depriving deep dives are acts that tell of the individualism, wonder and curiosity found in many great scientists, explorers and inventors, and their rebellion against convention," explains Rogerseller Product Designer, Nick Johnston.
When engaged, the Eccentric round mixer embraces quirky genius by progressively revealing an unexpected back-plate featuring cold and hot indicators, thanks to its axis uniquely positioned off-centre. Once the handle is returned to its closed position, the unconventional back-plate is hidden and balance is restored. The range also offers wall mounted bath and basin outlets that boast similarly subtle curves.
"Caldera and Eccentric by Rogerseller mark a new era of in-house design innovation that testifies the commitment to superior design and quality we've held for the last 120 years. Our past has not only prepared us for this exciting new journey, but forms part of our inspiration to continue innovating day after day," says Rogerseller Brand Manager Tanya Sharpe.
Eccentric by Rogerseller received the Red Dot Award: Product Design 2017 as well as a Good Design® Selection in the Good Design Award 2017.