Pictured above: Joy No. 1 designed by Claudia Raimondo 

Italian design factory Alessi has revealed its latest range of considered tablewares and homewares, presented in its Spring/Summer 2014 catalogue.
The catalogue contains a number of commissioned pieces, thanks to collaboration between a group of well-established design figures and Alessi. The result is an updated selection of innovative and contemporary design, for which Alessi is renowned.
Alberto Alessi compares the new Spring-Summer 2014 catalogue to a light yet filling menu – a select number of dishes to satisfy both the most refined and the simplest palates.
Below are just a few examples of products in Alessi's newly released Spring/Summer 2014 range.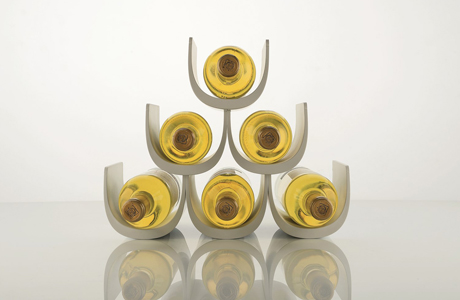 The bottle holder from the Noè series, designed by Giulio Iacchetti, is a modular system for practical and correct storage of wine bottles. The bottle holder was conceived as both a functional accessory and a decorative element to be displayed on the kitchen counter. Each module holds one bottle and can be easily connected to two other modules through a groove along the base of each element. By combining and stacking multiple elements you can create small wall structures that can be positioned vertically or horizontally.
Each box contains six elements for creating a pyramid structure that resembles an upside-down bunch of grapes. Made of thermoplastic resin, the bottle holder is presented in three colours: white, black and dark red.
Naoto Fukasawa has designed a sophisticated piece for Alessi that is both a kettle and a teapot. Cha performs its task in a masterly way, perfectly combining two functions into a single object. Its compact form holds just the right amount and includes functional details carefully studied by the Japanese designer. The Cha kettle and teapot can be used on any heat source, and brought directly to the table for serving.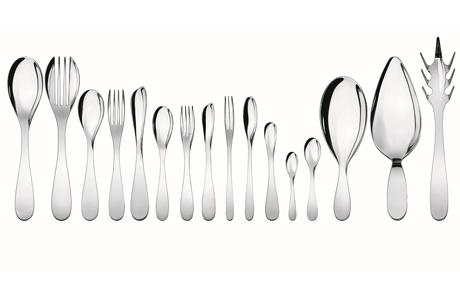 This year Alessi is setting the table with an interesting new set of cutlery that has joined its already vast catalogue of designer cutlery. In addition to traditional pieces, the Eat.it stainless steel cutlery set created by Wiel Arets also features an original spaghetti serving fork, a butter knife and a spoon with a long handle for lattes or cold drinks.
The soft and rounded outline of the various pieces, almost symmetrical between the functional part and the handle, represents an unexpected new twist from the Dutch architect. The unique shape of the cutlery suggests an unconventional way to lay the table, with easy-to-arrange pieces that can even be stacked together.
For a full look through Alessi's Spring/Summer 2014 catalogue visit www.alessi.com.