All photography courtesy of Peter Clarke.
Launched this week, Adriano Zumbo's plush new South Yarra high tea salon, Fancy Nance, is an exuberant homage to his mother Nancy, with Little Frankie's bakery and café section a nod to his father, Frank. The sweet offerings at Zumbo's latest Melbourne venture is set to turn the tide on the site, formerly Manu Fieldel's ill-fated Le Grand Cirque, and George Calombaris' Mama Baba before that.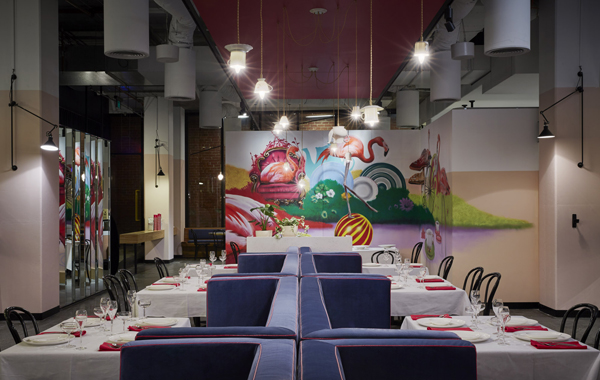 Behind the fitout of Zumbo's latest exciting offering is Studio Tate, an emerging design practice with momentum. Though established only last year, the small team including principal interior architects Alex Hopkins and Erin Gannon, strategy and practice manager Carley Nicholls and interior designer Gemma Croft are already building a body of work with personality.
The amiable Alex Hopkins was suitably thrilled at the opportunity to work with such a high-profile client. Though Studio Tate was very new to practice, Zumbo had had a preview of their work, through a previous pitch for his Emporium kiosk. So when Zumbo himself approached Studio Tate for the Fancy Nance project, "obviously we were ecstatic!"
Drawing on their collective experience at high-level firms such as Carr Design and Kerry Phelan, Studio Tate focused on refining the details in their response to Fancy Nance, resulting in a thoughtful and imaginative interior. As Alex explains, "those practices are so detail-focused, and that's ingrained in us. It's something that we're already implementing into our projects – that next level of detail."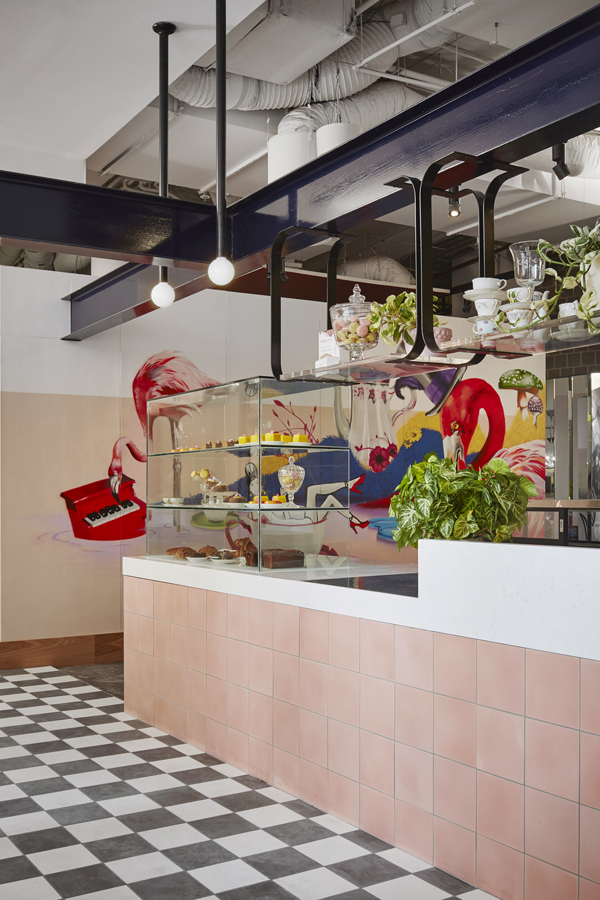 The venue is decked out in feminine tones, with luxurious features replicating Nancy's eclectic sense of style. Throughout Adriano's childhood, "Nancy loved jewellery – she always had bangles up her arm, had velvet curtains at home, and was quite an expressive character," Hopkins says. Expressing the glamorous muse, Studio Tate "incorporated soft velvets and brass and metallic tones," and Zumbo loved their concept.
The introduction of Zumbo's signature pink colour, a visual signature of all his stores, was in fact the only concept briefing from Zumbo, and it is displayed with full effect at Fancy Nance. The space is alive with the full spectrum of the evocative confectionary hue – vivid neon pink signage greets visitors from the top of hot pink painted concrete stairs, while fairy floss pink envelops the restaurant with a soft warm ambience. Studio Tate's penchant for unexpected detail shows through hot pink piping on plush Willy Wonka purple velvet banquette seating, and a curved frame on bespoke steel shelving.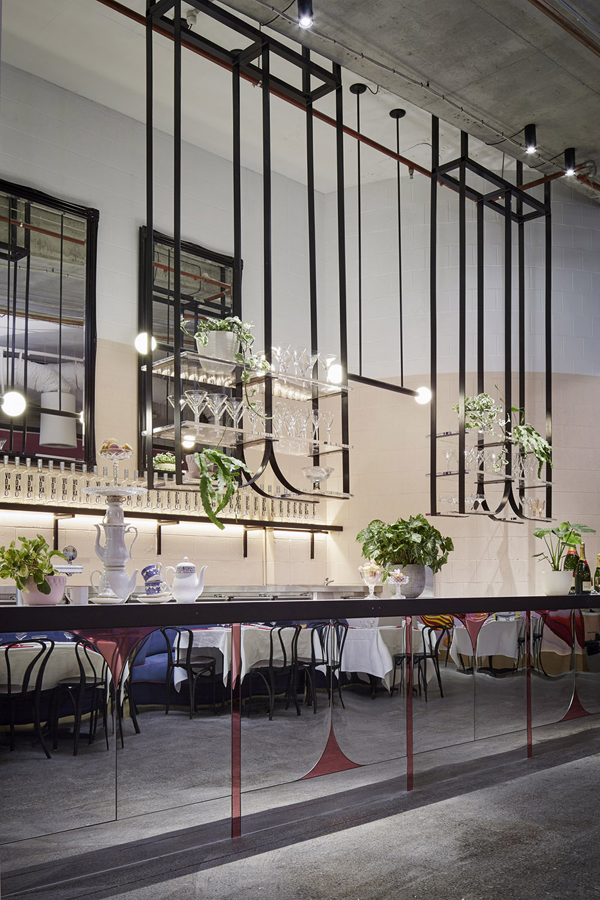 Playful pendant lights, made of white teapots and cups by local maker, Suzie Stanford, are hung at different lengths below a hot pink suspended ceiling panel in the centre. The Mad Hatter's tea party lighting installation continues the psychedelic Alice In Wonderland themed graffiti adorning the walls. Incredibly, the sprawling kaleidoscopic artwork was completed in just one day by local graffiti artist Daniel Wenn. Bespoke steel shelving overhead has a curved edge, adding an unexpected detail. A concertina mirror section at the entrance adds to the glitzy interior, its facets recalling the opulent gleam of a jewellery box, and continued by the mirrored bar.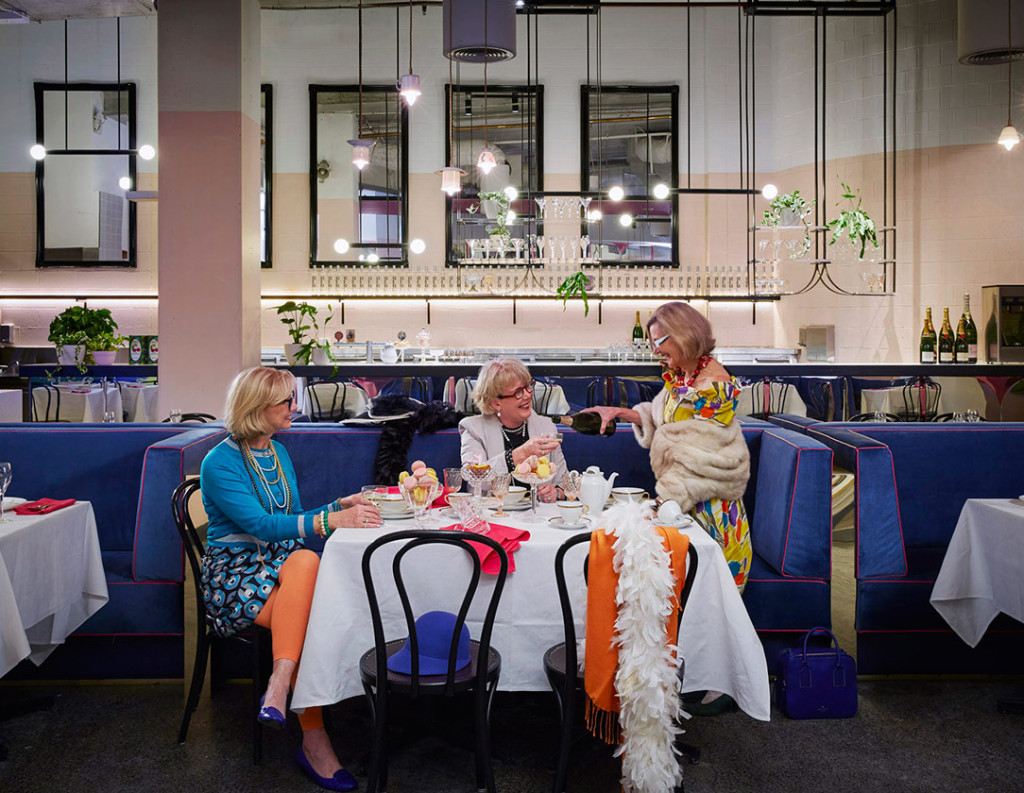 Hopkins describes Zumbo as an ideal client, who "really let us run with the design. He was just very encouraging and really liked what we put forward". She credits principal architect Erin Gannon for "connecting with him and be able to draw out what it needed to be". Working with Zumbo gave Hopkins and Studio Tate a chance to observe Zumbo's creative energy at work.
"The thing that stood out initially was his passion, and the craftsmanship that's involved in his work – if you go to his stores and see his products, they're beautiful, a work of art. And I suppose that encouraged us to try and get the best result for them as possible, to give them a space to display them," Hopkins says. The experience of working with Zumbo and his Melbourne-based sister Rosalba was informative in many ways, and Hopkins speaks with admiration about the positive working culture that Zumbo created within his staff. "For us at Studio Tate, part of the reason why we started our own practice was to be able to establish a space where staff are encouraged and nurtured. And we identified with Adriano and his team."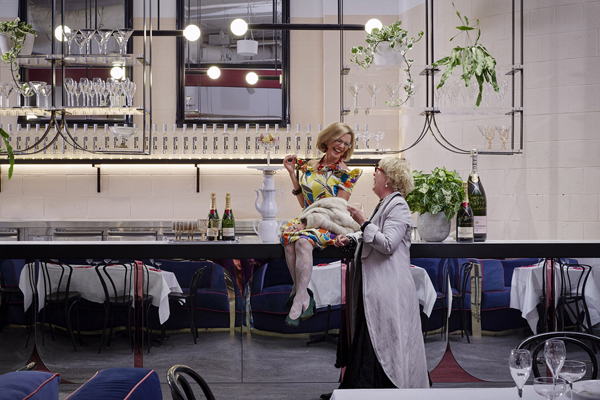 Though still in its early phase as a practice, Studio Tate is already pursuing a diverse portfolio of projects. Apart from Fancy Nance, completed projects include a punchy refurb of Time Out in Federation Square, and elegant residences in Brighton and Glen Iris. The team also has a few multi residential projects in the wings. The emerging practice is certainly enthusiastic about the amount of work, but is wary of balancing the load in order to achieve a consistent standard of output. As Hopkins says, "it's a fine line between wanting to take it all on and wanting to make sure we take enough time to dedicate to each project. Having Carly involved has meant that we have been able to manage administrative and project planning area of our business. It's been wonderful, and it's also been challenging".
"We feel that we've got some really good years under our belt, and we'd like to think that we will be competing for the big work in the next few years. We are working towards growing a commercially viable business, to be able to take on work of varying scales. We are ambitious, and we're not afraid to say that."