Above: Melbourne Central's Art Loop, photography courtesy Melbourne Central.
Since its inception, the world wide web has brought many wonderful things along with it, including online shopping. Yet with the rise of online shopping has come a great struggle for brick-and-mortar retail stores – a challenge that is bringing about a revolution in shopping centres in attempts to reinvigorate hands-on, real life shopping.
Melbourne Central, in the city's CBD, has recently undergone a $5 million transformation on its lower level, led by Kennedy Nolan Architects. The project is named the Melbourne Central Art Loop, and part of this reinvigoration includes the instillation of Australia's largest exhibition of video art outside of an institution. The immersive video art experience runs across 15 LCD screens and five large steel overhead projector portals, as curated by gallerist Andy Dinan of MARS Gallery.
Michael Macleod, project architect at Kennedy Nolan, discussed the aesthetic of the display. "Familiar materials from Melbourne streets have been reinterpreted – concrete tram safety stops become bases for tables, bluestone footpaths become randomised floor tiling complete with zebra crossings and fluoro orange traffic mirrors become a ceiling. Neon signage and custom designed light fittings are used to create colour and rhythm, while the large steel portals have been introduced as landmarks, framing connections to upper levels."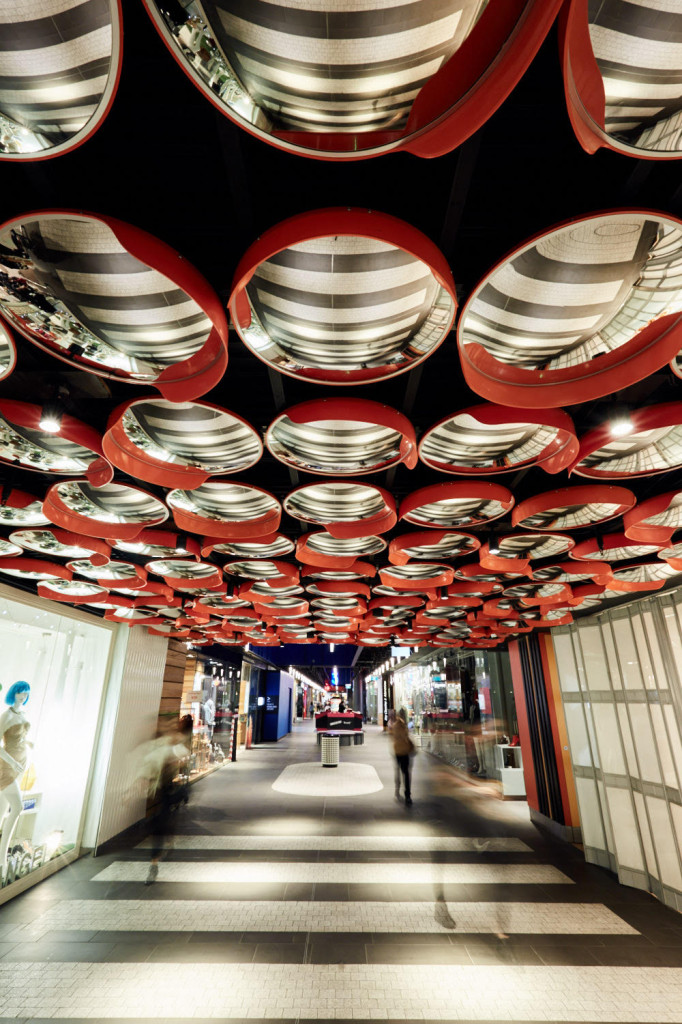 Designed to emulate an extension of the city's laneways, art and culture, the art instillation builds on the previous design by ARM (Ashton Raggatt McDougall), whose redesign of the centre was opened in 2002.
Melbourne Central's General Manager, Leigh Dunn, said that the installation has changed the experience on the lower ground level of the centre, and will surprise and entertain visitors. "The addition of Art Loop combined with the additional design and architectural features will create an unconventional and exciting retail experience for both shoppers as well as retailers," Dunn said.
The addition of art and modern design as a method of enhancing and reinvigorating the retail experience is part of a movement felt around the world – the necessity of retaining shoppers through the offering of something that cannot be experienced online.
Shopping centres around the world, particularly in Asia, have been leading the way when it comes to creating a new retail experience. The Siam Paragon Mall in Thailand is one of the biggest shopping centres in Asia and in addition to retail, it includes an aquarium, an exhibition hall, art gallery and a concert hall, as well as entertainment facilities such as a movie theatre and karaoke.
In Madrid, Spain, the Xanadu mall offers the chance for families to spend fun quality time together through the supply of various entertainment facilities. An indoor ski slope, mini-golf course, bowling alley an go-cart racetrack draw consumers to the centre by offering an environment that does not come with online shopping.
Whether at the smaller end – providing innovative design and an immersive and fascinating environment, or at the bigger end, the inclusion of huge entertainment complexes – simply providing a variety of stores in close proximity is not enough anymore. Shopping centres are upping the ante in order to keep and recuperate their customers through a number of inventive ways, much to the public's benefit. After all, online shopping may be cheaper, but it doesn't bring much of a rewarding experience, aside from the product itself.
More information on the Art Loop can be found here.