All photography by Sharyn Cairns.
Designed by Whiting Architects, the Park Street House in St Kilda West is a Victorian terrace residence which artfully combines a contemporary interior with much of the home's original architectural splendour.
A block back from the beach, the home is elegant and practical. Over three levels, it features four bedrooms – one occupying the attic space – and two minimalistic yet luxurious bathrooms.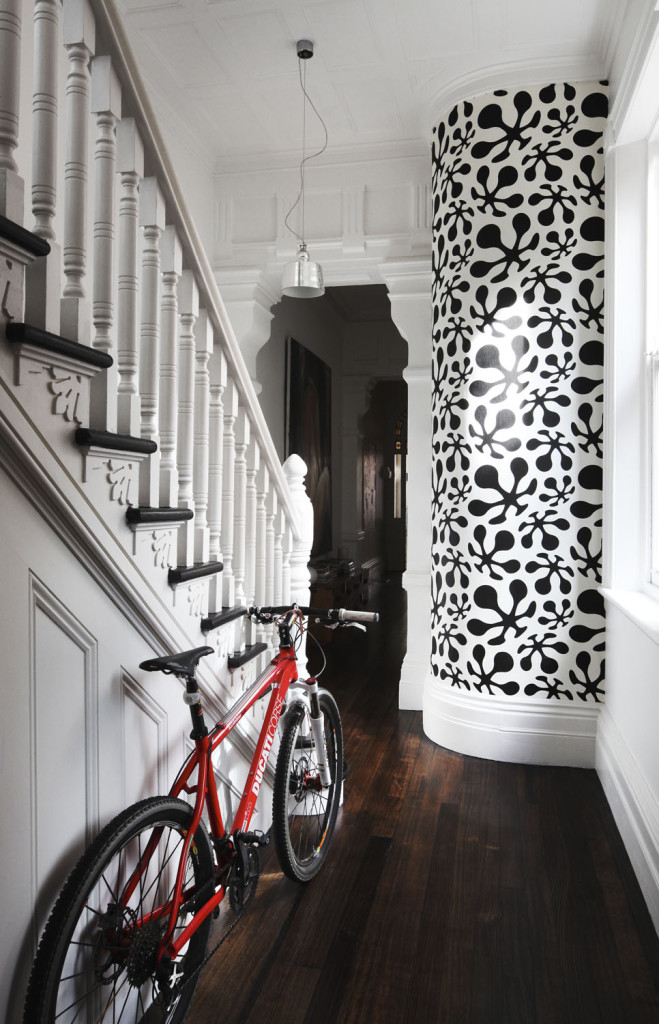 Retaining the building's period elements throughout the redesign was a priority. As such, original arches and wall panelling, as well as marble fireplaces and traditional windows remain. Combining vintage detailing with a modern flair can be difficult, however The Park Street House proves that it is more than possible; the choice renders the home with an individualistic charm.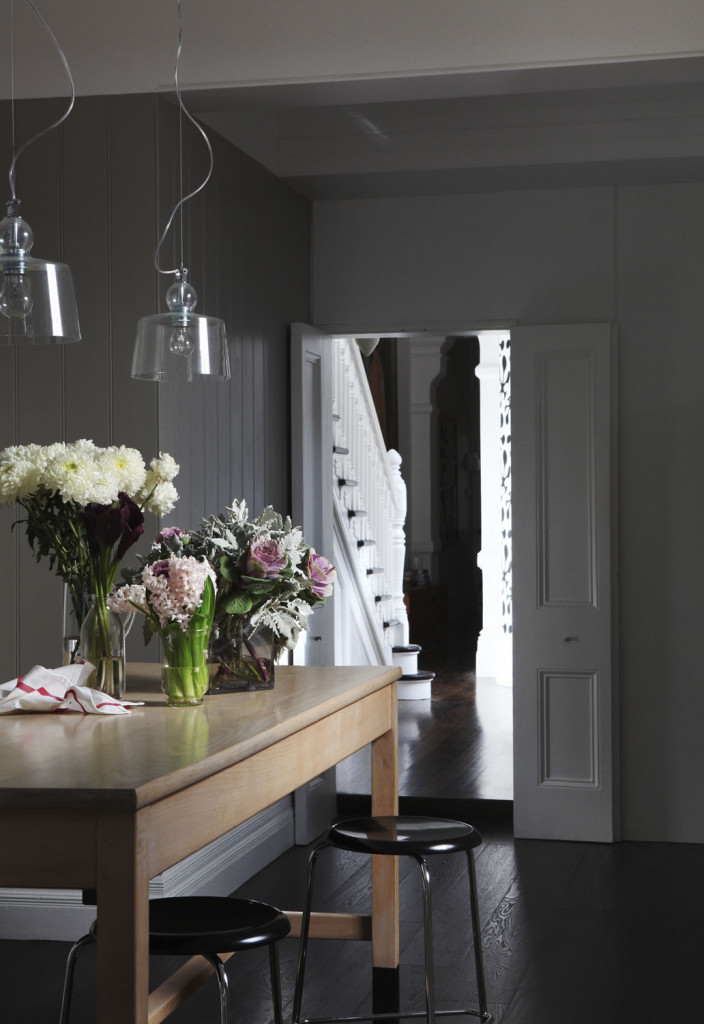 Adding to this is the open and welcoming nature of the residence's layout. Its large kitchen features Miele appliances and a central antique table, which serves as an island bench. Flanking the kitchen, a crisp white dining setting appears almost luminous against the dark oak floorboards of the eating area. The deep tone of the timber however fades to a lighter tan as the flooring embraces carpet in the sun-drenched living area.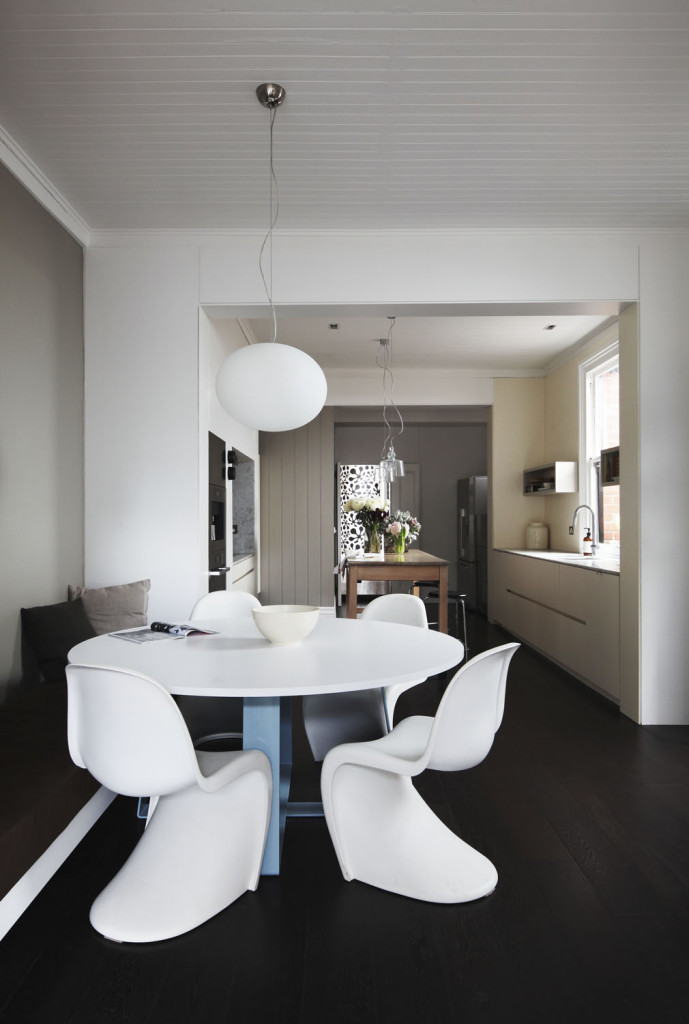 A monochromatic colour scheme dominates the home, but nowhere less so than the staircase, where the tread takes on dark oak, while the riser boards are clean white. Cordoned by a white balustrade and walls, the staircase is striking in appearance, and brings a hint of playfulness to the home's design.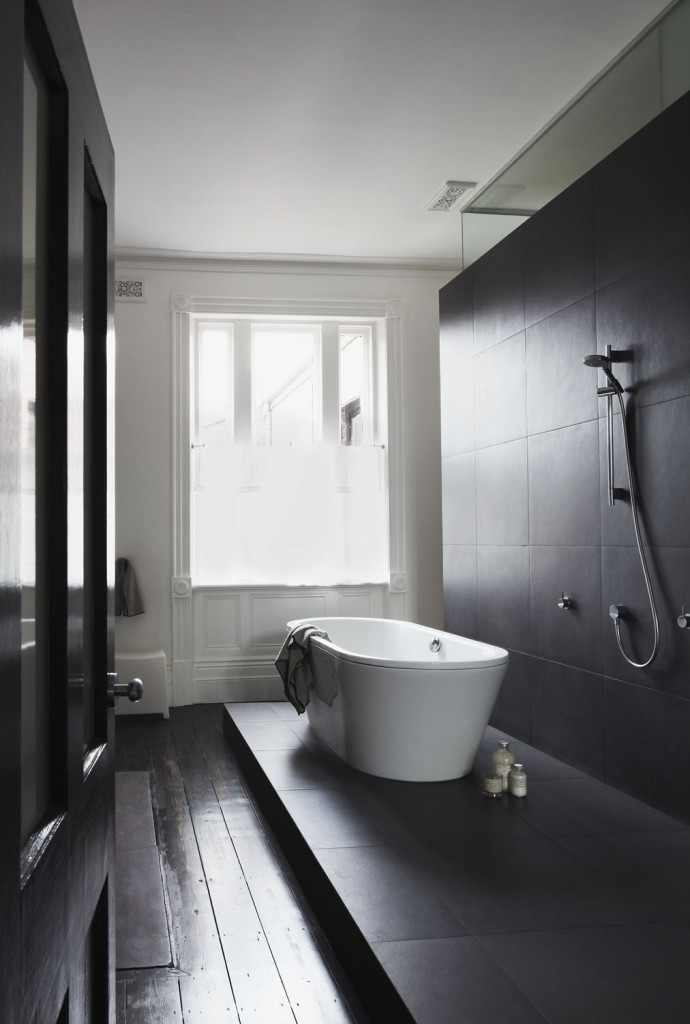 Upstairs are the bedrooms; the main with a generous ensuite, decked out in sleek Rogerseller fixtures. Poised amongst the deep hues of the flooring, a white bathtub sits upon a raised platform, the room's distinct centrepiece. The modern installation subtly juxtaposes against the window at its head, framed by Victorian detailing. The classic silver tone of shower fixtures is subtly yet elegantly defined against the bathroom's dark tiling.
The Park Street House is a timeless example of vintage and contemporary combined, utilising a monochromatic palette to fuse old and new together in a design that is nothing short of striking.