Written by Emily Taliangis. Images by Sam Noonan.
John Wardle Architects, in collaboration with Phillips/Pilkington Architects, has created a truly unique, state-of-the-art public space with its Jeffrey Smart Building at the University of South Australia. The project has been shortlisted in the Public Space category in this year's Interior Design Excellence Awards (IDEA).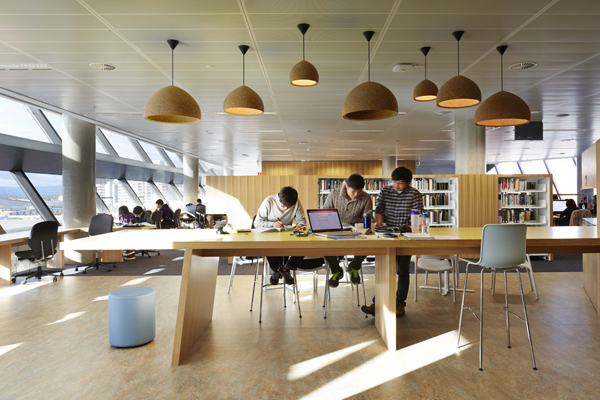 The building's interiors were designed to provide experiences for tertiary students beyond traditional library services, while reinforcing the university's purpose as an institution of knowledge. The building is a learning and social hub, encouraging casual interactions alongside formal and professional meetings.
At the building's foreground sits a café, forum and gallery, welcoming university patrons and members of the broader city community to engage in a diverse range of cultural experiences.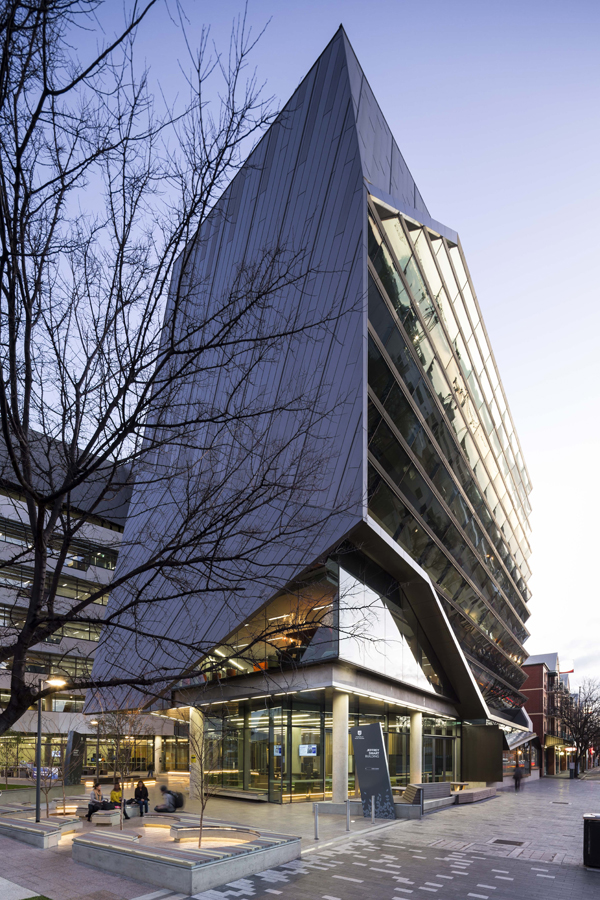 A central, red Marmoleum-clad staircase connects the ground floor to student services at the second level; an open and generous landing with free-to-use active teaching and learning areas, also provided on floors three, four and five. The open plan design caters for individual work and group collaboration, as well as breakout spaces for relaxation and socialising.
A robust palette recognises the durability and maintenance requirements within a heavily populated building, and various textures and materials provide practical and visually appealing purposes. Stone pavers, timber veneers, and 3D textured feature tiling reminiscent of book spines work alongside softer materials including rubber, perforated timbers, graphic-printed laminates and fabric-wrapped wall cladding. It shouldn't work, but it does.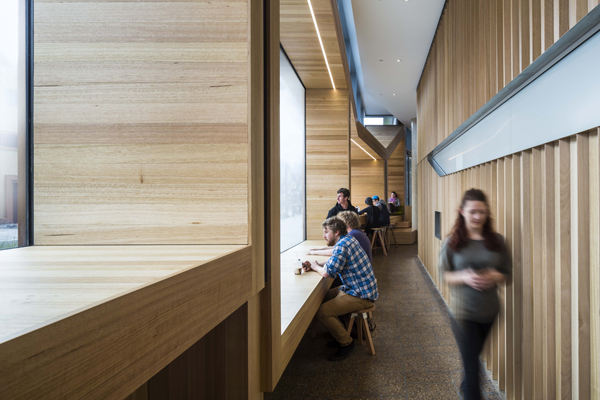 What's more, the Jeffery Smart Building makes a significant contribution to the reinvigoration of the West End. Modifications to Hindley Steet and the pathway connecting Hindley and Currie Streets places priority on the pedestrian, moving towards a more liveable, environmentally conscious city.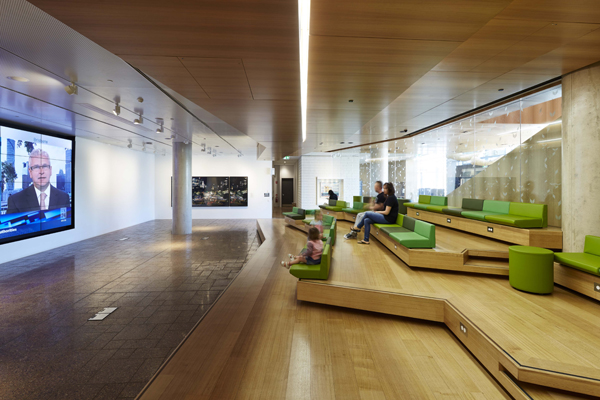 Designed to meet the needs of contemporary students, the building incorporates best practice approaches to building services, rainwater harvesting and use of sustainable materials. Low-energy use lighting has been installed throughout, as well as low water use fittings in all bathrooms and kitchens. The project has been awarded a 5-Star Green Star Education (v1) rating.
Secure enclosed bicycle parking is available for staff use, with lockers and shower facilities to encourage bicycle commute. Student bicycle facilities are provided externally to the building.
John Wardle Architects has been shortlisted for the 2015 Interior Design Excellence Awards within the Designer of the Year, Public Space and Residential Single categories.