Sign up for our newsletter
This piece is part of an IDEA retrospective series of interviews and articles conducted and written by local CATC interior design students, which will feature in the coming weeks in the lead up to the IDEA 2014 event and anticipated release of the book Life Spaces: Live Work Connect.
For a 400-page limited edition hardback book of this year's IDEA winners, order your copy of Life Spaces: Live Work Connect.
Hassell for ANZ Centre, Melbourne – Winner, Commercial over 1,000 sqm, IDEA 2010
Hassell Interior Design Team: Robert Backhouse (Director) supported by 29 Hassell Interior Design Team Members
Excerpts taken from interview on 08/07/13 with Robert Backhouse, Managing Director, Hassell.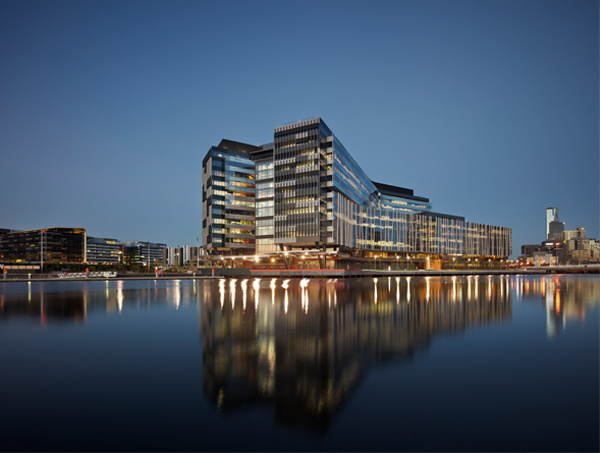 How do you design the interiors for a workplace of the future? What parameters shape your thinking? Ask Rob Backhouse, Managing Director, Hassell and you are on your way to finding out. Rob led the interior design team for the ANZ Centre, now a global benchmark in sustainable and commercial office design. The design revolutionised traditional workspace design philosophies, achieved human scale in the monumental and went on to win the Commercial over 1000sqm category at IDEA 2010.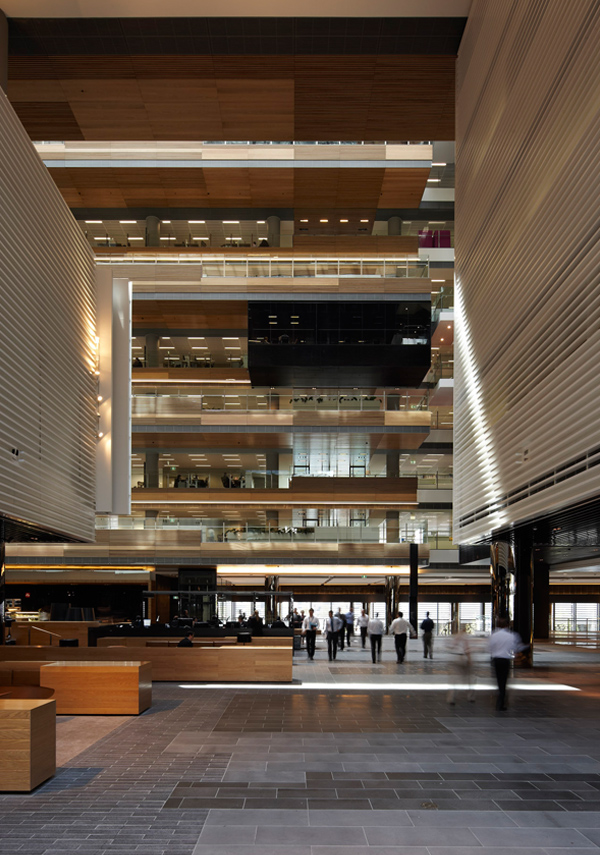 Originally intended as a consolidation of several ANZ city offices, the new project quickly amplified to ANZ global headquarters. Eventually doubling the original budget of $377 million, this substantial work added to the profile of Melbourne's Docklands as one of the world's largest urban renewal projects. The design brief for the new building reflected ANZ's focus on staff engagement being key to productivity, and diversity, key to creativity. It emphasised nurturing the diversity in ANZ's current staff as well as designing for a future multi-generational workforce. A campus style building was to include a permeable area for the public to engage with the bank at its heart, in transparency and openness. As well, the brief required a 'commons' as part of an interactive, collaborative and engaging environment for 6,500 staff.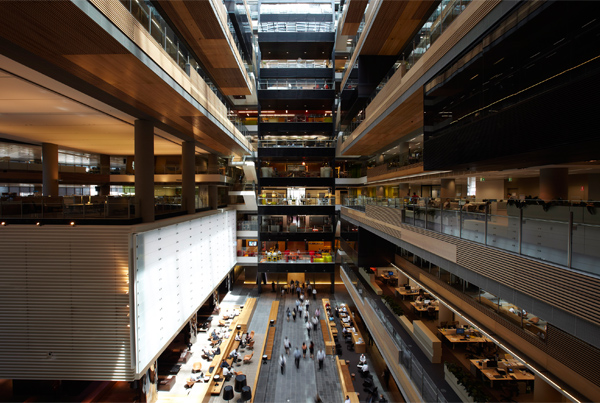 Acquiring the contract as joint architectural and interior designers on the project, Hassell began with a concept based on permeability, diversity and sustainability evolving around an 'urban campus' with a centred 'commons' purposefully configured to support and promote interaction. Building commenced in November 2006, and as time progressed, the design evolved to accommodate the bank's developing intentions for the site. Rob stated that the design concept for the ANZ Centre developed 'from the inside out' due to the fluid nature of the project. Initially consisting of generalities, the design was refined as organisational requirements unfolded. The ANZ Centre was officially opened in November 2009.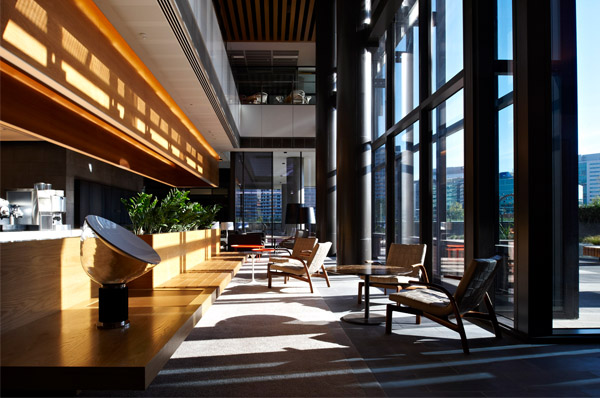 Comprising areas such as work stations, breakout zones, hub spaces and quiet working zones, approximately 55 percent of the work area was designed as collaborative space to 45 percent desk space. Further, the design invited the public into the heart of the building, enabling open, visible access to the working areas of the bank. This resulted in a work environment demonstrating a conscious shift in traditional banking design and strongly exhibiting the collaborative and engaging culture the bank wanted to project into the future.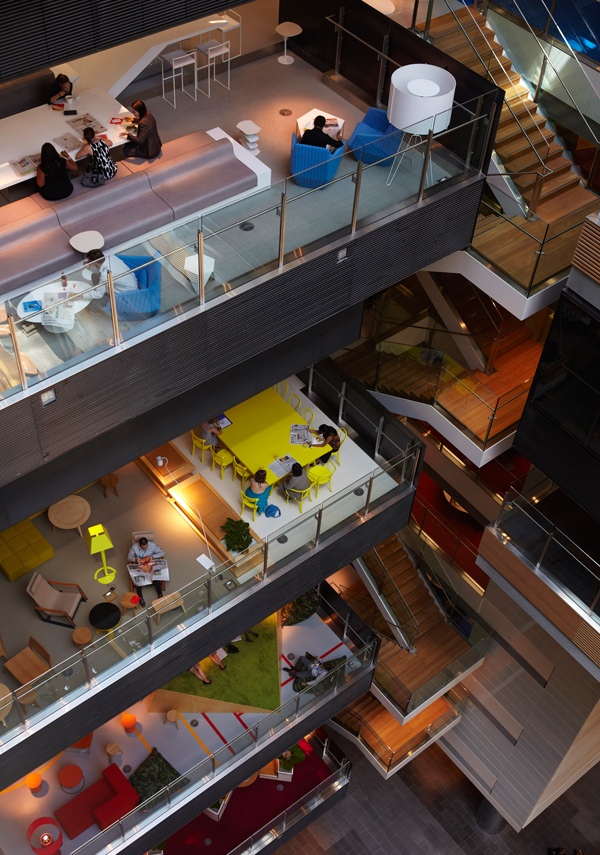 The commanding space was made to seem more intimate by creating physical, visual and psychological connectivity between the diverse spaces. The Hassell interior design team accomplished this by creating 'streets' and foot traffic thoroughfares within the building and installing staircases to directly link every floor to each other. The team also created visual 'bridges' across the space using material repetition, space and design commonality, and graphical atmospheric elements. Connectivity was also achieved through diversity and spatial variety.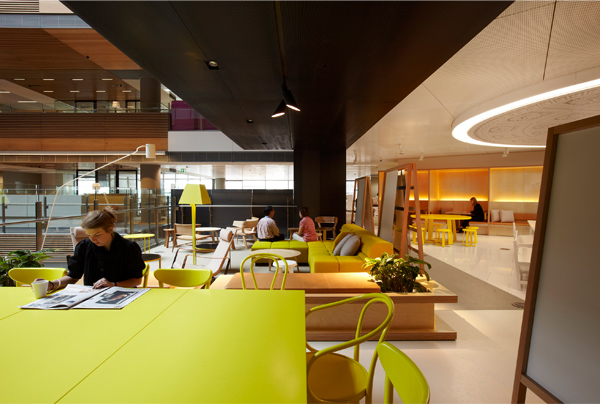 Being mindful to alleviate the confrontation of solid masses of building and space, the team used clever design strategies to frame and foreshorten views to achieve human scale. Rob explained that the cantilevered floors at every second level for instance, softened the 'walls' of the atrium by interrupting the verticality of the block of negative space. This staggering of levels also displaced some of the natural light from the 10 storey high skylight that would have otherwise created a canyon type space. Hub spaces were differentiated using bright, bold colours, designer furniture and unique design styles. These hubs encouraged different working styles and were functionally furnished to this end. Though individually complex and unique, when viewed collectively from the public access areas, these spaces popped with individuality and projected an overall connectivity that added fun, interest and variation to the visibly accessible strata of workspaces.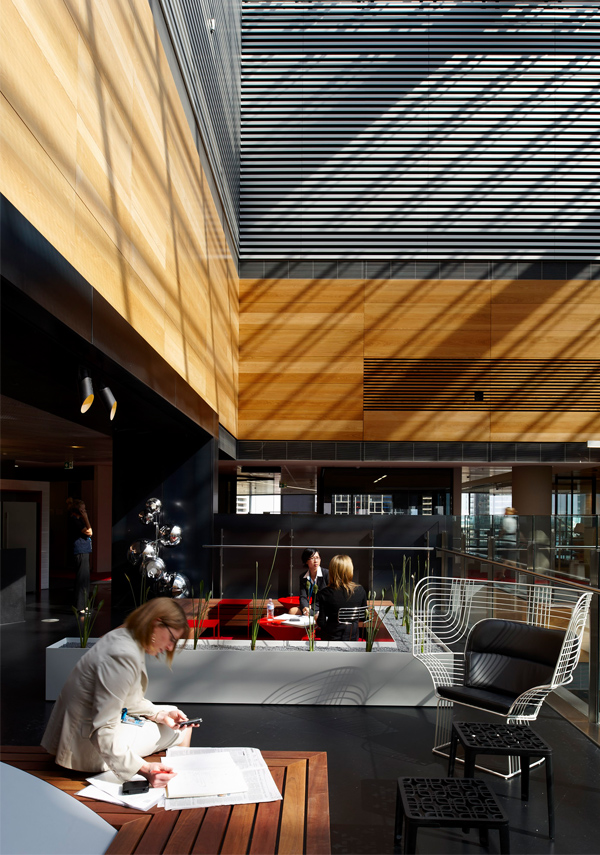 Large windows, fresh air, plants and natural daylight feature heavily in the interior plan to bring the outside environment indoors where the animated play of light and shadow moved within the atrium like a slow-motion kinetic artwork. Opening the interiors to exterior atmospheric effects also linked people within the building with their outside surroundings creating another layer of permeability. The extensive use of local Ironbark timber on a large scale, as well as in detail, added warmth that softened and embraced the space, giving the interior a warm domestic character. Adding to this, the general palette of orange-brown, grey, white and black balanced beautifully with the transparency of glass, shimmer of metal, wash of natural light and airiness of wall-less office spaces, to create an intimate and inspiring space.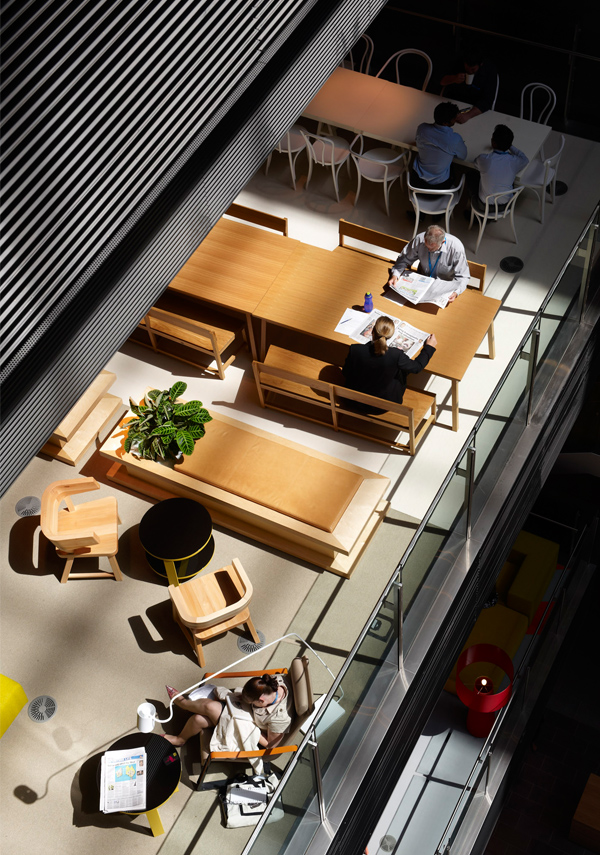 An additional $35 million was invested to raise the buildings environmental ratings, incorporating strategies such as air conditioning complemented by river water cooling, electricity generated on-site using natural gas and wind power, solar power consisting of 1000sqm of solar cells and blackwater recycling. These world class practices earned the building a 6 Star Green Star – Office Design v2 rating from the Green Building Council of Australia. Rob confirmed that sustainable, energy efficient and environmentally responsible design is a natural part of the 21st century designer's mindset. He stated that the design team was quite lucky in that it was given the freedom to meet the ANZ Design Brief using concepts and ideas that were ground-breaking and futurist for the time. Such emotionally intuitive design concepts that focus strongly on sustainability, human relationship and transparency, as equally as the more traditional functional requirements of an organisation, have revolutionised commercial office design philosophy and remains a highly identifiable legacy in Hassell designs.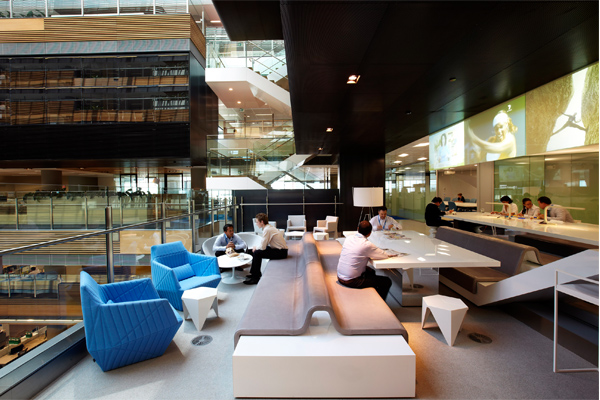 Though the project has long since been completed, organisational tweaking continues to this day to ensure optimal usage of the monumental 83,550sqm area of office space by, at time of writing, around 7,500 staff. The interiors however have not required further development, refurbishment or renovation which is testament to the skill of designers, and the design and aesthetic integrity of the fitout. Hassell has no further contractual involvement in the project however does provide consultancy to ANZ Centre management on aspects of interior design and décor on an ad hoc basis.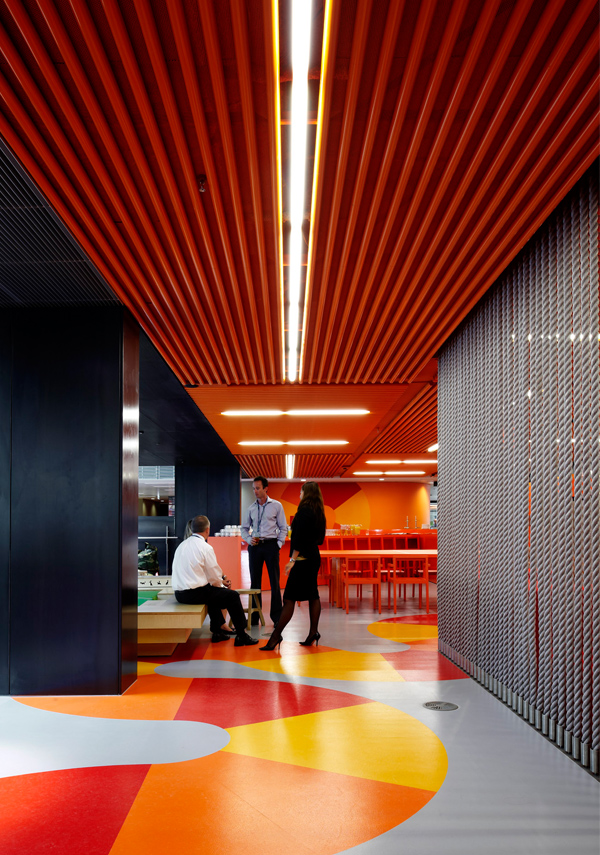 In our interview, Rob Backhouse stated that the ANZ design incorporated spaces to be discovered, experienced and engaged with. In diversifying the design styles of the spaces to give people a choice of how and where they engage and interact with each other, it was hoped that each person could find "a space they loved", a space that inspired their productivity. It was important to the Hassell interior design team that current staff, as well as a future workforce, feel connected with the space on an emotional level, maybe finding a feeling of home in the workplace. I asked Rob whether this is how the office of the future might look. Thoughtfully he answered that although the desk will always be there, an office space is primarily somewhere for people to interact and collaborate and agreed that the lines between how we work and how we live outside of work, are blurring as we speak.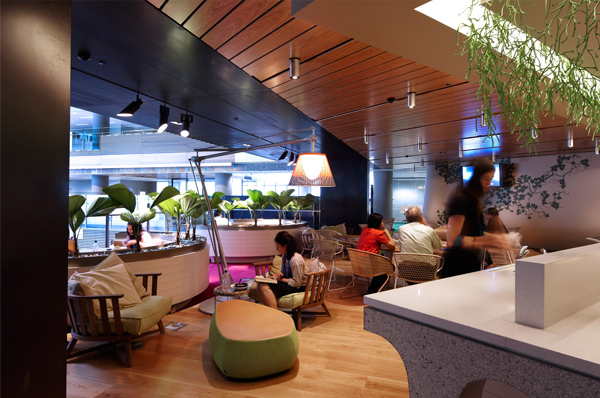 And how did he regard the IDEAs going into that future? Rob Backhouse said it was great to get an award for a project they worked on for five years and that it is important for the community to appreciate the skills of a designer. The overall benefit however, are that these events foster interaction and conversation of ideas between peers, bringing visibility to the thinking in the industry.
To gauge the feeling of people at the coalface I spoke to a few as they left the ANZ Centre on their way home up Collins Street. Some stated how 'unusual' it was to work in such an open banking environment and still 'feel secure'. Others felt 'special' and "absolutely love working (here)". All confirmed that the space made a positive difference to their work life.
Written by CATC student Fiona Foster.