Hayball has unveiled its new studio in Surry Hills, which the team designed through an extensive "co-creation" process.
Hayball launched its first Sydney studio in late 2015 and following an increase in staff numbers due to a growing portfolio, decided to design an office environment that also acts as a prototype to test new workplace settings.
Sydney studio director, David Tordoff, said the warm and welcoming space places the principles of community and collaboration at the heart of the design. "Community for us is all-encompassing," he says. "We wanted to craft an inviting space that anyone could feel at home in, whether they be staff, our clients, school groups or our family members. Opening up our space to our community also allows us to learn how our guests interact and respond to each distinct setting, feeding back into our wider research and design work."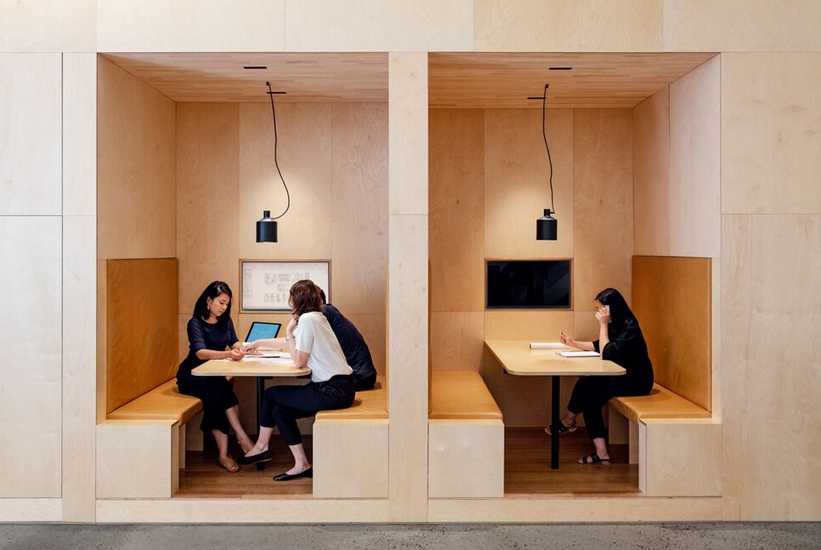 The studio space is constructed using natural materials of timber, plywood and glass which helps to enhance warmth, light and comfort in the office. Bespoke volumetric joinery elements are used throughout to define various specialist workspace settings.
The health and wellbeing of staff has also been taken into consideration. "Spaces for play are given equal importance to other work activities to promote participation, activity and movement to create opportunities for staff to interact and truly engage with one another. We have incorporated standard end of trip facilities such as bike storage and
showers to encourage more active lifestyles; whilst a team plant selection program fosters inclusivity, a sense of ownership and wellbeing," says Tordoff.
The studio also includes a number of informal yet professional break out rooms, allowing for community members and clients to come in for workshops and focus groups.
Tordoff adds that family was also a design factor: "Hayball is home to a number of parents, so we wanted to ensure the space was suitable for people to bring their children in. Rooms are multipurpose such as our whiteboard room (where every surface is writeable) serves as both a brainstorm room, a kid's play spaces with toys and a boardroom that gets used as regularly for table tennis as for meetings.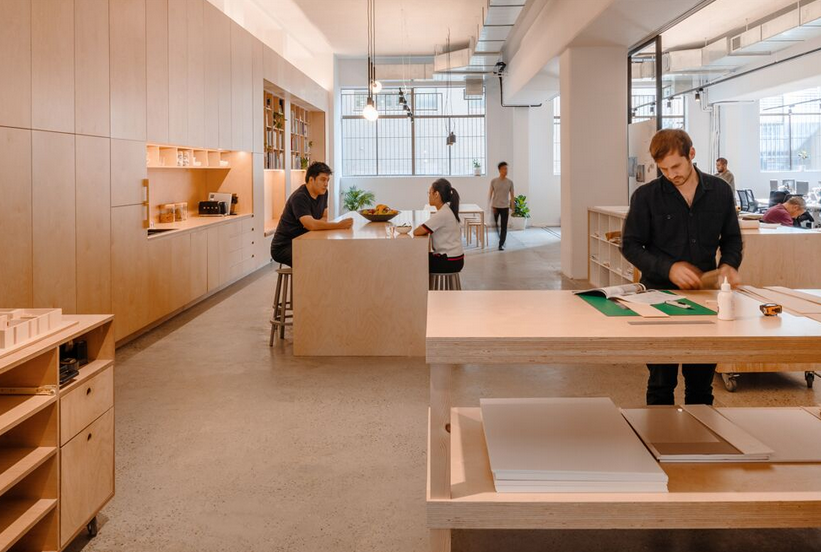 "Collaboration was another key pillar for us. Architects need to collaborate with each other and with clients to maximise design outcomes, but ironically architects workplaces whilst often being beautiful aren't designed for people to work together –fixed dedicated workstations and a few meeting rooms are often the norm," he says. "We wanted to trial something new to offer choice of workplace settings to promote collaboration."
To enable movement and choice across the office, the studio offers a variety of workplace settings, including automated standing desks; small group booths; library spaces; workshop and maker spaces.
"We were also keen to include spaces that are influenced by our work in the residential sector such as data-enabled kitchen and dining areas that promote informal collaboration in a familiar, more domestic environment," says Tordoff.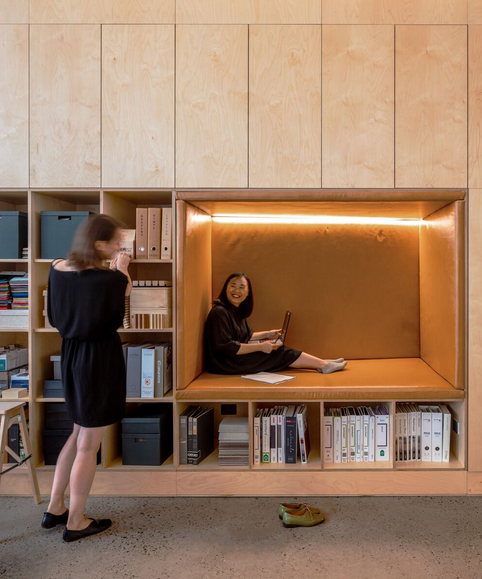 Each team member is also provided with a toolkit that's mobile: a laptop; a tray with all their analogue drawing equipment; a locker for end of trip facilities and a local storage locker in the office that becomes a home for their items, a substitute for a traditional desk.
"We advocate for collaboration and group work in the education and commercial spaces we design, so we wanted to reflect this methodology into our own space and ensure the design would support diverse ways of working," says Tordoff.