Practice – KPDO
Project – Harbour House
Location – Sydney, Australia
Text – Jan Henderson
Photography – Richard Powers
Sydney is renowned for the spectacular and luxurious homes that populate the foreshore of this naturally formed harbour city. These residences are generally designed on a grand scale and, in many cases, are geographically difficult to visit, located well away from the prying eyes of passers-by. However, not all of these homes are design gems; the really successful projects are ones that are site specific, sympathetic to the environment, and marry architecture and interior design with perfect resolution.
One such home is Harbour House, a large and perfectly detailed residence that redefines the word luxury. The commission has been a labour of love by Kerry Phelan and the team at Kerry Phelan Design Office (KPDO) and was some three years in the making. KPDO was established in 2009 and Phelan, now working with partner Stephen Javens, has seen the practice grow exponentially. With projects such as Harbour House, it's easy to see why.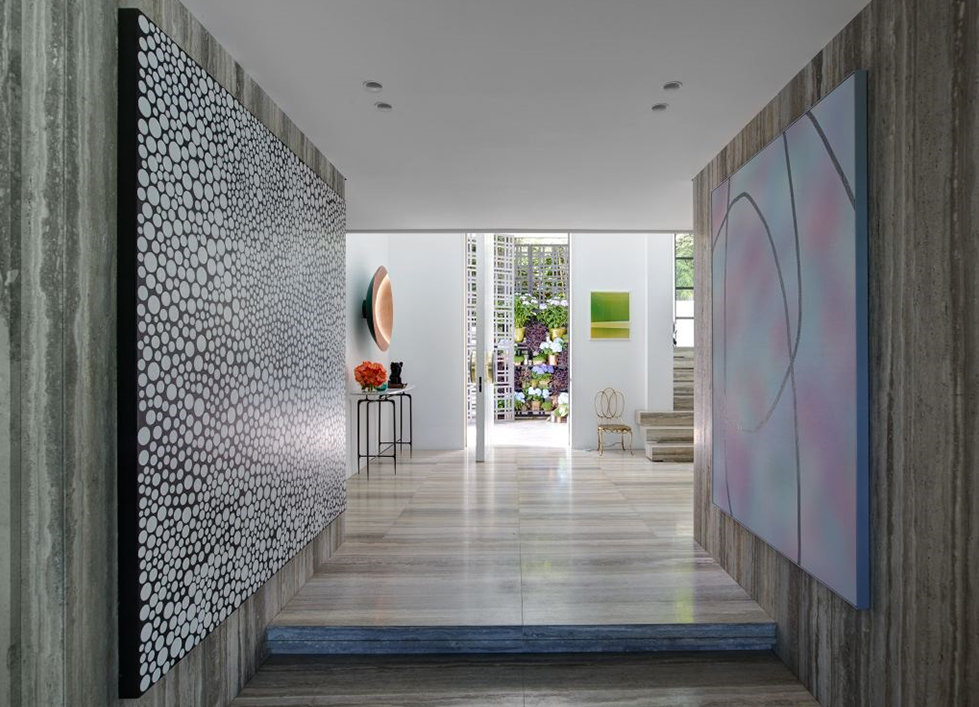 The project was virtually a new build; the previous home on the site was all but demolished, and the remaining carcass became the starting point for the new design. Architect Luigi Rosselli collaborated with KPDO to create the three-level residence situated on a sloping site, which would encapsulate contemporary and luxurious living, and showcase the spectacular harbour views. The clients, a cosmopolitan family of five, divide their time between Sydney and Los Angeles and their brief to Phelan stipulated generous entertaining spaces, a fluidity of form, individuality and the opportunity to incorporate a prized art collection into the interior. Phelan has excelled, providing a design that is light and airy, sophisticated and comfortable.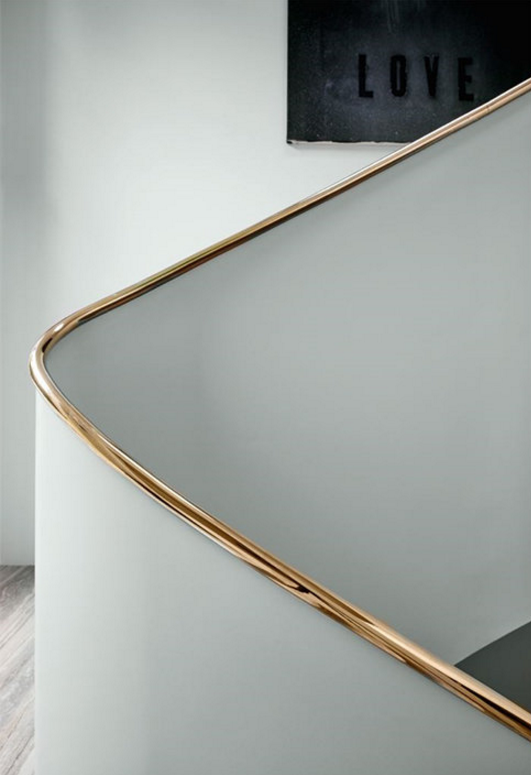 The home is accessed by a long private driveway that leads to the porte-cochère to the side of the house. Detailed steel and brass screens that are a continuum throughout the interior sit beside an over-sized timber front door with bespoke curved handle. Through this portico the visitor enters the middle or second level of the house and a double-height void showcases the spectacular circular staircase of painted steel with customised brass handrail that connects each floor. The colour palette is subdued with white painted walls and ceilings and muted greys, black and beige. Accents of vibrant colour abound in the artworks and accessories, such as cushions, and add interest and depth to the interior. Materials complement the colour palette: marble (Carrara, Calacatta, Blackwood, White Vermont) travertine, basalt, onyx (amber, white pearl), American oak timber, stainless steel in various finishes, brass, bronze, mirror and glass have all been used separately or together to create interest and texture.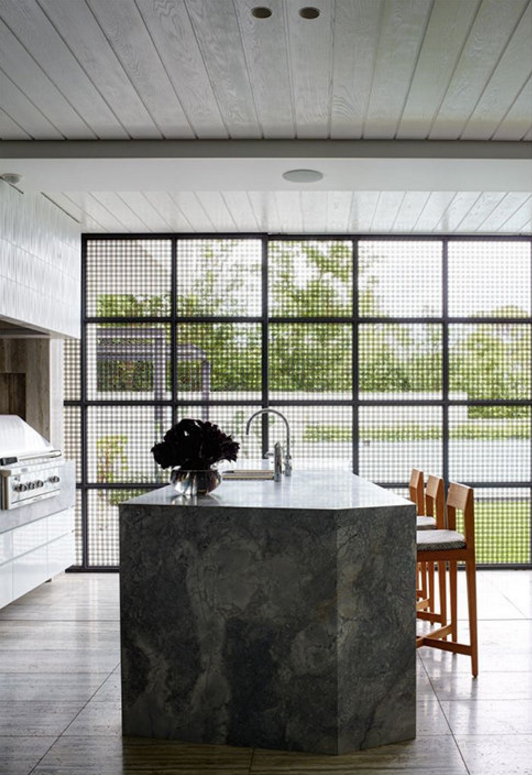 On this mid-level is the entertaining area, the formal and informal living and dining areas, double powder room, spacious kitchen, scullery, cool room and pantry, guest bedroom and en suite, large playroom and terrace. Travertine (ocean blue vein cut) flooring has been laid throughout, including the outdoor terrace, and this uniformity creates a seamless visual integration of the two spaces. There is an abundance of natural light from the floor-to-ceiling windows that frame the ocean views and the light reflects on the interior materials to create a particular luminosity.
The upper and lower levels can be accessed by staircase or lift. Downstairs leads to the first level that incorporates the large garage, utility and storerooms, two powder rooms, office, gym, theatrette, wine storage and a two-bedroom, self-contained guest apartment; while the top level of the house contains the main sleeping quarters, with powder room, TV area and guestroom, en suite and private ante-room at one end and master bedroom, en suite, walk-in robe and private terrace at the other. In between are three bedrooms, a laundry and terrace. The style of each floor and indeed each area and room is restrained elegance and comfort.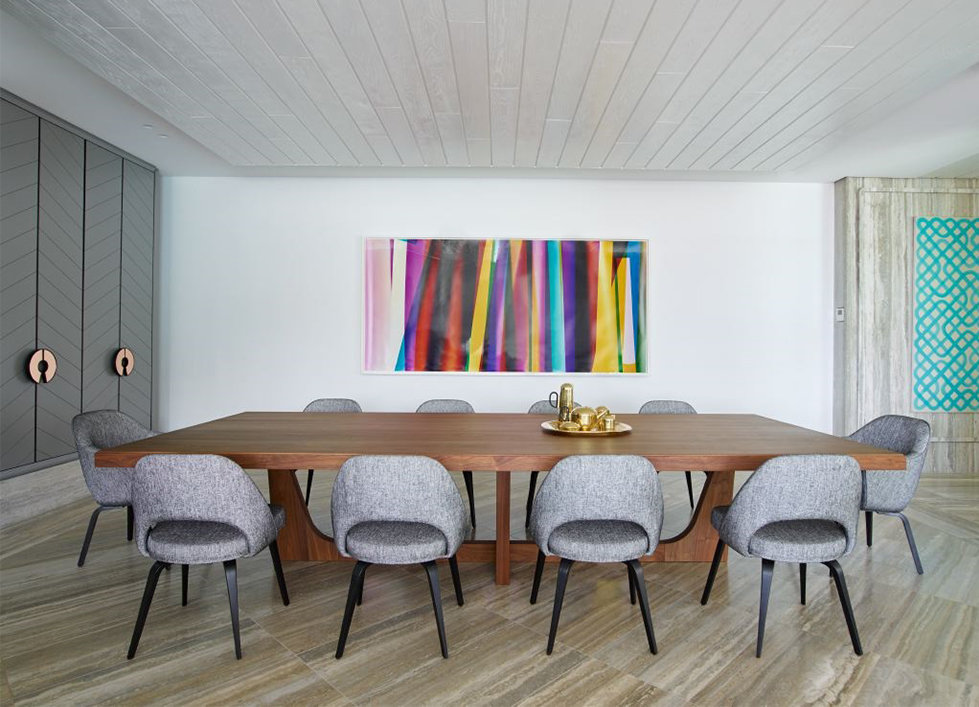 Harbour House is an enormous project and as such there are a multitude of exemplar areas. The furnishings are an eclectic mix of those pieces purchased during buying trips to LA combined with the best products available locally, but the continuity is quality, form and function. The formal living and dining rooms have been designed with a timeless appeal. A substantial custom designed dining table (KPDO) surrounded by Saarinen chairs (Knoll) is at home in the dining area while armchairs (Jean, B&B Italia, Space), sofas (Turner, Molteni & C, Hub), shagreen consoles with brass legs (JF Chen), occasional tables (Bridger Oval, Holly Hunt) side tables (Dupre, Casa Milano, FY2K) and marble coffee tables (Dupre, Casa Milano, FY2K) combine to make a relaxed and comfortable seating area.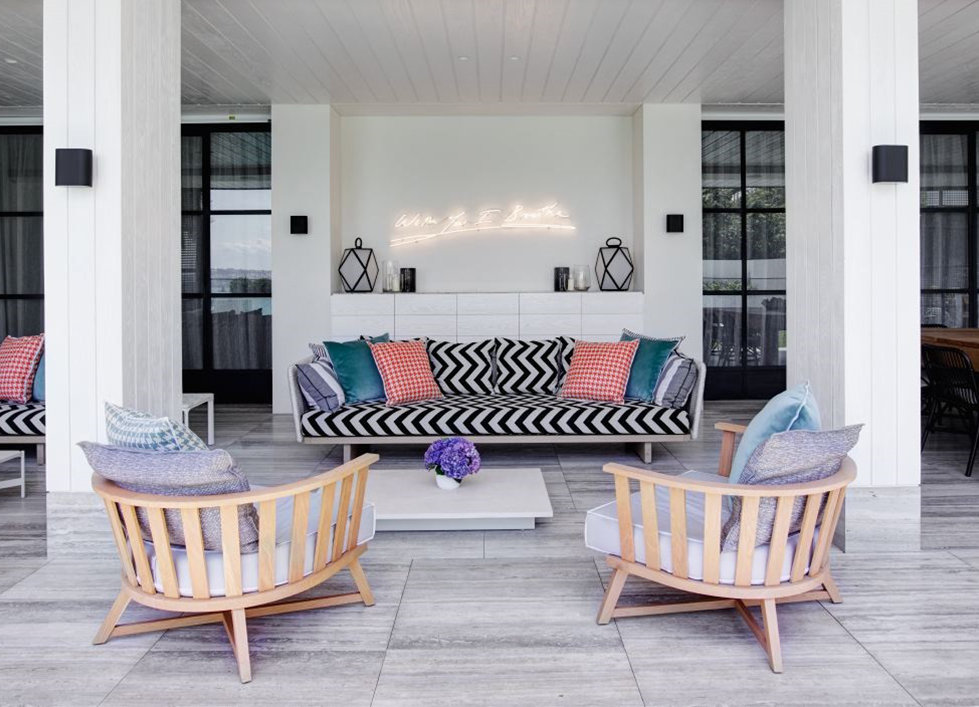 The main terrace is splendid with lounges (Sabi, Paola Lenti, dedece), armchairs (InOut, Gervasoni, Anibou), coffee tables (Heron, Paola Lenti, dedece), an informal teak dining table with matte black top (Ping Pong, James Perse LA), dining chairs (Wild, Piero Lissoni, dedece) and cushions. There are shelving units (Piano, dedece), as well as pendant lights (Large Portreath mesh, Tigger Hall) and lamps (Muse, Thema and Kettal Objects, dedece) and a purpose-built bar and stools (Smoothie collection, Summit) complete the area.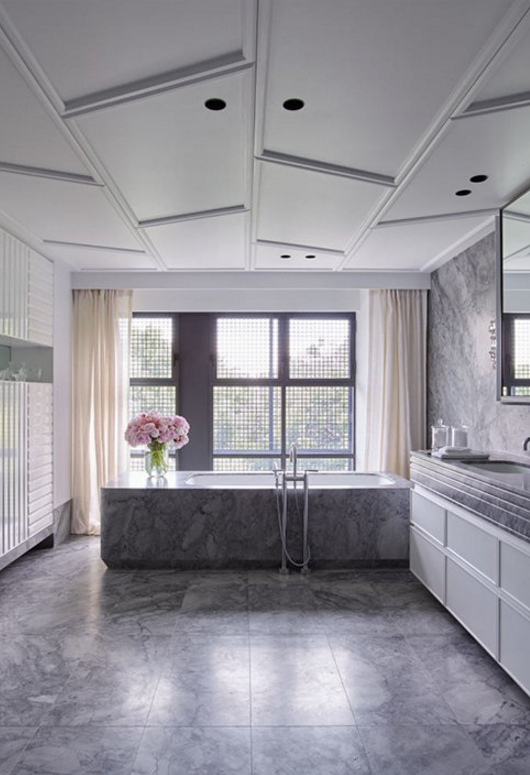 The kitchen, on the central floor, is the epicentre of the home and as such a meeting place for family and friends. The inclusion of a monumental marble slab island bench is a showstopper, but also practical as it makes entertaining easy inside and out. With careful planning there are multiple areas in which to display artworks that in turn complement the surroundings. With such visual delights as Charles Blackman's The Young Acrobat Schoolgirl, Anish Kapoor's Untitled and various works from Tracey Emin on show (among many others) the house becomes a veritable 'house museum'.
Perhaps the most inspiring element of Harbour House is its simplicity or rather the effortlessness of the design. Phelan has made this new interior look as if it belongs, that it is correct. There is a natural elegance and feel about this interior that is impossible to imitate. It takes experience and talent to design in this style and there is no doubt that Phelan is a master. Harbour House has everything, practically and aesthetically. It is the total package.