Photography by Anna Zhu.
Last month, Australia's first green roofed terrace frontage was opened for public viewing. Designed by Steele Associates, the three sustainable terraces host a number of intricate and considered design elements, revealing a property with an 8.5 star energy rating and a number of exciting and innovative details.
From the outside, the terraces take on a deep and rich appearance. Shou sugi ban burnt timber cladding makes up the façade, chosen not only for aesthetic value but due to the fact that it lasts longer than regular timber as organisms are repelled by the burnt surface and won't eat it. Adding to the richness, a garden of hardy, native plants covers the roof. Designed and planted by Stuart Sutton of Ezigrow, and advised by Matt Dillon of Verdant Solutions, the green roof provides further acoustic and thermal insulation to the home.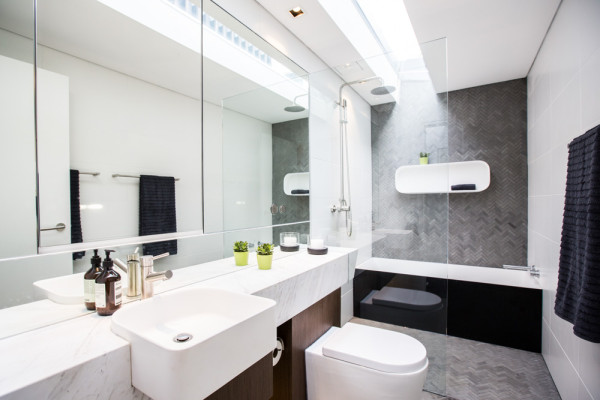 In the bathroom, intricate negative detailing ensures everything runs flush with the walls and benching. A lengthy mirror is recessed into the wall, while an LED light lines the underside of the floating vanity, acting as a soft light for late night visits to the bathroom. Determined to avoid the traditional plastic exhaust fan cover, Steele Associates developed their own stainless steel version through the reimagination of a tile insert drain cover. This creativity has resulted in a sleek and minimalist design which matches the other stainless steel accessories within the bathroom space.
At the heart of the house is an automatic retractable glass roof, through which sunlight enters the house, bouncing off a pond (complete with goldfish!) which sits below, and into the living areas of the home. In summer, warm air will rise into this space and escape through the glass roof, which can be opened while still remaining covered by a sunshade.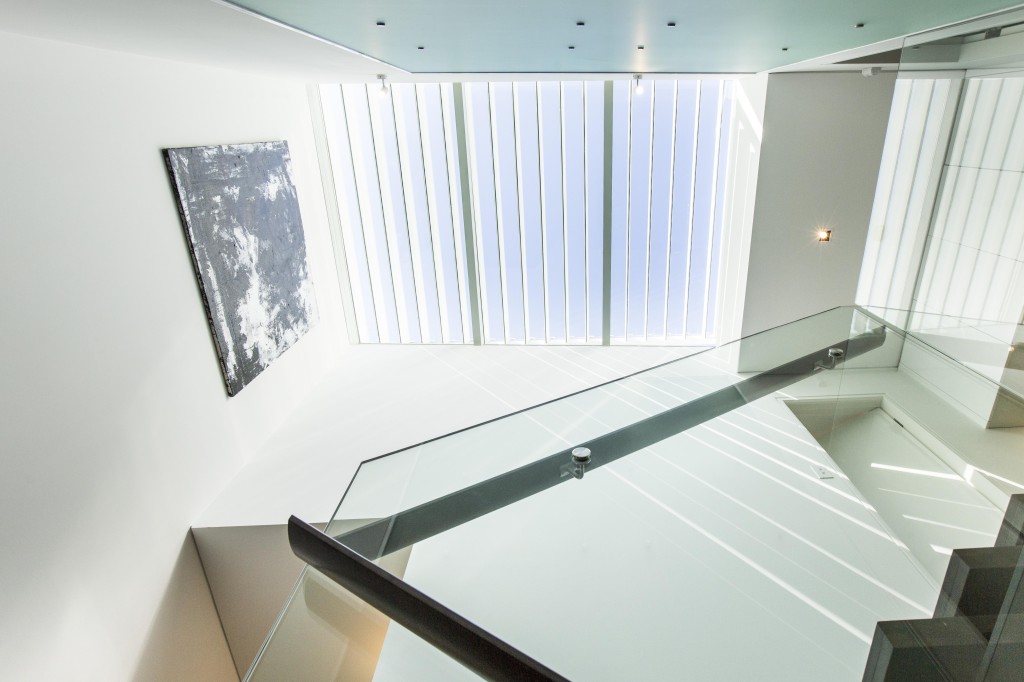 European-style, double-glazed windows feature German-made handles which open the windows in two ways – both inward and in tilt style. The inward option makes cleaning both sides of the glass easy, also providing a wide opening, while the tilt option allows for ventilation without letting rain inside.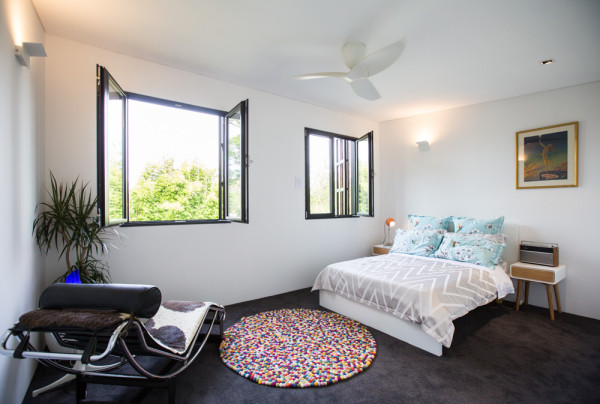 Dedicated to creating a design that is sustainable and pushes conventional design boundaries, Steel Associates have included an array of seemingly small details that make a big difference. Streamlined living teamed with an environmentally conscious approach make 88 Angel Street a standout design. I chatted to founder and architect, Oliver Steele, about his work on the project.
So many elements of the design stand out, particularly the green roof, as well as smaller details such as the window openings and the LED light below the bathroom vanity. What is your favourite element of the project? 
The indoor/outdoor courtyard/stairwell has worked well. The original scheme had the courtyard next to the stairwell, but space was getting tight, and I wondered what would happen if we overlaid the two. It feels quite exciting to press a button and have a staircase open up to the sky, almost naughty! Lucky we have a rain sensor, or we'd get into trouble.
The automated, sun-tracking louvres filter light nicely through the 4m high glass balustrade before it bounces off the  pond over which the staircase floats. After the compressed entry, it's such a striking contrast, and sets the tone for a house of surprises that have function and meaning as well as being extraordinary.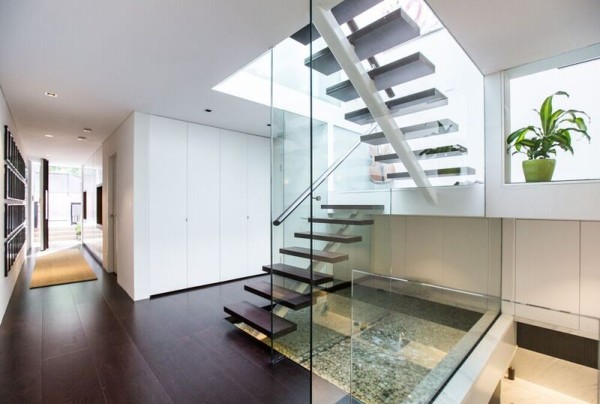 It sounds like there was a lot of research and thought put into making the green roof work, particularly on a slope. What was the process behind developing it, and how long did it take to get the design right? 
The first idea was to have a food-producing garden on the roof. Maintenance, water consumption, and the need for balustrades put that to bed.
We then decided on irrigated Sydney natives that have evolved for this climate, to make it an easy roof to live with for the long term. The occupant doesn't have to lift a finger to maintain the roof, and the landscaper only needs to make a short visit every three months to prune, weed and fertilise. The house comes with a 12 month maintenance plan included, so people know they're committing to a joy, not a burden.
Most of the research was in designing a new structural roof system with very high insulation, no thermal bridging, and a low profile, that will never, ever leak. We also investigated a number of restraint systems for the sloping roof, and integration of soil moisture sensors into the automation system. Now the landscaper and owner will get an SMS if the soil dries out, so adjustments can be made before the plants suffer.
This process occurred over a few years as we got everything else sorted out. You never finish designing a building, you just have to stop when it's built.
You must be applauded for the sustainability of 88 Angel St, eco-consideration is clearly very important to you. How do you see the state of sustainable design at the moment – do you think enough architects and designers are embracing it? Why/Why not?
We're facing a crisis. I call it 'ecofatigue'. Many architects and designers feel sustainability is a bit of a fad, or a style. Almost constraining enough to rebel against. The science says it must underpin all design and become 'the water we swim in' (i.e. so ubiquitous we take it for granted) if we're going to be designing anything at all in 100 years or so!
There are, of course, a lot of people doing brilliant work towards sustainability. We just need to get more rigorous and consistent in our collective approach.
What were some of the biggest challenges, and biggest rewards of this project?
The biggest challenge and reward was being my own imaginary client for the first time. Not having someone else's wishes to guide the design was liberating, but I continuously found myself changing my mind , adding things to the scope (and charging myself variations), refining details, and agonising over small decisions as we got closer to completion. In short, doing all the things that can make clients infuriating. Funny how roles can be more powerful than personalities…
Your YouTube series on the project is fantastic and full of really interesting and inspiring information. What gave you the idea to do the series and how did you find it?
My lovely wife, Anna Zhu, is a very talented photographer and film-maker. She suggested it. I would never have thought of it myself, but liked the idea. James Hasler-Bail shot it for us, and did a great job of turning our unplanned and unscripted sessions into coherent films.
A big part of my mission is to encourage others to embrace sustainable design and construction and bring it into the mainstream. What better way than to give a step-by-step account of our experience?
I quite enjoyed the process. It was like having client meetings with the imaginary client, explaining how and why we were doing all these wacky things.
How does it feel now that the project is completed, and what is next for you?
One of this would have happened without the invaluable ideas, support, and bloody hard work that so many people have put into this project. Now it's finished, it feels like the team is clearer on what it's all about, and what a difference we can make.
We're currently engineering our next project to see what norms we can topple and assumptions we can undress in 11 one bedroom apartments in Redfern. Fun times!
http://steeleassociates.com.au/
https://greenroofsaustralasia.com.au/verdant-solutions-australia