Above image: Mr Dowel Jones, arrives as a flat pack product
Text: Rowena Robertson
Photography: Georgia Charlotte Bloxham; Courtesy: Dowel Jones
Who says Gen Y shies away from hard work? The stereotype definitely does not apply to Dale Hardiman, 23, and Adam Lynch, 22, the brains behind recently launched Melbourne furniture design firm Dowel Jones.
The duo have been spreading themselves thin, juggling their final year of design studies while designing for the business and working on projects as part of a loose collective of designers called Lab de Stu.
Dowel Jones' signature product, Mr Dowel Jones, is a beautifully simple component-based, flat-pack lamp of timber and rubber. "It's like a little animated person," says Hardiman.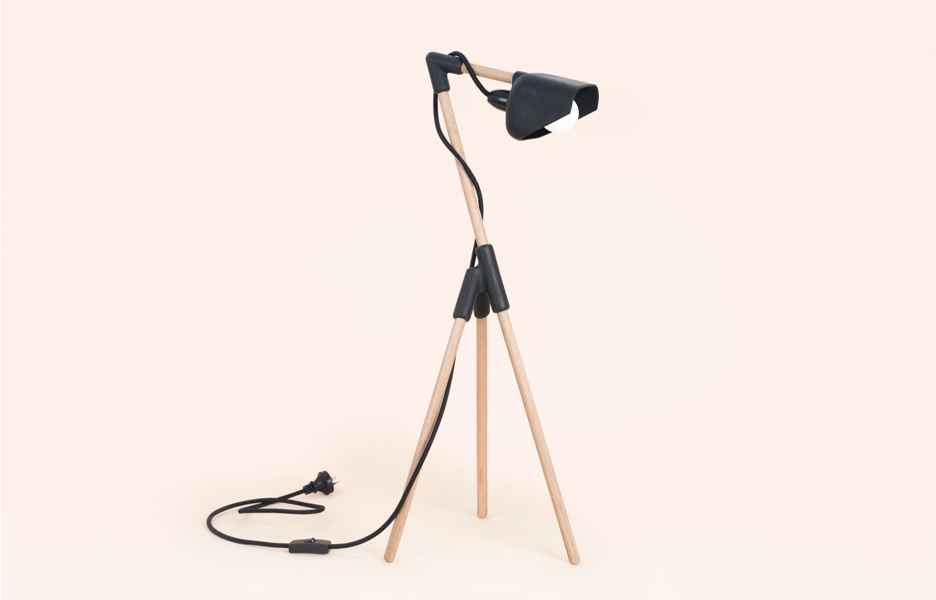 The original concept for the product was a 3D printed lamp. "Then we showed [the final product] in Sydney in February and it went really well," says Lynch. Simone LeAmon, design curator of the National Gallery of Victoria's Melbourne Now, also saw something in the product, and ultimately commissioned 21 for inclusion in the exhibition.
Hardiman and Lynch's partnership is one of complementary opposites. Hardiman is the 'creative', who confesses to "being in [his] backyard making random things while everyone [in the design course] was learning about machinery". Lynch's focus is production – streamline manufacturing and technology-based, machinery-based work.
"Dale's all arty and crazy and I can be a little bit more straight down the line saying, 'That's a great idea, but how do we make it work? How do we make more than one?'" says Lynch.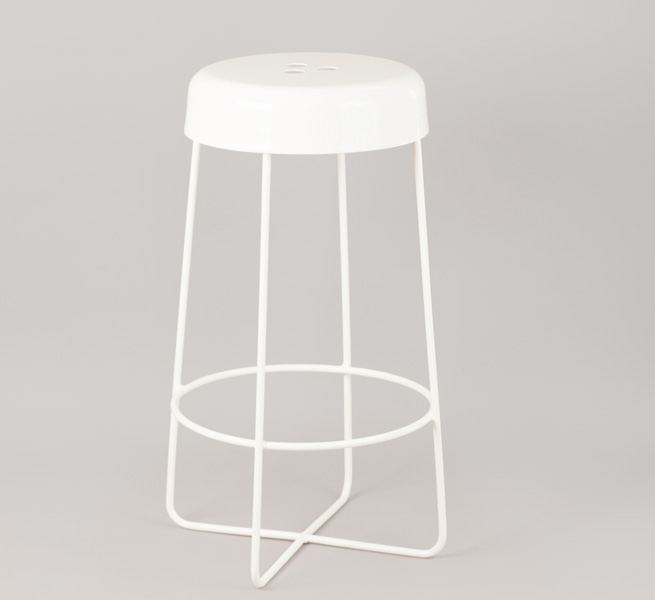 Hardiman's 'artiness' incorporates a fascination with alternative and by-product materials. "I do a lot of research on whether or not something has potential – I still have materials sitting in my house that are ready to be used, but I just don't know how. I kept eggshells for a year and a half as they're made from calcium carbonate, and I know if I fire them at 1200 degrees for three hours I can turn them into lime and make concrete… That's what I like to do – get something unusual and then play with it enough 'til it works."
The two have the tools and ability to self-manufacture their products. They keep their own machinery in Geelong, but more often than not hand the task to carefully chosen local manufacturers. Keeping production in Australia is important to them, as is ensuring affordability.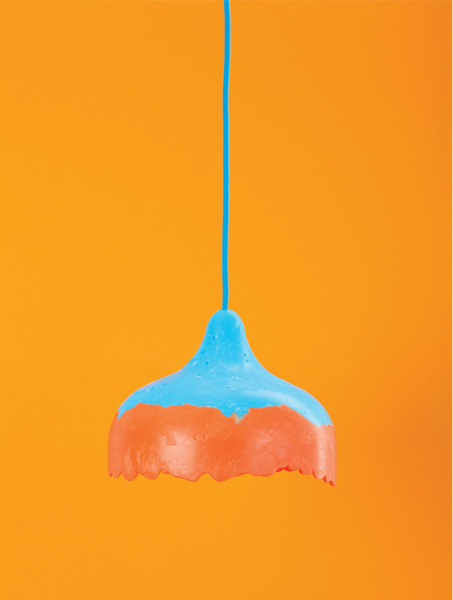 "We're trying to produce local products that look good and that are good and that can be produced at a price that people will pay in Australia," says Hardiman. "We've worked really hard to get metal manufacturers that are phenomenal with metal, timber ones that can do timber and so on," says Lynch. "Even then, we still try to use companies that aren't huge."
In what is perhaps an example worth following for young designers, Lynch and Hardiman have been proactive about involving themselves in the design community and coming up with strong channels through which to make an impact. Hardiman says that being chosen for the Bombay Sapphire Design Discovery competition in 2011 pushed him into the media realm and made him realise the importance of reaching out to the design community. The ethos behind Lab de Stu, the other core member of which is André Hnatojko, incorporated a media front.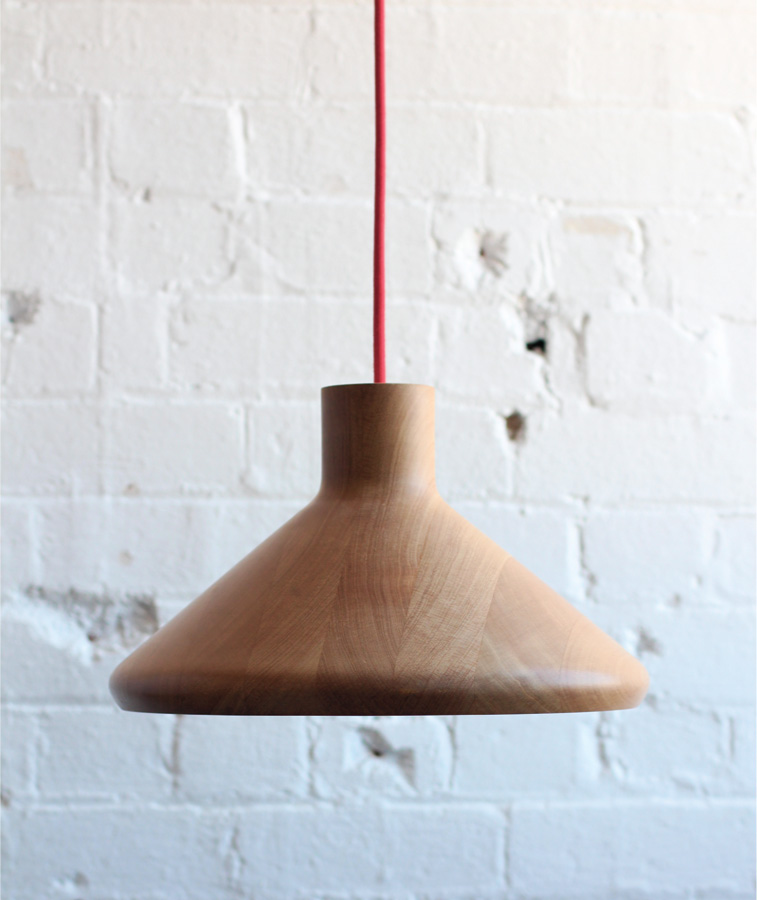 In doing so, any attention received by one member would then be reflected back on the collective. University has frequently taken a back seat to Hardiman and Lynch's professional activities, but, as Hardiman says, "We have to do these things – we feel it's just as important as uni if not more, as we're trying to study to get to that point, so why not involve ourselves from early on?"
The two showed at the 2013 London Design Festival, where Mr Dowel Jones met with an enthusiastic response and the duo are currently "in talks" with freshly made international contacts.
On the new product front, they are attempting to commercialise some of Hardiman's "not commercial" ideas, says Lynch. "We're working hard on three or four new products that have come from that space – Dale's ideas that we're turning into something that everyone can have."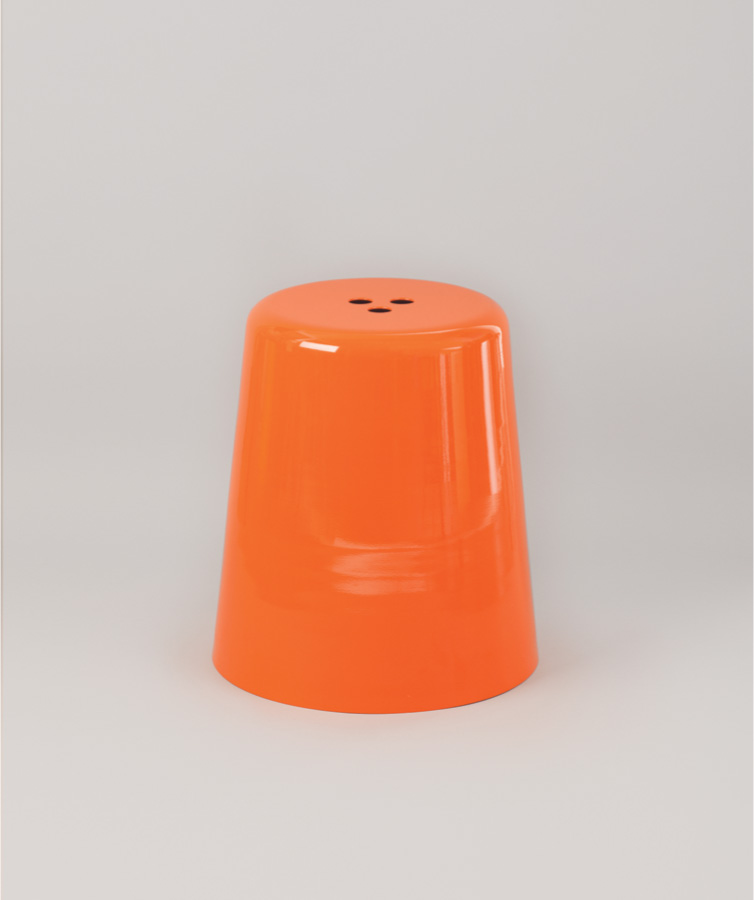 One of these is a pendant light, which will be available in solid timber, solid marble and copper. "The premise is that we have a single form and materialise it in different materials, and at different price points," says Hardiman. "Different weights, different aesthetics, but the three materials complement each other really well." Also on the drawing board are a stool and a desk, further exploration of componentry inspired by Mr Dowel Jones, and a possible trip to the Milan Furniture Fair in April.
Despite all Hardiman and Lynch's achievements, a little starry-eyed-ness remains. "We're really lucky we've got to the point where we've exhibited with Ross Gardam, Ross Didier, Charles Wilson – having our work parallel with them is amazing," says Hardiman. "I love that we're finishing uni and showing at the NGV at the same time."