Creativity is not an endless source of talent that a designer magically conjures at will. On the contrary, as a fundamental element of the design process, creativity must be worked at, developed and nurtured. Importantly, in a design career that may span 30 or 40 years or even more, creativity must be sustained. For multidisciplinary collective Enoki and co-director Susanna Bilardo, creativity is made manifest through a considered epistemological and organisational way of practising. Hindmarsh Residence is a recent demonstration of Enoki's particular and deliberate creative method – the generation and application of knowledge and the employment of collaborative processes.
The Hindmarsh Residence project presented itself to Enoki in a relatively unremarkable way. Referred by other clients, a young professional couple with two small daughters sought Enoki's expertise to transform the living spaces of their ubiquitous circa 1900 sandstone-fronted Adelaide villa located in the semi-industrial, but increasingly gentrified inner western suburb of Hindmarsh. A focus on the western-facing rear zone – housing a basic kitchen, conventional dining/living space and a redundant (and pink) girls' playroom doubling as a family study – offered a seemingly conventional residential brief. Yet Bilardo expertly worked on the collaborative consultation process with her clients to establish a unique conceptual approach to the project. She gradually homed in on the couple's shared interest in graffiti, establishing the project's creative springing point as a witty juxtaposition of old and new Adelaide – polite Victorian sensibility meets contemporary street culture.
A family friend, graffiti artist Joel Van Moore (aka 'Vans the Omega'), was engaged to interpret Enoki's concept and material palette. Initially unaccustomed to the surface preparation required for a finely finished, interior, permanent work that would bear witness to close scrutiny, Van Moore painted a crisp, faceted geometric work that endearingly wraps itself around the Victorian leadlight passage door and spreads into the kitchen.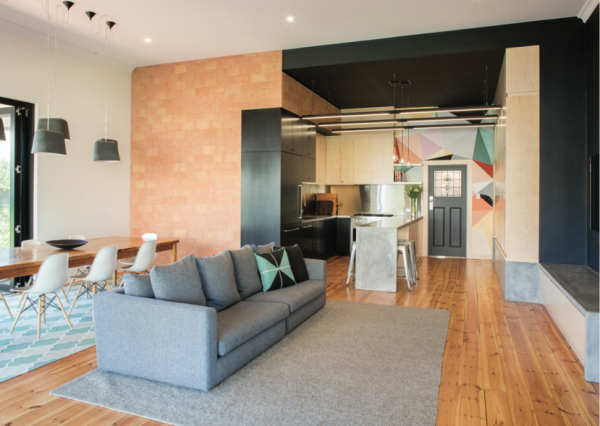 Conceiving the room as the 'street-zone' of the home, Enoki established the kitchen as the centre of family activity. Although narrow and not overly large, the new kitchen is pivotal in connecting the dining and living spaces, study and a generous outdoor entertaining deck sheltered from the baking western sun by a deep verandah.
Raw, street-inspired materials are expertly detailed to form stainless steel kitchen work surfaces, integrated sink and splashbacks, black and clear-finished plywood under-bench and high-level storage, polished concrete return-end benches and plinth bases, and refinished original pine floorboards. Warmth is provided by a terracotta-lined wall extending from the kitchen to a dining area, where a cluster of luxurious felt pendants are suspended above the dining table.
The generous 3.6-metre ceiling height is emphasised by its black painted acoustic panels, while simultaneously 'lowered' by three suspended lighting extrusions from which terracotta-capped pendants drop in alignment with the kitchen bench.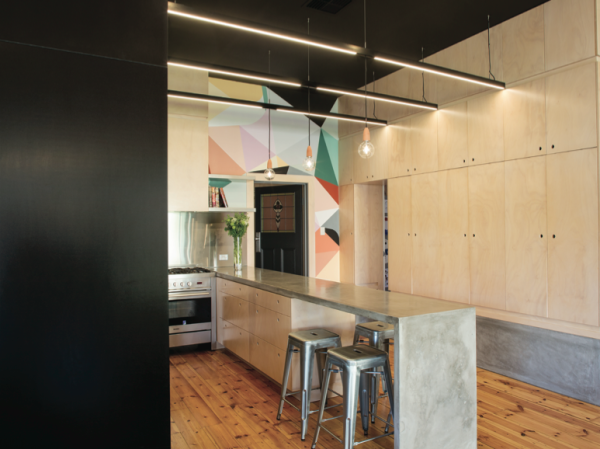 Over time, Enoki has fostered a team of select tradespeople who co-create joinery, interior elements and lighting for its projects. Bilardo maintains that hours of painstaking detailing in the design studio are pointless if the designer's creative intention cannot be executed in the workshop or on-site. Extruded lighting rails that connect precisely with rebates in joinery panels, and plywood doors inset flush below a polished concrete benchtop edge are all evidence of the way Enoki's specialist contractors and fabricators collaborate with each other as much as they do with the designers in order to realise the shared creative vision.
Concealed within the full-height storage wall, an opening leads into the repurposed playroom, now equipped with a double workstation and extensive, angled bookcase wall. The room is punctuated with intense yellow locally-produced inboard fabric and yellow bookcase shelf uprights.
The use of unexpected openings has developed from project to project as a feature of Enoki's interiors. Sometimes it is expressed as a hidden door within a bank of joinery, perhaps leading from kitchen to laundry or bedroom to en suite. Other times, Enoki will employ the hidden door feature as a sliding wall, leading from a child's bedroom to playroom or from kitchen to scullery.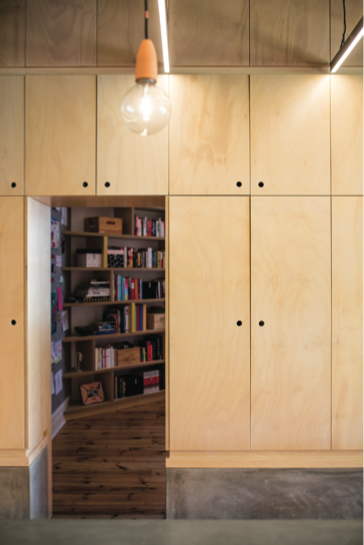 Enoki's product, graphic and interior design focus is a continuation of Bilardi's developing creativity that can be traced through a series of sole or small creative enterprises. As a student, Bilardo, who has never worked as an employee of other design directors, received a report from a work placement experience with a large corporate practice that assessed her as "…well-groomed and well-presented, but unlikely to do well in a career in interior design". Undeterred, Bilardo has gone on to not only succeed in her interior design career, but also to develop a deliberate way of practising that builds upon and extends itself, project by project. Just as the Hindmarsh Residence was the product of knowledge generated from previous projects, so too has it produced new practice knowledge, which Enoki will build upon and extend into future projects.