Article by Undertow Media
Photography by
All images courtesy Newline Design
With a design legacy spanning almost thirty years, Newline Design is renowned for offering high quality design and architectural services to residential and hospitality clients.
Founded by Jon Mikulic in 1986, Newline Design is a design practice based in Prahran, Melbourne managed by six staff that has delivered statement residential and hospitality projects worth over $200 million in the past decade.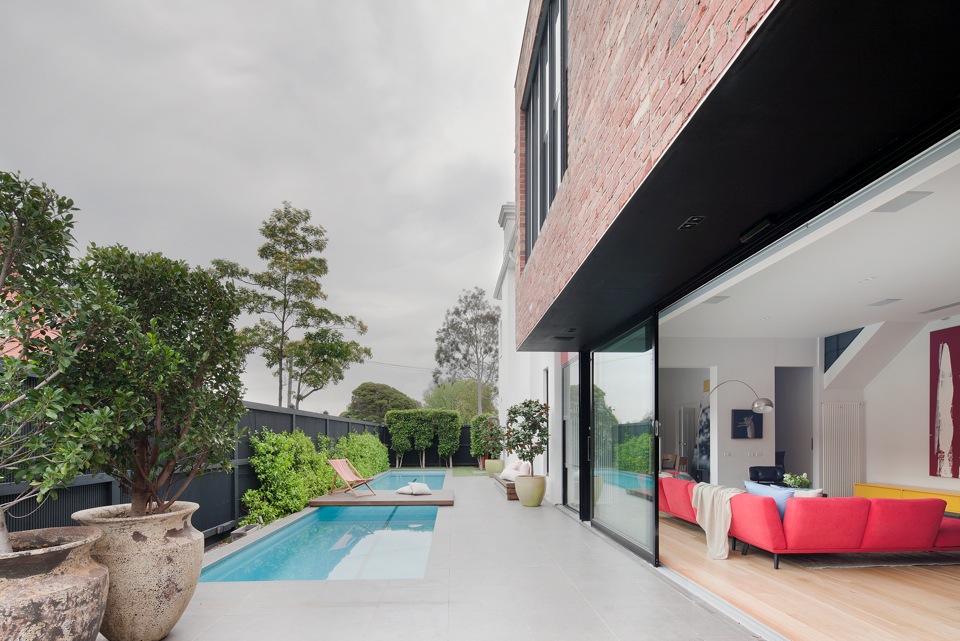 Describing himself as a modernist at heart, Jon said it was his passion and immediate connection to simple yet beautiful aesthetics and keen eye for fine detail that drew him to a career in the design industry.
"I started my working life in the family construction business in the 1980s and decided I wanted to be more like the guys we were working for. I loved the idea of designing and constructing my own projects and from this practical approach, Newline Design was born," said Jon.
"All of our projects are collaborations between the owner, operator, designer and builder – marrying these is crucial to a project's success. Our team intimately understands construction and how to document what we want built which then translates to an unique opportunity to focus on design."
Jon's most significant design contribution to date has been in the hospitality sector, working on an enviable list of contemporary restaurants, bars and cafes including The Emerson, Duke of Wellington, The Boathouse, 400 Gradi, Charlie Dumpling and its soon to be born little brother, Bā Charlie launching this November.
Jon explains: "I find working on hospitality projects to be vibrant and fast-paced where you must constantly challenge every process in the design phase and consider, first and foremost, the customer's experience. Hospitality needs to be all embracing – good design needs to demonstrate its excellence through its relevance and longevity."
"On the other hand, residential projects keep you honest as you are dealing with real emotion and one of the most significant investments a family makes in its lifetime – their home," said Jon.
Building an impressive portfolio over the years, Jon is working on a variety of projects both locally and internationally including the new WOY WOY boutique hotel on Marine Parade, St Kilda and a proposal for a new bridge connecting Krapanj Island to mainland Croatia.
Jon notes that the most personally fulfilling project to date is the completion of the Croatian Catholic Church of Leopold Mandic in 2001.
As a member of the Croatian Catholic community, Jon notes that it was personally satisfying to see this project, involving eight years of extensive community consultation, come to fruition and being given the rare opportunity to impart a modern design interpretation for the Catholic community's future generations.
"It was truly a great achievement as we worked with everyone from the priest to the parishioners who rolled up every weekend to give their time in whatever manner they could. Involving so many stakeholders, we had to stay focused and ensure we didn't allow anyone to take the easy option to deliver what is now considered an important community landmark.
"This was a once in a lifetime experience that involved family, heritage and leaving some form of legacy for the greater community. Ultimately, that should be the outcome of any great, well designed building," said Jon.
Jon adds that he has always considered himself, first and foremost, as a designer and is inspired by the simplicity of the works of other designers and architects in the field, such as Tadao Ando, John Pawson, Marc Newson and Patricia Urquiola.
This year, Jon is taking his near thirty years of design expertise and learning to a new endeavour, his own furniture range. The fully Australian designed and made range will launch in Australia later this year and be taken to the world's stage at the renowned Milan design trade fair, Salone del Mobile in 2015.
After recently returning from New York, Tokyo and Hong Kong, Jon said that he gains inspiration for the work created at his Prahran design studio through travel. He lives in Armadale in a home designed by the Newline Design team with his wife, Vanessa and children Ava and Jemima.