All images by Michael Wee Photography.
Experiential shopping, 21st-century intelligence and 19th-century service meld in Gewurzhaus Herb & Spice Merchants' first Sydney store and fourth Melbourne store – both launched in November.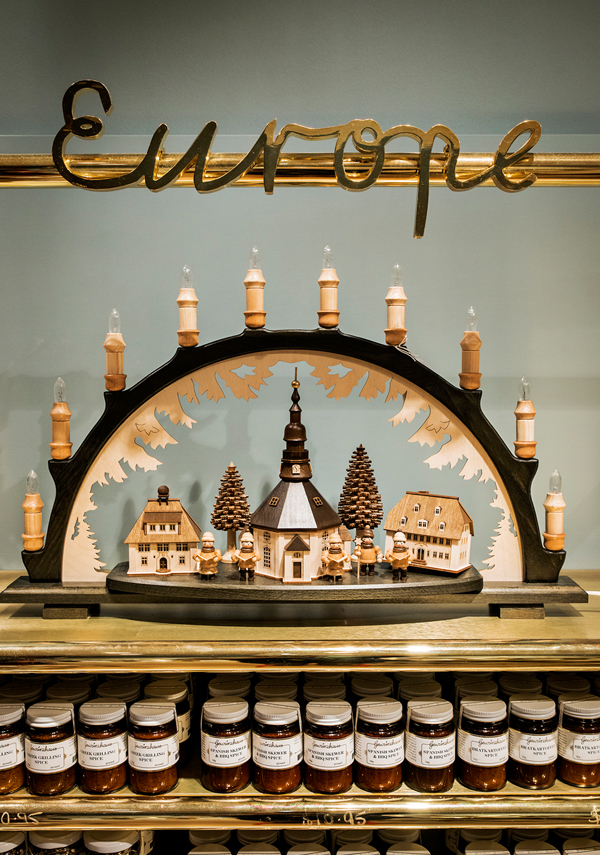 Doherty Design Studio has harnessed the hands-on tradition of the traditional spice market, the old-world sensibility of the European retail experience and the contemporary thinking of today to entice and intoxicate food-lovers in two new Gewurzhaus Herb & Spice Merchants stores. The Sydney store at Strand Arcade was required to introduce the ethics and provenance of the spice brand through a unique 'destination' experience, while the fourth Melbourne store (Queen Victoria Market) is all about the tradition of self-serve spice shopping.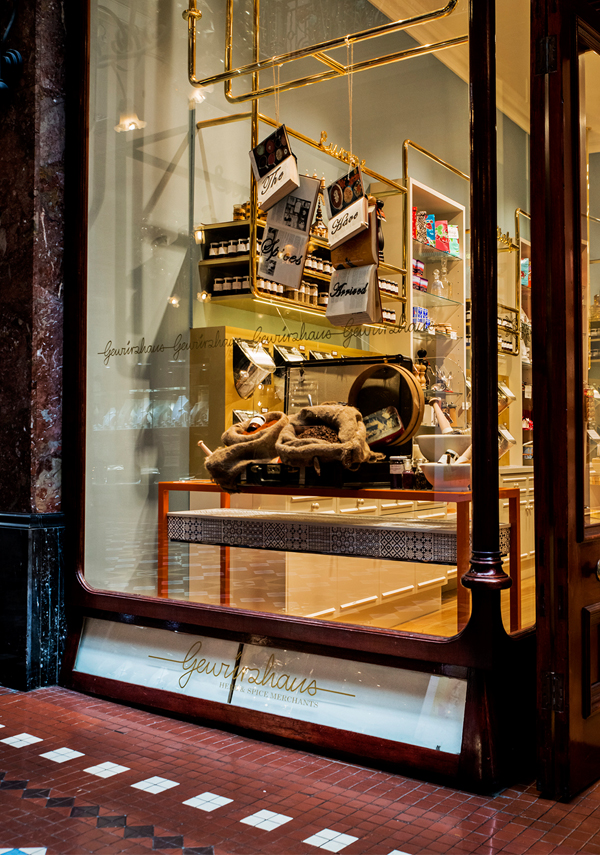 "We take our customers seriously, so asked Doherty Design Studio to combine 21st attention to detail to express our heritage, our customers and our quality," say owners Eva Konecsny and Maria Konecsny. "It was important to maintain that tradition of refined German shopkeeping in both service and aesthetic, and to let the spices and their history speak for themselves. Doherty Design Studio draws attention to the age and history of the spices through a timeless design, which could be current now or 100 years ago. That is what references our spices' histories, not the exoticism of their backgrounds".
"The retail psychology behind Gewurzhaus is a destination store – a specialist store that not only taps into the sensory experience of smell, touch and taste, but also inspires people to seek it out and linger as they contemplate their choices. Desiring a strong refined charm, we balanced a contemporary aesthetic with a sense of old-world European retail charm to craft a store that you might expect to see in the back streets of Berlin, Hamburg or Munich." – Mardi Doherty, Doherty Design Studio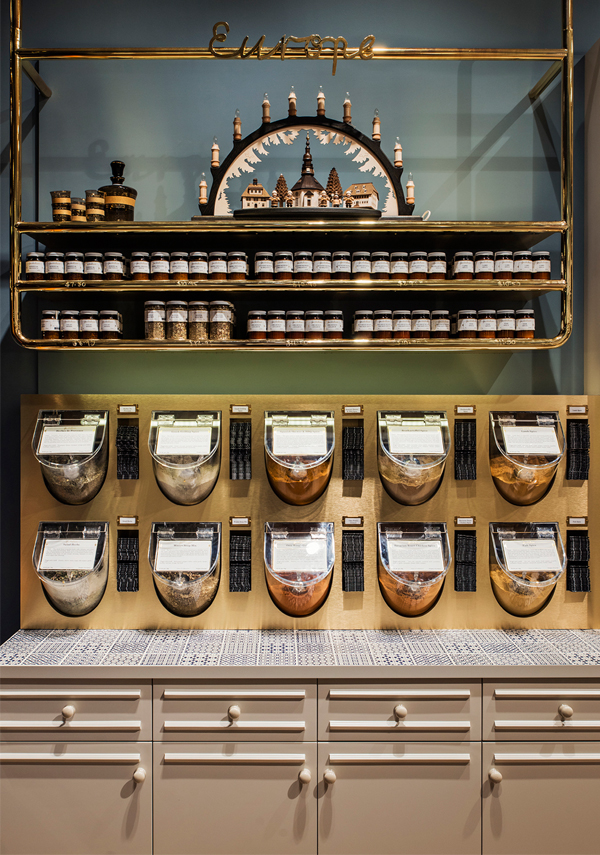 The Sydney store was designed to evoke the comfort of a kitchen to encourage people to linger and explore. Display is the hero of the fit-out to showcase the spices, kitchen and cooking essentials and accessories. Spices are stored in softly curved acrylic tubs along the shop walls and display plinths in the centre of the store.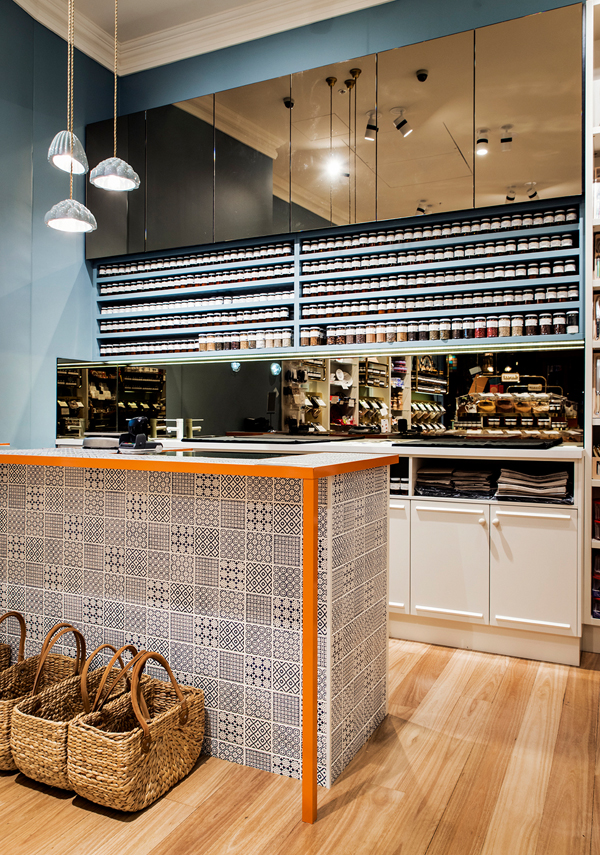 Brass detailing plays on Gewurzhaus' gold brand colour and works with shelving to act as a common thread connecting the spices and revealing their different countries of origin – 100 different spices from countries such as Italy, India, Morocco and locations throughout North and South America and Europe – as well as categories for Sweet, Salt, Tea and Peppers. Kitchen-related products are displayed simply. Doherty Design Studio utilised a soft, yet fresh, palette of grey, with hits of orange detailing in counter frames and blue-and-white in randomly placed patterned tiles.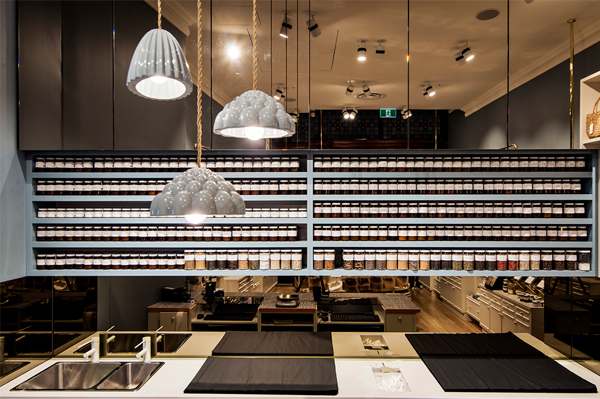 Bespoke lighting, a signature of Doherty Design Studio, is in the form of pendants that take their shape from jelly moulds. It adds a quiet element of quirk and underpins a sense of contemporary-meets-traditional design values. Ceiling-mounted spotlights and recessed strip lighting illuminate the merchandise.