Images courtesy of Hayball and Communications Collective. Above image by Dianna Snape. Article by ADR contributor, Doug Ross.
Founded in 1983, the Australian architecture firm Hayball has well over thirty years of experience in developing and shaping Australia's city landscapes, contributing to the country's international standing as a source of inspired architectural thinking.
The firm's recent placing in Building Design UK's 2015 international list of Top 100 Architecture Firms confirms its influence beyond the Australian design community, on the international stage.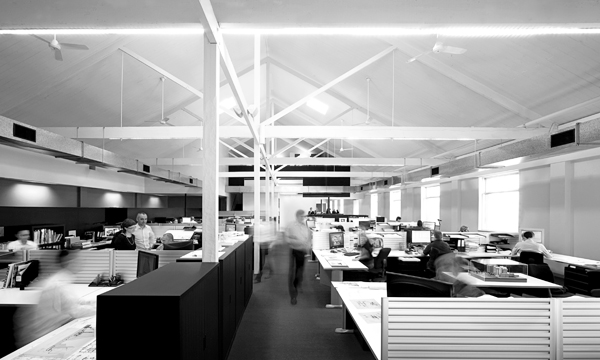 "It's always nice to have that external acknowledgement," says Director Sarah Buckeridge. "It's that sort of external acknowledgment that is so useful when communicating with clients, as it's proof of what we're achieving."
Hayball has had many achievements across retail, commercial and residential sectors but has gained much of its admirable reputation and growth from the educational sector.
Hayball's work draws strength from principles of 'place-making' and 'contextualised architecture', ideas underpinning the firm's much celebrated design of Dandenong High School. Amalgamating three separate schools into the one educational precinct, the designs featured seven new school buildings and took into account the project's need for contextual and place-making considerations.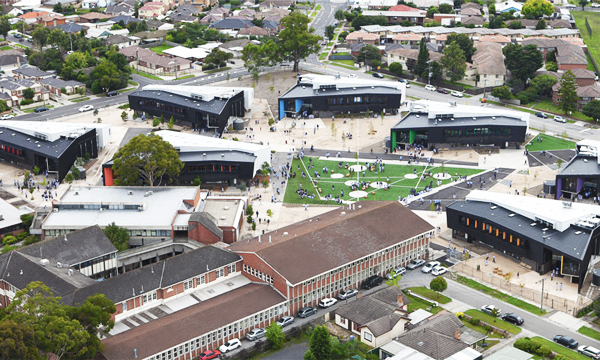 Hayball designed the seven new two-storey school buildings to be appropriated as SWIS (schools within schools), each with 300 students from year seven to twelve. With an understanding of Dandenong being a multicultural yet socially disengaged urban area, Hayball designed the SWIS system to give individual students a sense of ownership and belonging within their individual buildings.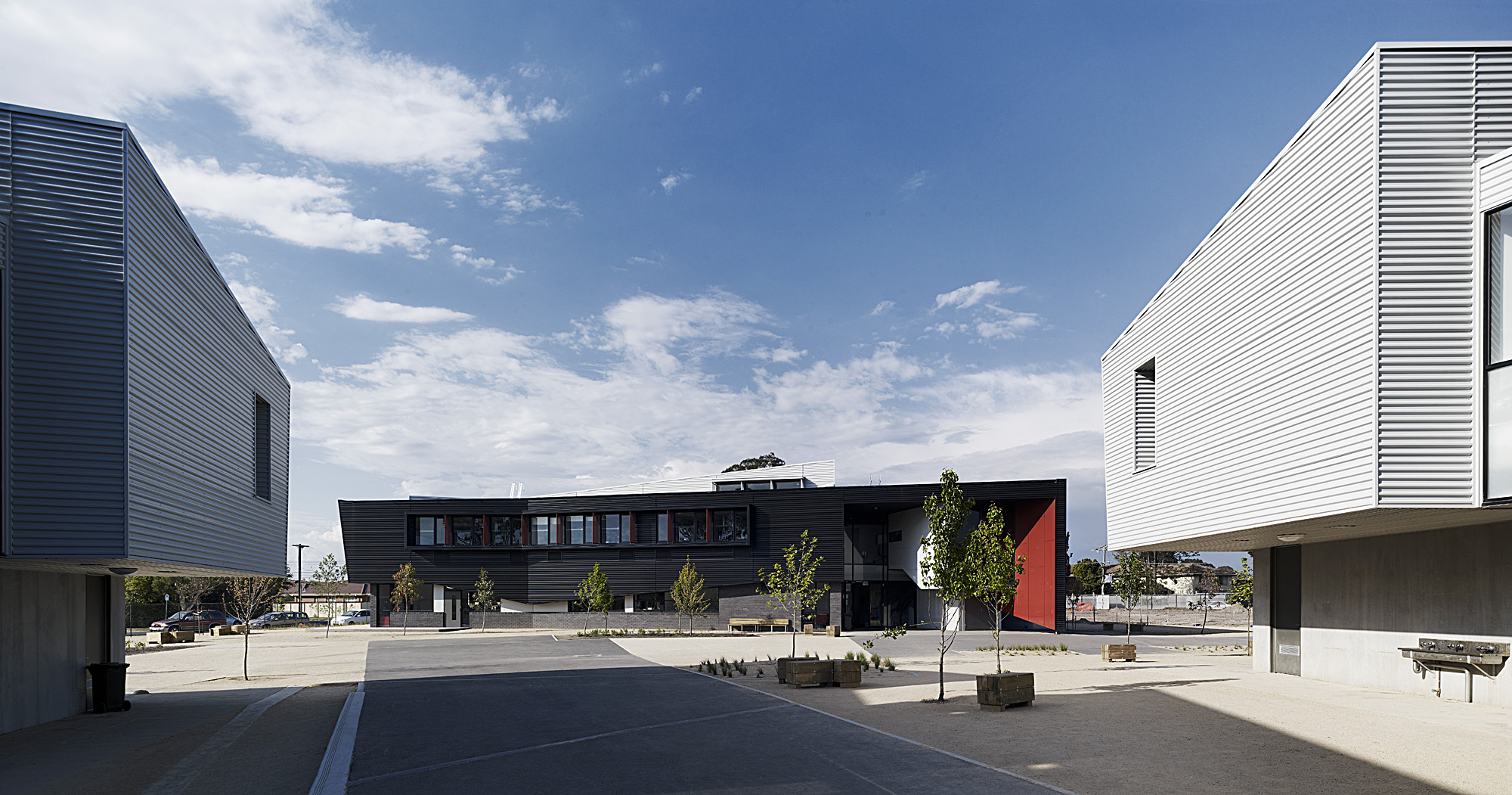 As well as this, an understanding of the school's context was heavily considered. Schools have four times more people per square metre than most offices, so the design of the buildings had to include a cheap solution for temperature control. With the use of hollow floors, air could be pre-treated through the holes, allowing the thermal mass of the concrete to regulate the temperature of the building.
"It does strike me as interesting how often these ideas are absent from other practices' work," says Managing Director Tom Jordan. "It might be an iconic architectural response, but without a full understanding of the 'place', there's a lost opportunity there."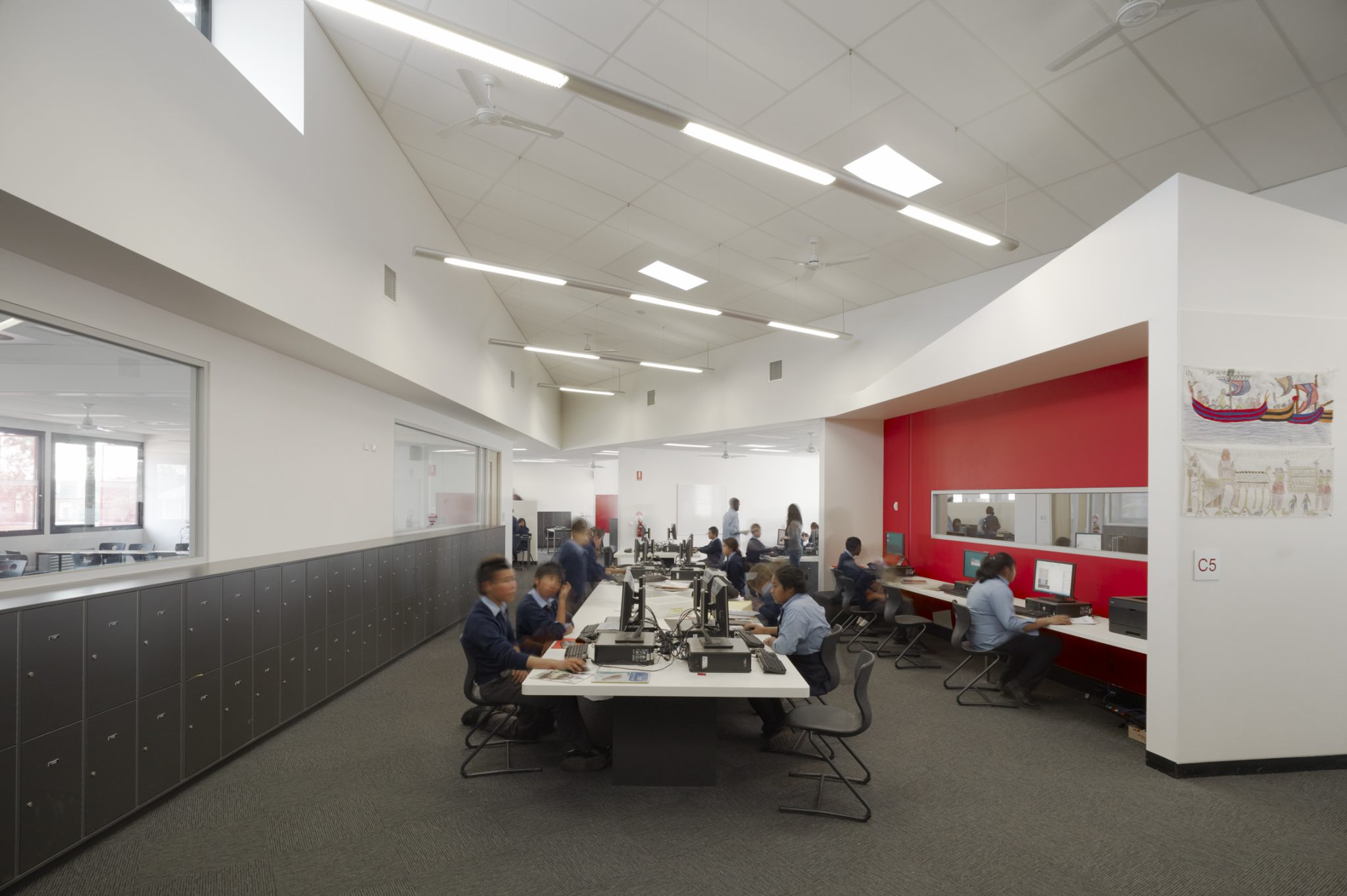 The firm's philosophy has carried through in their work, alongside the City of Melbourne and Clare Design in the development of Victoria Dockland's new Library at the Dock. The project was awarded the nation's first 6 Star Green Star rating for a public building, and is celebrated for providing a community hub in the disparate setting.
"There is a clear distinction between the library and most of the other projects in the area as they are more commercially driven," says Jordan. "So there was probably a degree of patronage that we don't see extensively in the commercial area. This meant we had strong support for a high level of architectural detail, for example allowing us to use Cross Laminated Timber (CLT) construction technology."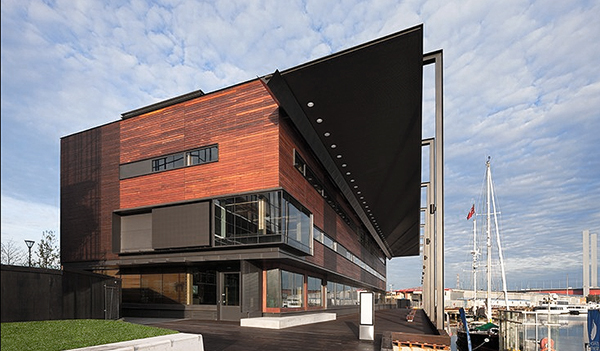 The three-storey building is the first public building in the country to be made from CLT. The use of CLT meant that the building's weight was reduced by 30%, allowing it to sit on the original wharf. This will allow for a contextualised rendering of the adjacent boating hub, the design of which Hayball is also involved in.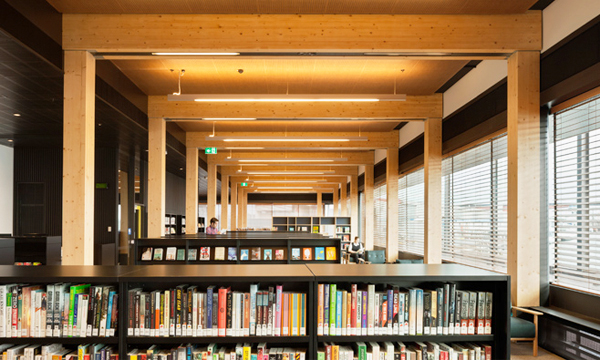 "We have a long history of working in Victoria Harbour, having done two projects before that in the precinct," says Buckeridge. "So as Tom says, that experience of working through the broader place-making objectives helped us when working on that particular building."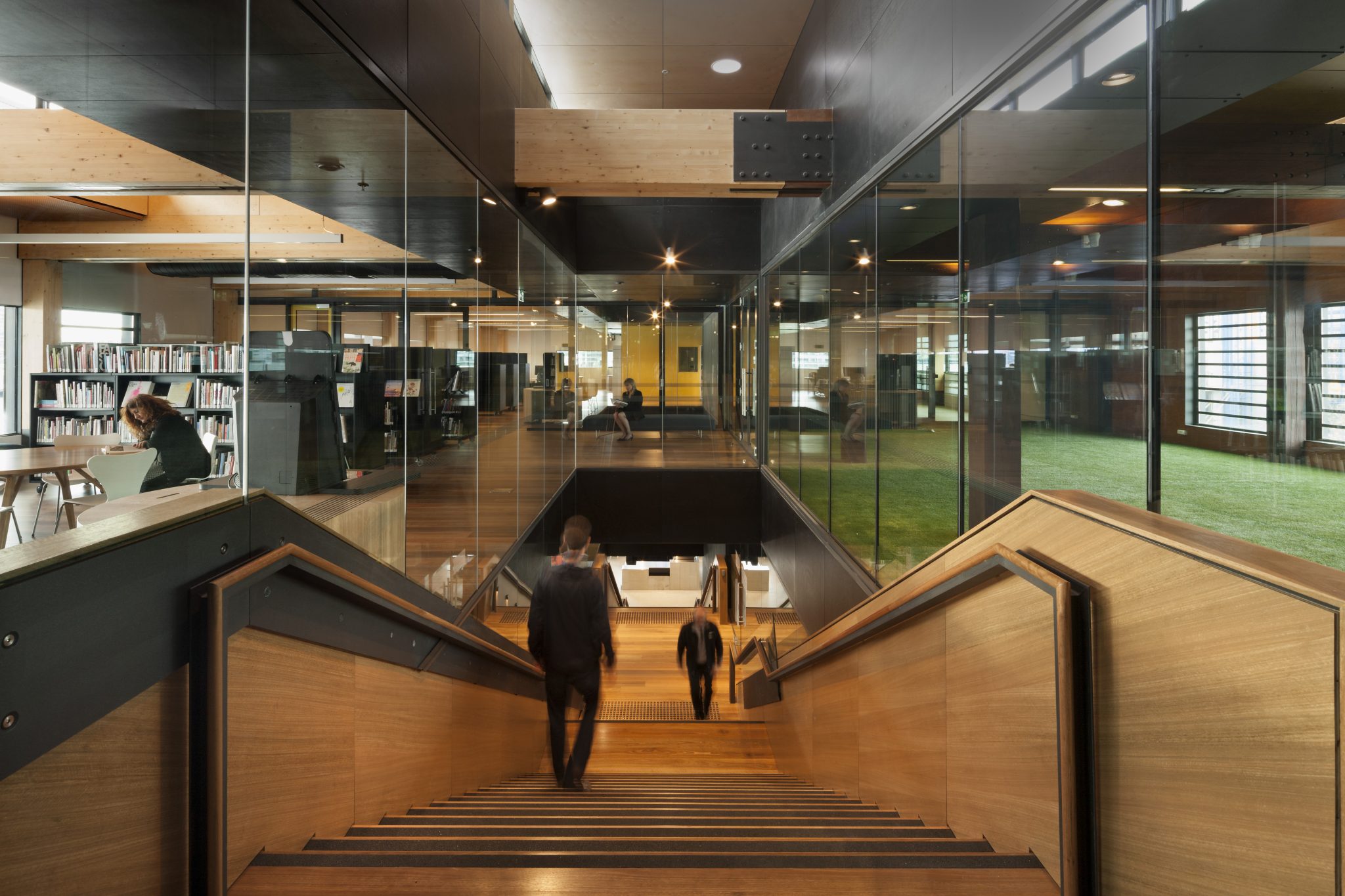 Having on average 55 to 60 live projects at any one time, Hayball represents a healthy and growing part of Australia's architecture industry. For Buckeridge, Hayball's growth has coincided with a visible change in Australian society's views towards architectural design and its role in chiselling out our cultural and physical surroundings. 
"I would say there is a strong understanding from our clients that they're now putting things into the market where there is an increasingly educated consumer. So for us it means being involved in the full gamut of the process. This means developing an understanding of what is working well from the end user's perspective, which can only come from being involved in all aspects of the design," Buckeridge says.
Hayball takes on projects of considerable size, designing around considerations of context, place-making, user experience, interior design and functionality, economic and commercial factors, environmental factors and of course the aesthetics and innovation of their designs.
These facets of the design process are considered by Hayball's teams on a case-by-case basis, negating the common pitfall of established practices developing a 'stale' approach, or arbitrary repetition through formulaic responses across projects.
"We do consciously avoid mining our own work," says Jordan. "So while there is a thread that links the projects architecturally, there is a diversity there that is probably more broad-based than a lot of other larger practices in the country."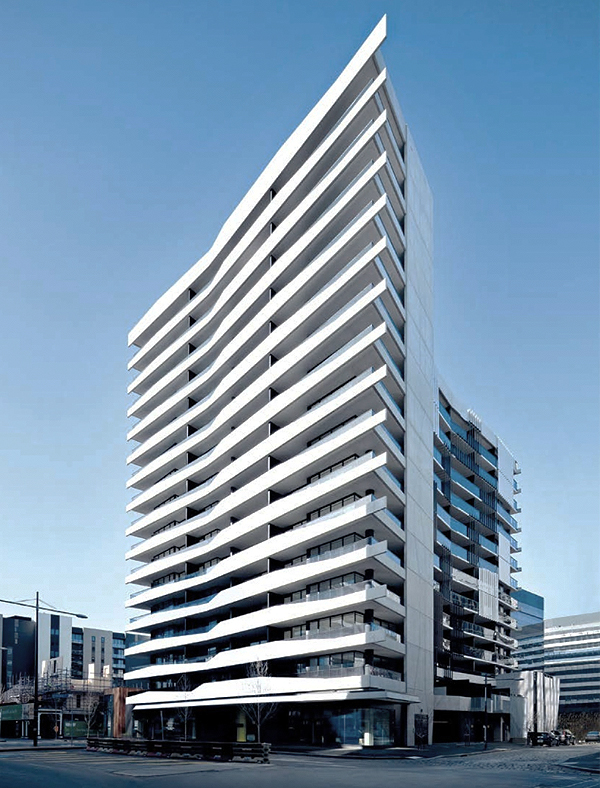 By consciously creating a style or aesthetic signature as an architectural practice, Hayball demonstrates that the best way for design firms of any size to remain relevant and to continue to grow is by crafting a considered and tailored response, addressing each new project with a fresh approach.
2015 will see Hayball continue to work on a host of diverse projects, including developing the interior design department of its business. Hayball particularly looks forward to developing the Bravo multi-residential housing in Carlton, the next stage in what has been a rare opportunity for the practice, who have been instrumental in shaping the long-term fabric built of the precinct since the 90s.
Buckeridge says that Hayball's continuous work in Cartlon "has been a chance to create a piece of the city and actually see the whole social and demographic change that's occurred over time, and what's emerged in terms of what we can offer back to the street – just to go up there now and see a different level of activity on the street is really interesting to look back on that 20 years".
As a newcomer to the World Architecture 100 list, Hayball will seek to maintain and build on their new position, with a broad architecture and design community keen to follow the practice's next moves on a local and global level.