Photography of Rothelowman's Convertible Spaces by Jaime Diaz-Berrio
"Melbourne has become something of a flashpoint concerning the affordability, availability and liveability of apartments."
­– Niche Media and Gorman/Birrell's Architecture and Design Forecast, 2016
Melbourne's skyline is set to change dramatically in coming years, with the recent approval of a raft of vertiginous apartment buildings signifying a push towards large-scale multi-residential living more commonly seen in neighbouring countries across Asia Pacific.
With increased density making for less room to move than Aussies are traditionally accustomed to, what is crucial is that this new generation of apartments will still ensure quality design and a high standard of amenity for inhabitants. Both Sydney and Adelaide enforce minimum apartment standards, though this is not yet the case in Melbourne, where the tendency towards new developments with small apartments is likely to continue.
Melbourne guidelines are under review until late 2016, with the Better Apartments Project, a 2015 initiative by the Department of Environment, Land, Water and Planning and the Office of the Victorian Government Architect helping to orient the discussion towards the needs of the end user. As the Forecast states, "Two key issues will now dominate high-rise multi-residential design as we address the challenge of making it more livable: how the building relates to its context and how the building is experienced from the inside by the people who live there."
What we are seeing, and will continue to see in multi-residential design is the inventive utilisation of living space. The forecast predicts that small apartments will find ways to incorporate "innovative storage solutions, flexible planning, multifunctional loose furnishings and joinery, fold-away solutions and innovative kitchen design".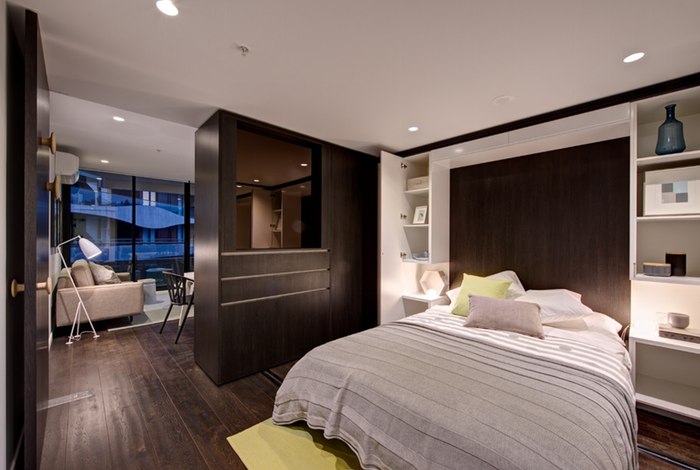 This ethos is put to work at Rothelowman's Sanctuary development in Abbotsford, completed in 2015. In each one-bedroom apartment, beds fold into the wall for storage, allowing maximisation of floor space. A mobile central joinery unit features as the main convertible element of the space, providing residents the option of extending and defining the living space as necessary. Robust finishes and moving components were selected, with each factor scrutinised for its ability to withstand repeated movement.
Speaking about the need for flexible apartment living models in an interview with the Australian Design Review, Rothelowman's principal architect Chris Hayton said, ""In the last 15 years, there has been a change in the way Australians live in cities. Apartments have become more prevalent, and the quarter acre block with a backyard isn't necessarily the desired choice for a lot of people". Hayton adds, "The onus is on builders, developers and planning authorities to ensure that the quality of living spaces is at the standard that Melbourne is famous for".
Whether convertible spaces like those at Abbotsford will ever become the norm, or rather remain an interesting experiment in small space living remains to be seen. But as Melbourne and cities around the world begin to address the realities of high density living, residential spaces that perform double duty will come into their own.
To find out more on the Forecast, visit future.australiandesignreview.com