Images courtesy Particular Architects. Interview by Sandra Tan.
A visit to Particular Architects' Melbourne office gives a neat insight into the fundamentals of the emerging practice's design ethos. A palpable sense of drive and architectural chutzpah permeates the studio, reflected in the practice's energetic approach and visibly embodied in principal architect, Nicholas Ling.
Ling describes the office design as an exercise in making infrastructure to serve multiple needs, as a response to the question, "How are we going to make this space work ten times as hard?"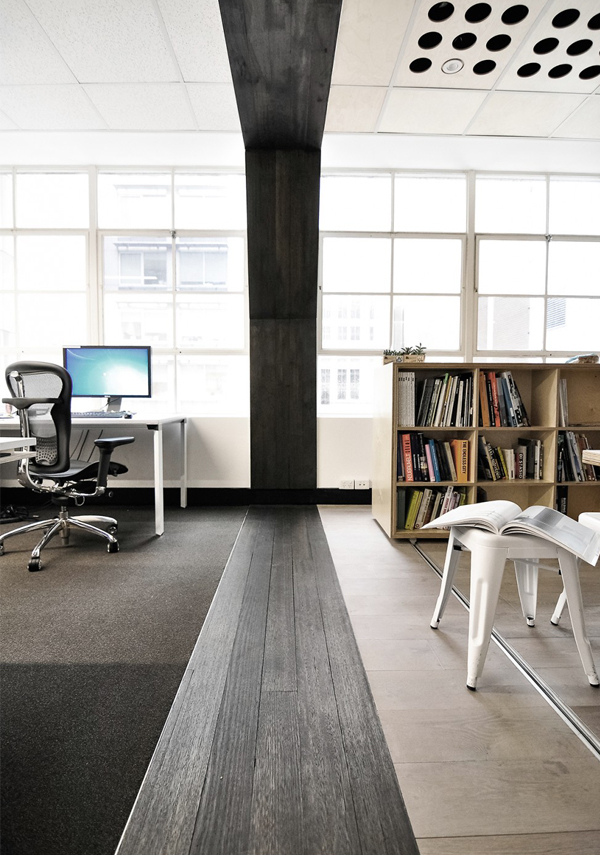 Particular Architects' studio is a clever but unassuming fitout, with an airy feel belying its minute size. Though the small team operates in an office of just 60 square metres, the light-filled space exudes the kind of compact efficiency achieved only through considered design.
A ribbon of individual desk space is distributed around the perimeter of one half of the office, with a communal desk situated in the centre. According to Ling, the simple format "allows us to hot desk, to some degree, and we can all go from 'face-the-screen' mode to just turning around for a team meeting in seconds".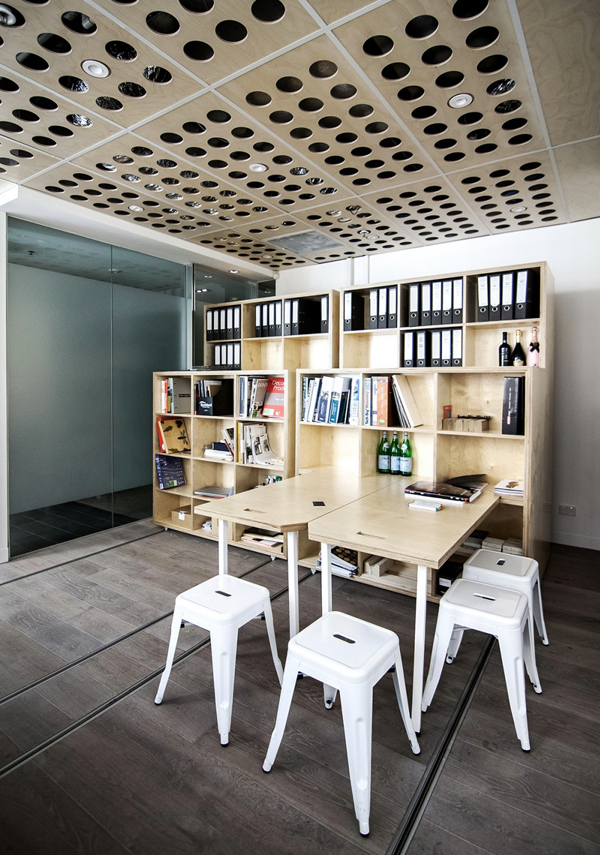 In keeping with Particular's philosophy of efficiently restrained design, fuss-free utilitarian plywood forms the functional bones of the office. Perforated ply cladding also appears in the ceiling, disguising unsightly utilities while providing textural continuity throughout the space.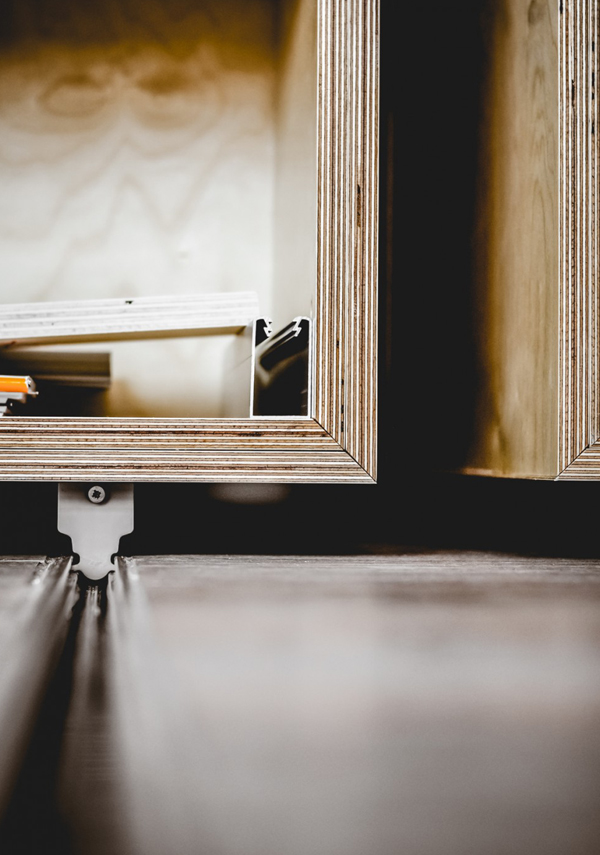 A key dynamic element of the space is the sliding shelving system, set into tracks in the floor and providing Particular with a degree of flexible customisability.
"One shelf can provide screening as well as storage, and a standing desk, which we do sometimes when we look at drawings. It also has been a bar, and we can actually detach these tables – which gives us maximum space, to work at or do a presentation," says Ling.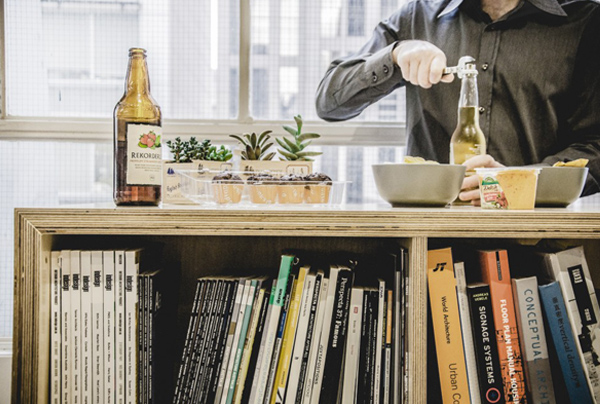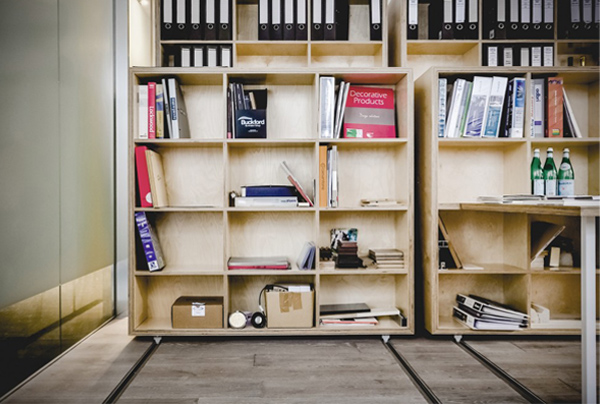 Moreover, the ease and accessibility of Particular's shelving transcends the awkwardness that sometimes comes as a side effect of convertible space. Like so many old office chairs that desperately need adjusting, and extendable tables that stay retracted, the reality is that many of us won't customise our work environment unless the execution of the conversion is seamless.
Ling says, "It sounds gimmicky, but we actually do it – having been here for more than a year now, we've been through the cycle of all the configurations".
Much like the space itself, the practice also punches above its weight in many ways.
As design leader at Particular, Ling takes each new project as an opportunity to actively question established practice within the broader architectural milieu. The architect is passionately opinionated about the industry and keen to dissect the discourse that drives it, and it is this enquiring academic curiosity that motivates the practice's work.
Ling argues that architects don't know where to sit on the spectrum between frenetic cash-strapped projects necessitating an almost Spartan practicality and the indulgent pomp associated with an ego-driven top-down design hierarchy. When Ling says, "the profession is in crisis," there is barely a trace of dramatic embellishment – he is critiquing an industry given over to frenzied speculation in land values,  homogeneity in product offerings and a blatant disregard of diversity.
Though Ling is respectful of works by iconic international architects, the misshapen structure of Frank Gehry's recently completed building at UTS "doesn't sit well" with him, nor do the fluid forms associated with the prolific works of Zaha Hadid.
Instead, Ling would rather take latent space or superfluous cladding created by decorative structural elements and distil the building down to its purest form and intent – asserting that the efficiency of interior spaces should not be compromised by an irregular building shell. "Whether it's round or square, form is arrived at through a host of parameters, rather than through the hand-drawn sketch, which I always find wasteful," says Ling.
In contrast with the at times impermeable, alien structures put forward by virtuoso celebrity architects in the privileged position of auteur, Particular instead values the concept of "de-mystifying buildings"; making approachable, accessible structures that centre on a functional solution to a brief, with decisions on form arising as a logical progression of thought.
"In a project like Zaha's, everything's finished and complete," says Ling. "Even chairs are curved in such a way that there is no other opportunity for usage apart from it being a sculpture". What Particular strives for are intentional blank spaces, or as Ling describes, "gaps in buildings where people can sit or gather," to encourage engagement within the built environment.
Particular's approach is far more egalitarian than the "starchitect" model at the other end of the scale – albeit necessarily, given that they are an emerging practice. Grand, avant garde buildings surely have their place in creating spectacle and advancing an international industry, but in Ling's opinion, the challenge of integrating functionality with a seamless, almost inevitable design is an equally important pursuit.
But what of aesthetic? Surely every architect worth his set square yearns for the creative fulfillment of designing a picturesque built object for the public to marvel at? Ling concedes that while this is still of course a necessary consideration, designing buildings with good looks aren't a fundamental priority for the architects at Particular. "Though our buildings will be beautiful, at the end of the day – it doesn't drive our process".
Whatever does drive the practice, it certainly does so at speed.
Being such a small team, Particular has learnt to play to its strengths, maintaining a level of agility across its projects. "We've had the opportunity to grow [the practice] a bit but we've kept it small, and that allows us to turn things around quicker. We can go from sketches to artist's impressions in a week," says Ling.
In the interests of speed, and unlike many other practices keen to jump on the three dimensional printing bandwagon, Particular "walked away" from this method of model making for some time, as it proved to be "time consuming".
The volume of work that the team has created is a product of this industrious efficiency during Particular's early phase as a practice, facing the same demanding time constraints as any other. "There's a perception that architecture comes out of a process that is slow and laborious, and you're bleeding all over the place, sweating, spending all night sketching on the same piece of paper," says Ling.
"I don't know – I'm sure there's a place for it – we would certainly like more time in the making of our buildings, but at some point I think it's a process which teaches you to be a bit more intuitive. Of course we make mistakes along the way, which means you learn – you make more mistakes in a shorter amount of time," Ling adds.
The emerging practice is in an exciting phase currently, being able to see their first round of projects coming through to completion. Particular have just completed houses in North Balwyn and Kew, with an extension to a palliative care facility for Peninsula Health in the wings, among other local projects. "It will be interesting to critique them side by side, to see what worked and what didn't – and how we can adapt our approach for the next time round," says Ling.
Particular are also building a name for themselves beyond our shores, with an office established in Kuala Lumpur, and plans for various projects across Malaysia. One major project generating significant excitement for the team is a building set to become the tallest building in Papua New Guinea, an office complex that at 38 stories will certainly eclipse the 10-story bank that previously held the title.
In designing the project, Ling says that the practice grappled with the question, "How do we make a tropical skyscraper?" With no existing A-grade offices or indeed much in the way of statement architecture to form a precedent in PNG, the practice (in collaboration with Malaysian studio, Design Network Architects) has a rare opportunity to create a cultural landmark, and a responsibility to consider place-making in a region markedly untouched by large-scale design.
At the moment, Particular architects are "still waiting for that moment where the project gets so big that we can't have that singular conversation," says Ling. Currently, the small team is still able to deliberate over skirting and joinery details together alongside bigger structural decisions, with an ambitious dynamism and meticulous approach that is wholly 'particular'.