Article by Online Editor
Designer
A proper government program has a written and unwritten responsibility to display signs of its progress – to get the spotlight to linger a bit as it crosses the national stage. A lot hinges on that moment of visibility: business, population growth, funding and the price it can fetch for what it offers. As we've begun to see in recent months, South Australia has turned a significant corner in providing new evidence of its potent design talent. But selling excitement about design is never easy. Too often, 'making news' is attempted through press releases and bland sound bites. Two years ago, for example, we heard near-identical clarion calls from Brisbane. The substance was indeed there, but the accompanying tactics are just too familiar – forced excitement and predictable quotes from the quoted.
To a certain extent, it's unfair to criticise. The word 'design' is overused and undersupplied with synonyms. And the task is made harder still when the programs come from a place called Adelaide, the 'city of churches'. But the story – not the sales pitch – of what is happening currently in South Australia is compelling.
The state's successful development as a design region may be seen as the result of two things. The first is a new appreciation among designers and clients for Adelaide's intimate and comfortable liveability, and their willingness to work at overcoming some constricting provincial habits. The other is the relatively recent formation of the Integrated Design Commission of South Australia (IDCSA), a body charged with offering professional design input as a vitalising resource for all facets of government.
In a small city, a young practice can take advantage of relatively affordable real estate, get to know others in their professional community well and not have to shout for a creative voice. But that intimacy can also be limiting. It's great to know everyone at the cocktail party, but conversations can get stale.
Daniel To and Emma Aiston are well known within the Australian design community as both product and industrial designers. They grew up, were eventually married and established their practice, Daniel Emma, in Adelaide. It's home here, and they like it. The design duo is also earning early returns on their experience gained outside of South Australia, attracting a portfolio of accolades, such as the 2010 Bombay Sapphire Design Discovery Award, and media recognition beyond their few years in practice. They are cheerfully frank in discussing what they believe are the merits and drawbacks of growing up and developing their skills in a small city.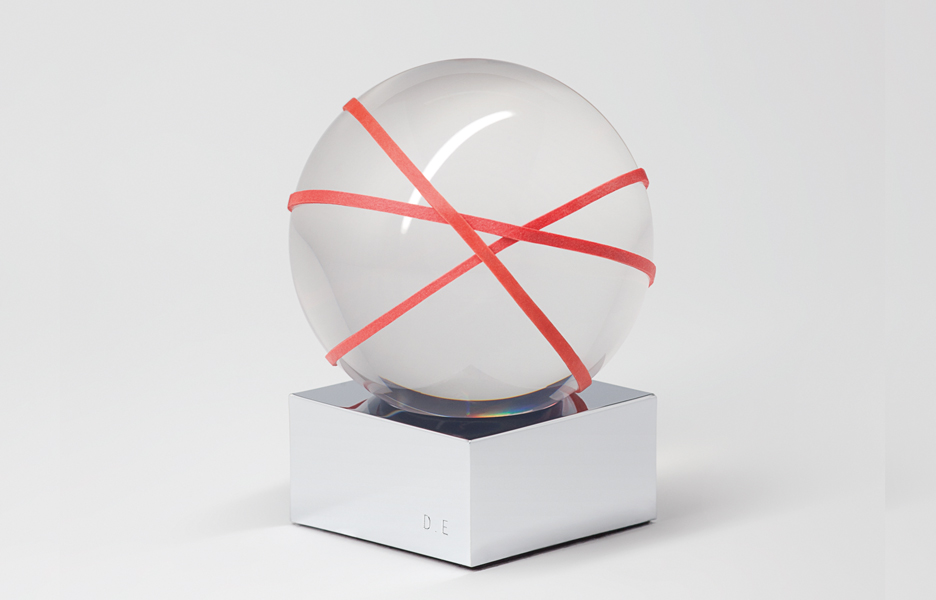 The couple, in their mid-twenties, studied industrial design at the University of South Australia, which they credit with teaching them technical skills, but little by way of inspiration for applying them. "It wasn't a creative program back then," recalls To. "It seemed more focused on engineering and manufacturing for local industry, like Stratco and Hills – who make garden sheds and laundry lines."
As maturing students, To and Aiston pored over online portfolios and articles about design coming from Europe, admiring exuberant furniture, clothing, architecture and products they hadn't previously been exposed to.
By the time of their final-year project – Aiston prepared a range of small products, including a drinking cup and waste paper bin, and To pared down a closet's rod-and-hanger arrangement to produce his 'magnetic wardrobe' – they both felt they were testing the limits of what would even be acceptable to their advisors. "Our designs just weren't typical, and we felt the lecturers didn't understand where we were coming from," Aiston recalls.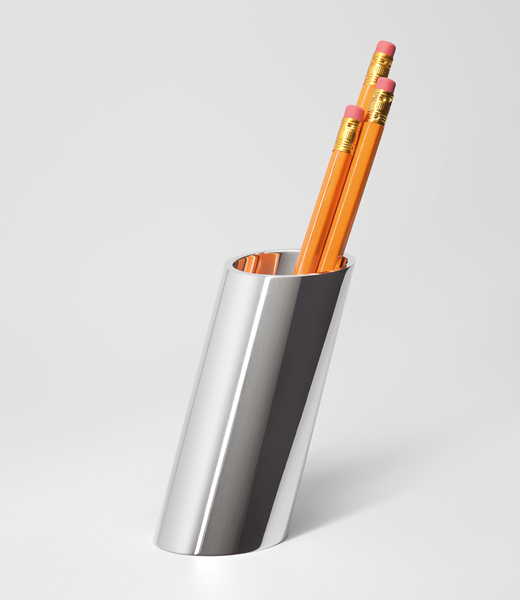 So, after graduation in 2007 they left for London to immerse themselves in the design culture they had been craving. They enjoyed internships at offices such as Marc Newson, Thorsten van Elten, and with product designers, Harry Richardson and Clare Page of Committee. Their perspective about design – what actually constituted the craft – shifted abruptly. "I was exposed to things I didn't realise were design," says To. The experience was intoxicating.
They could have stayed for more, but missed family and their admitted affection for South Australia lured the couple back to Adelaide. "The crux was that we loved it so much, we decided we'd just have to make something work," says Aiston.
Routinely cheap travel options and technological developments, such as electronic file transfers and free conference calls on Skype, made the prospect of launching their practice in Adelaide a feasible – even attractive – possibility. To believes that creative people are moving back to South Australia to take advantage of the lower cost of living, and high quality of life.
"It doesn't matter where you live now," Aiston says. "We find it to our advantage that we're 'stuck' in Adelaide," she adds with a laugh. "It's not as competitive and in your face. London is great, but it's so saturated with designers that it becomes a de-motivator."
Keith Dougal, a senior associate for the Adelaide studio of global design firm Woods Bagot, is in a position to watch the changes in South Australia from a high and well-established vantage point. Woods Bagot's first office opened in Adelaide in the 19th century and has since become, in Dougal's words, the firm's "historical headquarters", held in high regard for the skill with which it coordinates its international offices. Dougal, a native of Edinburgh, Scotland, feels a kinship with his adopted city.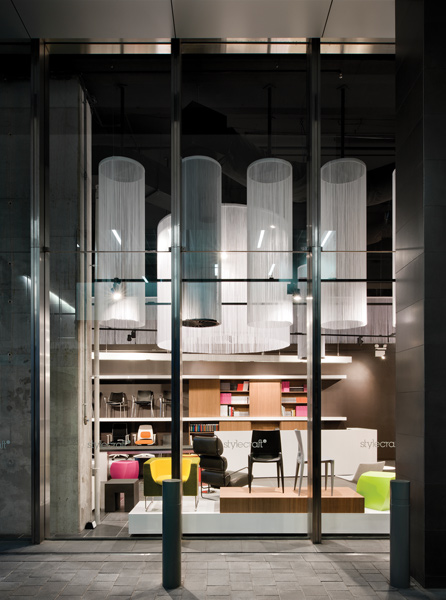 "It's very similar in scale to Edinburgh," he says. "It has a familiar, manageable feel. At the end of the week, I'm able to walk out of the office and not be caught up in the 'globalness' of the work. There are times, though, when you step outside hungry for stuff you can't find. In Sydney, I was almost tripping over arts and culture, and new things happening in the design environment. In Adelaide, you have to be a bit of a hunter-gatherer."
Not necessarily to its defence, but Adelaide does host a variety of well-established cultural festivals, such as the Adelaide Biennial of Australian Art, the Adelaide Festival, which offers a superb program across the arts (and turned into an annual affair this year) and the annual Adelaide Fringe Festival. Still, by comparison, Dougal considers the two years he spent working in Sydney to be a bit more generous and exciting with what we might call the daily dose of culture, be it roaming through the city or even your day-to-day environments.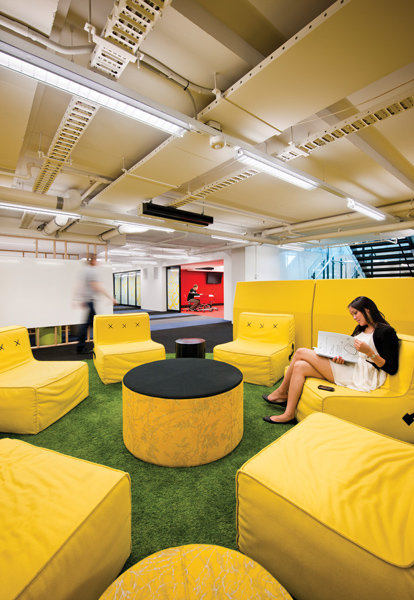 In reaching for an example of how things may be changing in Adelaide, Dougal cites a pilot scheme that Woods Bagot conducted for the Adelaide office of National Australia Bank (NAB), in which the firm consolidated and refurbished the interiors to adapt the building to new employee work patterns and foot traffic.
"NAB sees this as working anywhere in the country for them, if it works here," Dougal says. In other words, corporations see Adelaide as having the right combination of size, economy and demographics to conduct design trials that also scale up smoothly for use in facilities in larger cities. The government also plays a substantial role as client. "They're a huge player," says Dougal. "Nine times out of 10, a large fitout in Adelaide will be a government job."
Several years ago, Joanne Cys, associate professor of interior architecture at the University of South Australia, seized the opportunity she and her colleagues recognised in the well-intended but vague language of South Australia's Strategic Plan. The plan listed several objectives for the state, 'fostering creativity' notably among them. "But there was no reference to design as an aspect of creativity in that document," Cys explains. "Nor was there a means by which 'success' could be measured." In this regard things have also started to shift, however. If all goes according to plan, with the IDCSA (which Cys has been instrumental in helping to establish under the jurisdiction of South Australia's premier) both references and tools of measurement for such success will be provided. "What the IDCSA and its advisory panels attempt to do is influence all government departments to integrate design at the very beginning of projects – policy development, initiatives, when and wherever it can make a difference."
In a previous conversation with Australian Design Review, South Australia government architect, Ben Hewett, explained how it is hoped the council will function. "It's not a statutory process," he said. "It's voluntary. It's an independent expert advisory panel endorsed by the IDCSA, [and their process] doesn't supplant legislated approval. It's about providing independent advice, early on, to the design team, client and the relevant statutory authority. When a project is submitted for approval, the approving body will have seen, potentially, two or three design review letters, with comments, and can see how the design has responded to that advice."
Cys sees the IDCSA as a contrast to similar efforts by Queensland and Victoria. "My take on the Victorian strategy is that it's about identifying areas of industry and manufacturing that can benefit from design services," she says. "And in Queensland, it's focused on promoting Queensland design to an international audience. You may want to find the person who actually writes these strategic plan documents and just grill them a little bit on a target like 'fostering creativity'." After a brief pause, she adds, "What do they think it means? It's a living document, but I still don't think the state government has found the best ways it can to measure contributions to creativity."
The evolution may feel slow as the story unfolds, but as the pages are turning faster, Adelaide's diminutive size may help; the players can hear each other speak and more efficiently work out the kinks. "It's not just the smallness of our geography, but our ability to collaborate," quips Cys. "There's that phenomenon about six degrees of separation; well, in Adelaide it takes only two to achieve it."
Main image Daniel Emma, D. E. desk, 2011/2012 collection
www.daniel-emma.com
www.woodsbagot.com
www.integrateddesign.sa.gov.au