Article by David Neustein
Designer
When I hear the name Philip Beesley, I think first "bees", then "beastly". Then I wonder whether Beesley hears these words in his own name; hears the buzzing of the hive, imagines himself as an animal avatar. There is a distinctly beastly side to this Canadian gentleman, though not in the pejorative sense. To call Beesley an artist and architect would be to grossly understate his gifts. For simplicity's sake, I will refer to him as an artist, though he is better described as a visionary, a man seemingly capable of breathing life into inert matter. He creates immersive environments populated by artificial life-forms which appear to think for themselves. His extraordinary aim is to encourage mutual empathy between humans and the world we inhabit.
Within the darkened halls of the Cockatoo Island Industrial Precinct I encounter Sibyl, the latest work in Beesley's Hylozoic Series. Twinkling in the distance like a snow-bound forest, Sibyl will remain installed from winter until the springtime conclusion of All Our Relations, the 18th Biennale of Sydney. Underpinned by an eerie, arrhythmic soundtrack, Sibyl comprises a multilayered canopy of digitally fabricated components that surround and interact with the viewer. Stepping tentatively into a roped off, shadowy room, I first notice a draped, delicate mesh structure. Hanging at eye level are a number of what can only be described as hybrids between an animated house lamp and an inverted fern. Stroke a hanging 'whisker' and these lamp/plants whir, vibrate and light up. One frond gently lifts in greeting, then another. It's a mesmerising exchange, as if encountering a new type of species. I wander from whisker to whisker, stimulating these charming creatures and receiving a dance each time in return.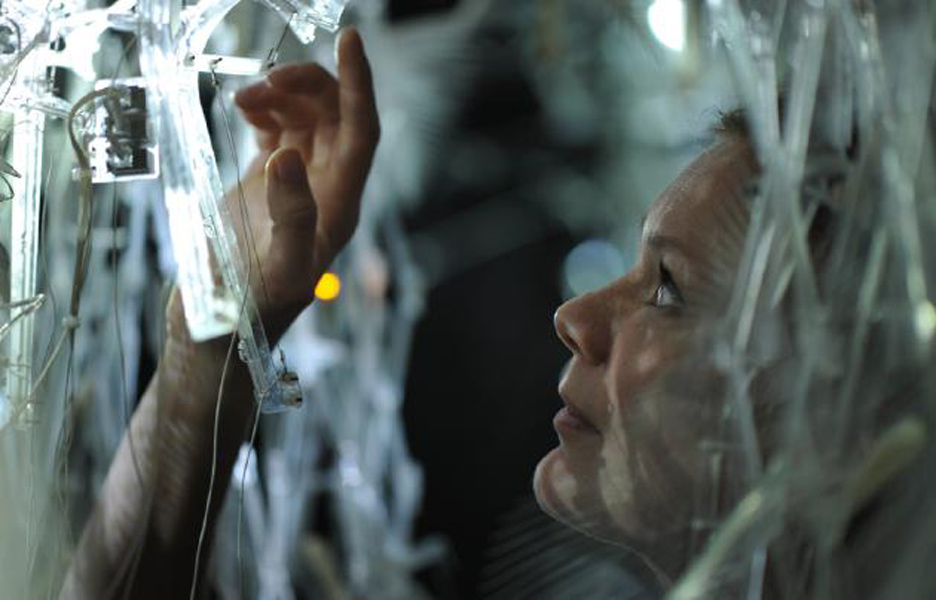 Towards the centre of the room, the array intensifies, with creatures of differing morphologies suspended at staggered heights like exotic underwater vegetation. Interaction occurs intuitively, with some creatures sensing motion or touch, while others emit the scent of frankincense to entice an audience. Only after lingering in the same spot for a while do I notice a number of balloon-like sacs, floating high above me, which inflate slowly as I walk. Linking and supporting everything is a spine-like scaffold with tessellated, hexagonal vertebrae. The energy source for these artificial organisms seems to be an amber-coloured liquid, which fills assorted flasks and beakers. At the fringes, rows of needle-sharp glass pipettes suggest that Sibyl might not just be drinking, but – like its oracular namesake – also emitting something into its environment. Judging by the trance-like state that had overtaken me, I'd guess that a euphoria-inducing hallucinatory gas is slowly seeping out. On reflection, I can't remember having ever spent as much time observing a single artwork. It is so easy to forget that these are inanimate objects  – laser-cut plastic ribs, blown-glass, shape-memory metal components, computer circuitry, ethernet cables and proximity sensors – which have been man-made and assembled in order to imitate a living, breathing organism.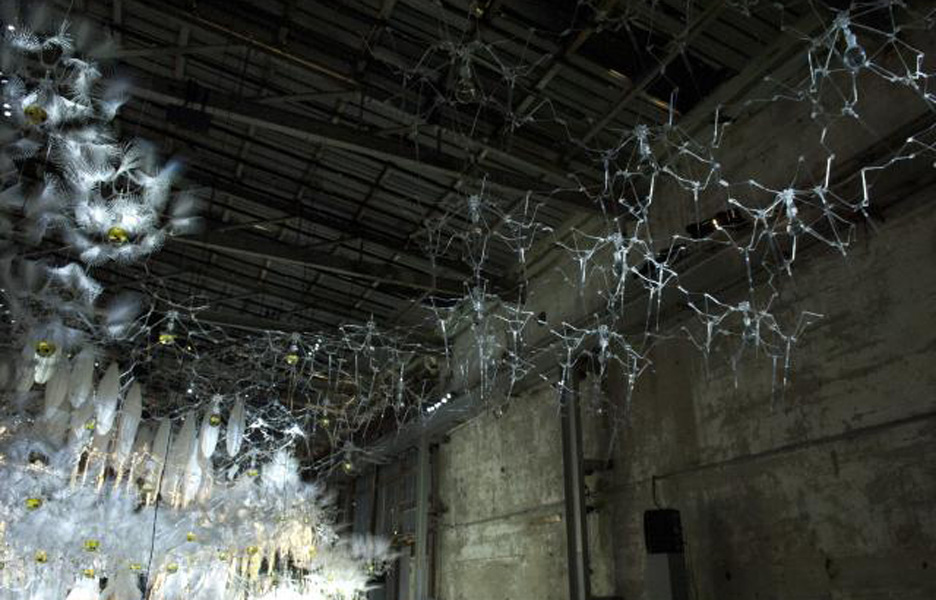 Last month, Beesley delivered the Biennale's keynote address to a modest crowd on a chilly Sydney night. "Is it possible to make living things?" he asked. "Is it possible to craft things, so that they know us? Can we embed empathy so they care?" For all its technical wizardry, there is a remarkable consistency to Beesley's approach – which dates back to his earliest investigations. Erratics Net (1998), one of his first works, features a wire mesh stretched over a stark, boulder-strewn Novia Scotia shoreline. Aesthetically, the work recalls the fabric-draped cliffs of Christo and Jeanne-Claude's seminal Wrapped Coast (1969), or the mesh-clad gabion walls that line the sides of highway cuttings. Yet Erratics Net is performative rather than symbolic, a net designed to trap moisture, accumulate soil and foster growth in an otherwise barren landscape.
Having introduced his talk by describing 'Hylozoism' – the philosophical belief that all matter is in some sense alive, Beesley' launched into a discussion which spanned from the symbolism in early-Renaissance painting, to the sense of alarm which comes from discovering mouldy food, to geotextiles and synthetic skin for burn victims. As a result, much of the talk was extraordinarily boring, as if the artist felt it strictly necessary to explain all of the influences and interests in his work in equal and painstaking detail. Fittingly, he stoically attempts to resist formal abstraction. "50 years ago," said Beesley, "I would be told that a perfect architecture is a sphere or a cube or a diamond, some kind of crystalline transcendent singular object." Instead, Beesley seeks a furry, ticklish, feathering architecture, one in which the buildings "can grow or sneeze".
While his own architectural designs are often quite conventional, his artworks promise a complex future architecture that "feeds, blooms and slowly dies" in cyclical patterns of "fertility and renewal".  Rather than a singular idea, his work is predicated on "the language of the crowd or the swarm". The rigidity of a central intelligence is replaced by "tiny storms of miniature elements exchanging information". Like the projects of Francois Roche and Rachel Armstrong, Beesley's explorative work imagines a sophisticated architecture of breathing facades and sentient filtration systems. In the concise words of Eric Haldenby, Director of the Waterloo School of Architecture: "The work holds out the promise that there will one day be an architecture this deep, vivid and alive."1
1 Foreword to Philip Beesley, Kinetic Architectures and Geotextile Installations, Riverside Architectural Press 2010