Article by Online Editor
Photography by Michael Haines
Designer Takeshi Iue
Achieving simplicity is the goal for Japanese-born, Adelaide-based furniture designer Takeshi Iue. Simplicity in concept, form, materiality and ultimately construction, but perhaps not process, as Iue's design development is often a lengthy series of exacting and painstaking iterations – a necessary progression to reach a final piece that meets his high standards. Like his design process, Iue is rigorous with his development as a practitioner. He holds three design qualifications: a Bachelor of Visual Communication from the University of South Australia, a Diploma of Art (Furniture Design) from the Douglas Mawson Institute of TAFE and a two-year Furniture Studio Design Associateship from Adelaide's JamFactory.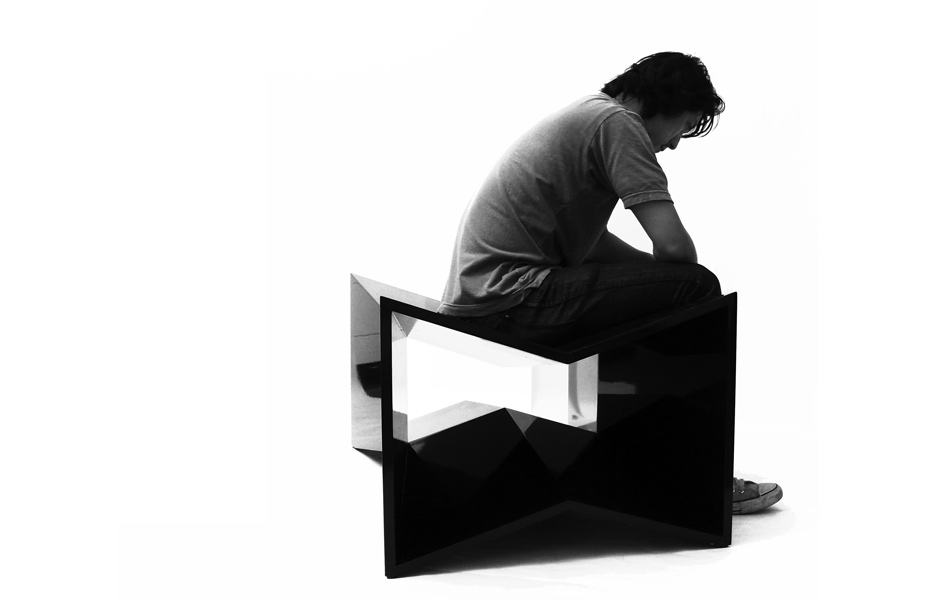 Many of Iue's pieces are beguilingly simple and do not immediately reveal the complexity of their design. The hexagonal top of Trunk stool descends to a dodecagon (12-sided) base formed by precise chamfers that run vertically down the length from each point of the hexagon. The grain of the American walnut panels cause the gentle chamfer to appear a natural part of a solid trunk, but it is, in fact, a clad carcase. Designing for the exhibition Six, held at Aptos Cruz Gallery in mid-2010, Iue was not happy with the piece until he believed he had created, "something simple and timeless… something people can use for a long time".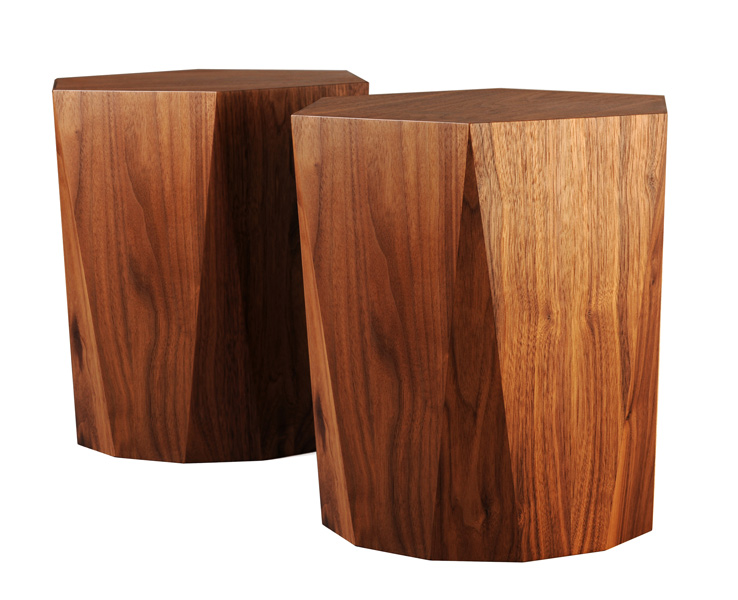 Fruit Bowl, which he produces for retail sale, also began with an unassuming origin: a detail, an intersection of two planes – a straightforward and honest connection. But it took two years of sketches, models and prototypes before Iue found the perfect vehicle for his detail, discarding unsatisfactory concepts along the way. Fruit Bowl comprises six identical plywood panels that are purchased in a flat pack and self-assembled by the consumer.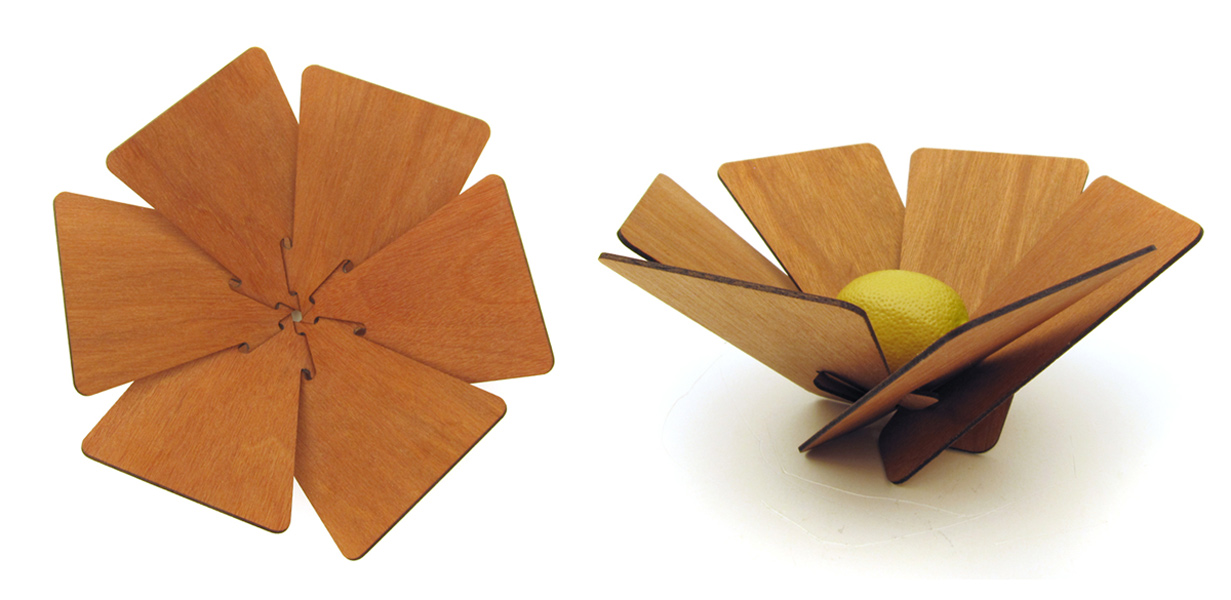 Iue describes his stackable Autumn design as a seat "reduced back to the simplest form". Exhibited at the London Design Festival in 2011, the seat is inspired by the random fall of autumn leaves, which are then collected by children and stacked and cradled in their hands. The form of the seat is haphazard as a single item, but ordered and neat when stacked with others. Orange-toned New Zealand rimu timber further evokes the season.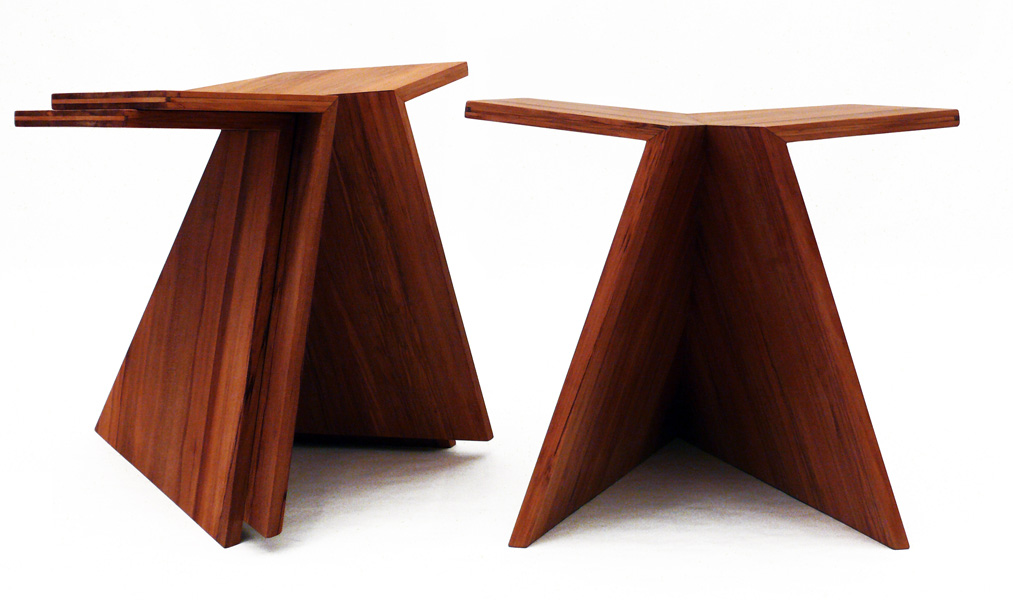 Iue often celebrates ubiquitous ideas and qualities, sometimes with an element of humour in his quest for the essence of simplicity. His House chopstick rest was designed "to have small meanings… a house. House is where the chopsticks always go back to rest when not in use." The miniature rock maple House is a delightful demonstration of cultural propriety. Similarly, the sliding table and seat combination Home (main image) was generated by the idea of an intimate space for Iue and his wife to sit and share precious time together at home between their equally busy work schedules. Home is, of course, where the heart is.
An early piece, Black Gallery bench, was his response to the universal furniture design challenge of public seating in gallery spaces. Iue's interpretation was a folded, slightly squashed geometry of gloss black panels that in turn reflect and absorb light. The bench evokes a sculpture in its own right once occupied, as the seated repose of the user is both ergonomically and intellectually one of contemplation.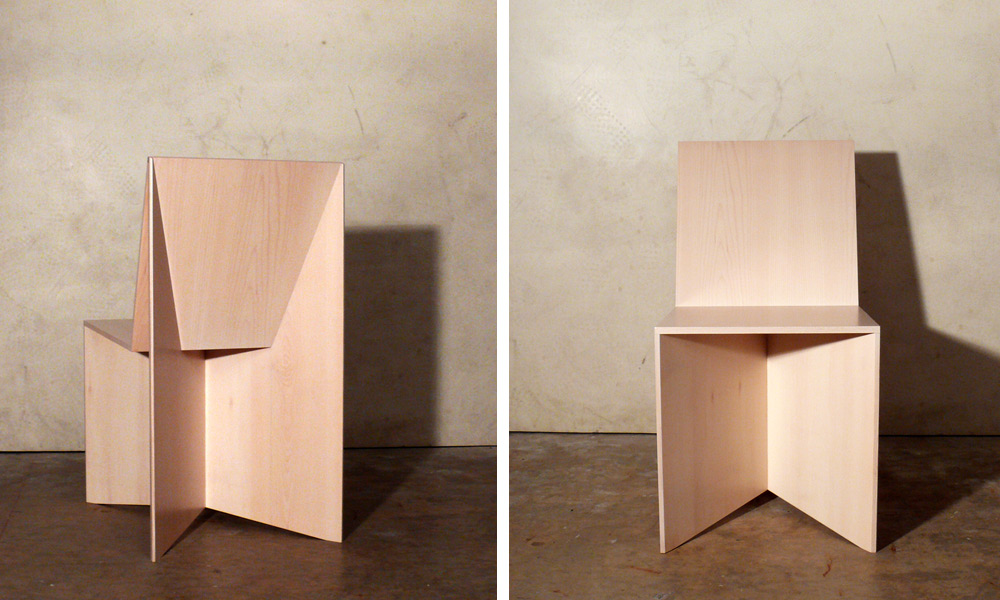 Iue's Habit chair is an elegant, folded rock maple dining chair that carefully considers its role when not in use. When positioned at the table the seat backs form a series of angles, planes of light and shadow. Diners approach, pull back each chair and take their seats behind what could be considered a screen.
Adelaide has provided a strong design network within which Iue has developed his expertise. A course in packaging design during his visual communication degree program initiated Iue's interest in the 3D form. He was welcomed into the private workshop of one of his TAFE lecturers, so he could fine-tune his pieces after hours and a guest lecture by JamFactory furniture studio head Tom Mirams introduced Iue to the idea of applying for a furniture associateship.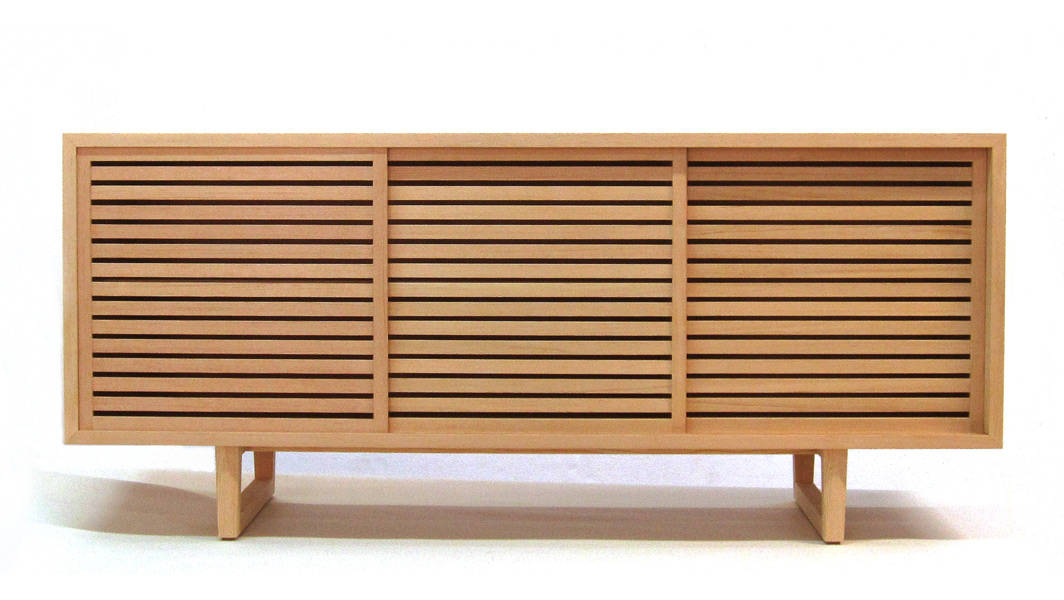 Not satisfied with his formal design qualifications, Iue has recently taken a position in the studio of renowned master furniture designer, Khai Liew. Iue appraises himself modestly and unselfconsciously. "I can see myself. I am not there yet," he says. Working with Liew exposes Iue to a faster pace and a range of national and international commissions. Unexpected challenges also present themselves, such as Liew's brief to create an installation for the recent Adelaide Festival, which was presented with one day's notice. Iue's giant calico-wrapped furniture 'stack' cleverly suggested what was concealed by careful placement of ties that stretched the calico at selected points over the furniture pieces beneath. In so many ways this experimental piece reveals Iue's design philosophy. "The shape comes first, that's why it's always simple. I'm always trying to find what says 'enough'."