Article by Online Editor
Designer
As in the best stories, a good dose of magical realism is often the key to creating memorable work. The enduring appeal of such authors as the Brothers Grimm, Roald Dahl or C.S. Lewis lies in their ability to craft tales that distract us from reality, as the real and the fantastic occupy the same page. Lately, it seems that designers are increasingly keen to take a leaf from such fairytale favourites, with works that beguile for their departure from the every day. Exaggerated senses of scale, unusual uses of material or strange collusions of objects are common themes in the works of the four designers shown here, all of which create tales of the unexpected.
One can almost imagine Jack on his Beanstalk climbing down the 23 rungs of Maarten Baas' latest work for Amnesty International. The Empty Chair continues the childlike, outlined forms of his Clay series and, while fantastical, the five-metre-tall chair with a swaying, laddered back also carries a sobering message. Designed as part of Amnesty International's recent campaign to liberate creative expression, it represents the absence of 2010 Chinese Nobel Peace Prize Laureate, Dr Lui Xiaobo, and was unveiled at the 50th anniversary celebrations of Amnesty International in May 2011. Imprisoned by Chinese authorities for personal expression, Xiaobo was unable to accept the prize and, in this way, the chair is an apposite expression of Amnesty's broader intent to 'liberate people from injustice with a sense of hope'.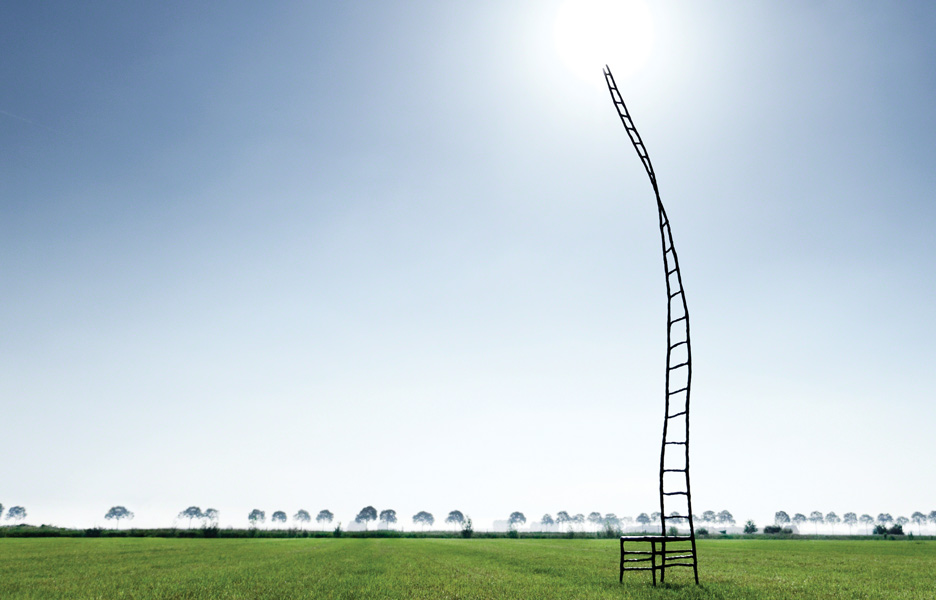 Similarly poetic and pragmatic, though without the political edge, is the work of James Plumb (a collaboration between James Russell and Hannah Plumb, graduates of fine art sculpture at Wimbledon School of Art). Their assemblages, luminaires and interiors reinvent overlooked, discarded and forgotten objects to "expose hidden beauty in the every day". The result is work like Cluster Chandelier – a collection of 26 lampshades of varying sizes, shapes and hues that jostle against each other, cascading from strands of hand-dyed silk flex. Equally intriguing, their Concrete Stitches series, a collection of odd furniture created for Home from Home (2010) during a joint-design residency at Spazio Rossana Orlandi (Milan), uses cast concrete to unite dismembered furniture limbs. The residency itself was a rare experience, allowing them to work on a personal level with Orlandi – a playful and creative spirit – who ultimately challenged them to pull select pieces from her own personal archive of charming found objects. Drawing on customary wedding vows for their titles, pieces such as For as Long as We Both Shall Live sees a heavy cast concrete seat encased inside the spindly, sinuous lines of a wooden bench frame. To Have and To Hold is an eloquent union between the undulating timber frame of a love seat and two concrete seat pads. As Plumb notes, their inventive pairings of found materials mean they are "like matchmakers, joining unusual materials… learning little stories about things… and marrying up different objects that have such ability to speak to us."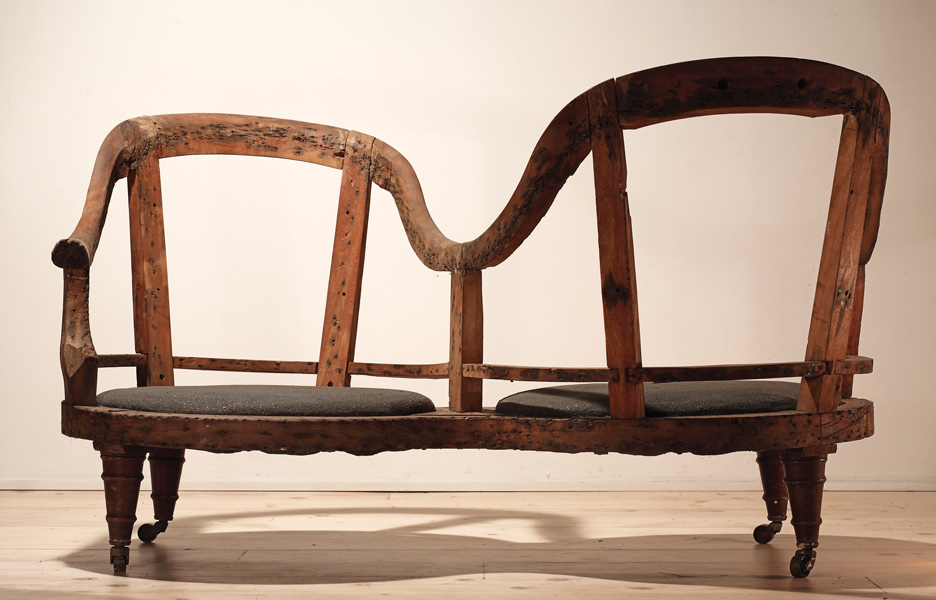 The narrative between found, often naturalistic objects, and the man made takes a different turn in the work of French designer, Vincent Dubourg. He drives a more artistic objective, to the point of having his work gallery-represented (Carpenters Workshop Gallery). Describing his work as "a fusion of furniture, architecture and sculpture", his pieces range in scale from a dynamic three-storey staircase that pierces a Knightsbridge home, to a delicately poised drawer wrapped by branches. Based on a conceptual approach that leans toward objets d'art, his works develop intuitively, and many embrace functional use while bringing together characterful compositions – and some unexpected material qualities. Though the work clearly draws on traditional furniture-making techniques, such as glass blowing, wood bending and metal casting, Dubourg incorporates elements that are seemingly at odds with each other: a neoclassical console wreathed in springy bronze saplings and propped up by oddments of tubular furniture; or an abandonded suitcase recast in shiny aluminium and with brass bedsprings sprouting below. Some elements are simply incorporated as discovered – an abandoned seat encircled by an aluminium thicket; while others are almost in disguise – panels of welded metal form a console that first appears to be made of exploding planks of timber. Regardless, Dubourg's works exude personality and, like a gripping novel, beg interrogation: Where did the pieces come from? Why were they abandoned? Are they real or fake?
Equally compelling, but with a focus on material innovation, underpinned by a sense of environmental responsibility, is the work of Tokyo-based studio h220430, established by Satoshi Itasaka and Takuto Usami. Pieces such as the gravity-defying Balloon Bench sit somewhere between their point of inspiration – the French film, Le Ballon Rouge (1956) – and Phileas Fogg's 80-day travels around the world. The abridged leather-buttoned Chesterfield bench seems to hang from bunches of red balloons; its four anchors are neatly disguised behind the balloons and provide the real support. The sense of wonder evoked by the commission typifies the duo's desire for design to act as "a good spokesman". They aspire to use excellent design as a tool to transcend borders, language and serious world concerns, one piece at a time. Their Mushroom Lamp, for example, makes a direct correlation with Hiroshima, atomic energy and Japan's most recent concern for the future of any country depending heavily on nuclear energy.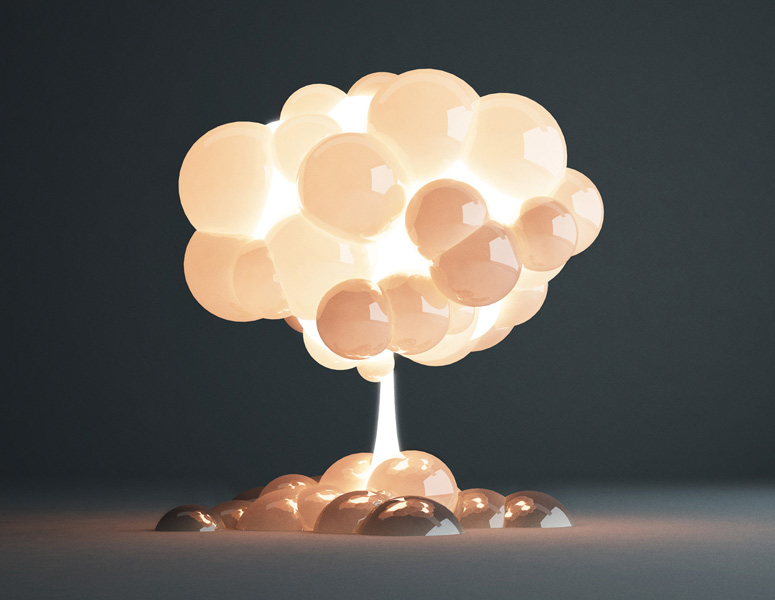 "Hiroshima in particular allowed me to create the Mushroom Lamp," says Itasaka. "However, there are so many atomic bombs and nuclear power plants around the world, I think we should be conscious of it in everyday life. The tsunami disaster in Fukushima is the most recent example, but we could have thought about this problem earlier. It's a shame."
While furniture design is popularly celebrated for its ability to transcend usual material limits, the inventive work of Baas, Dubourg, James Plumb and h220430 seems suited to the world of magical realism, effectively expanding the context of design and enriching its conceptual depth. There, as the late Scott Simpkins once noted, "[In the abyss of magical realism] characters and settings could not be based upon, or justified, by their [usual] status within the physical world." Instead, like firm literary favourites, they invite wonder and intrigue.
VINCENT DUBOURG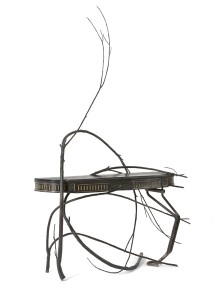 He likes to be called a "child wolf", which might help to explain some of the hostile and slightly violent movement in his works – the Nouvelle Zeland collection being a case in point. Nourished by modern cosmopolitan cities, such as his native Paris and beloved London (where he exhibits work via Carpenters Workshop Gallery), Dubourg is a veteran artist. He says he is inspired by "the immanence of nature" and how it creates overwhelming beauty, powerful enough to destroy a man-made world. His work brews in the more artistic realm – isolated, he says, "in a hollow space". It's a bit dark.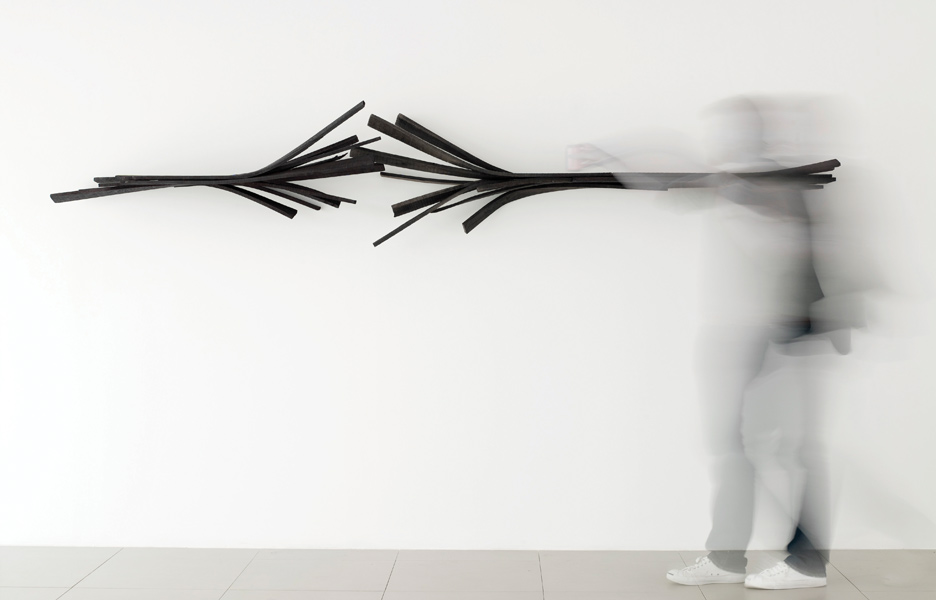 JAMES PLUMB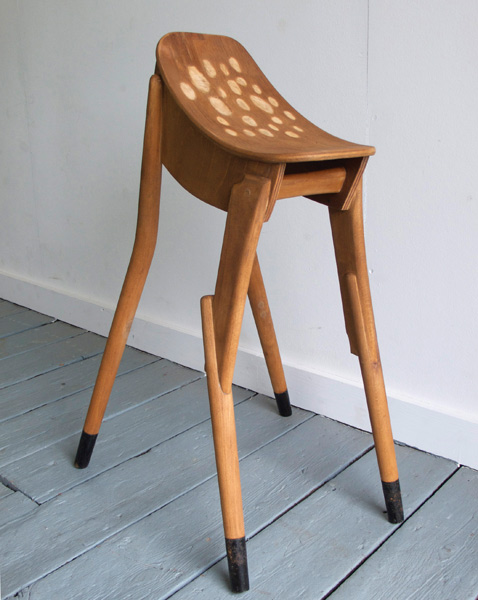 This British design duo is comprised of Hannah Plumb and James Russell, two artists under one name, who work with the overlooked and discarded, taking time-worn antiques and cast-off things to produce unique furniture pieces that are truly worthy of any gallery space. Spazzio Orlandi in Milan was an obvious place for the young designers to exhibit this year. During Rossana Orlandi's design week showcase they stood out as a primary highlight. According to Orlandi, they are her darlings. They were like kids in a candy shop when allowed to rummage through her collection of old found objects.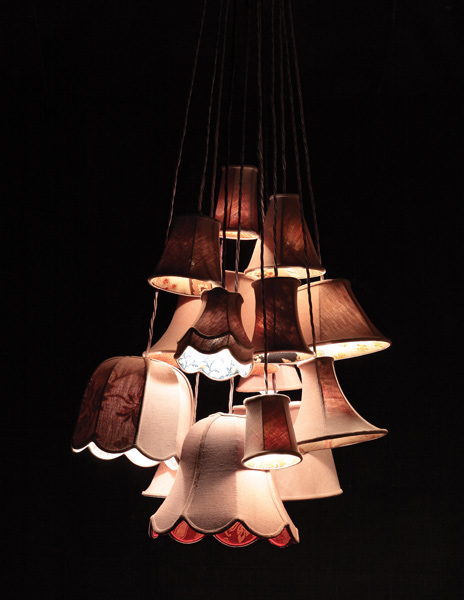 h220430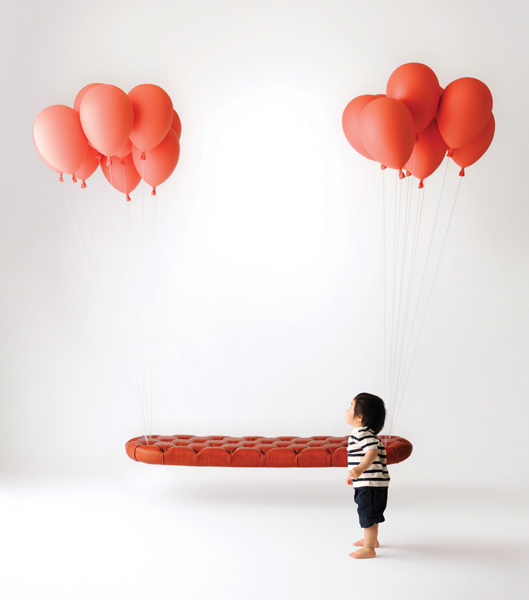 Heisei 22 (2010), April 30 – that was the date Satoshi Itasaka and Takuto Usami chose to collaborate and establish their design practice. The aim: to join forces in a playful and imaginative way; to remind themselves, and others of all things magnificent and powerful in life. "Our narrow mind is one of the reasons for causing conflict or environmental problems in this world," says Itasaka. "The issues we are currently facing, as a generation, would be better addressed if we had a broader sense of scale and vision about cause and effect." The two minds in this case are better as one.