Article by Online Editor
Designer
Studio chair and Bing pendant by Resident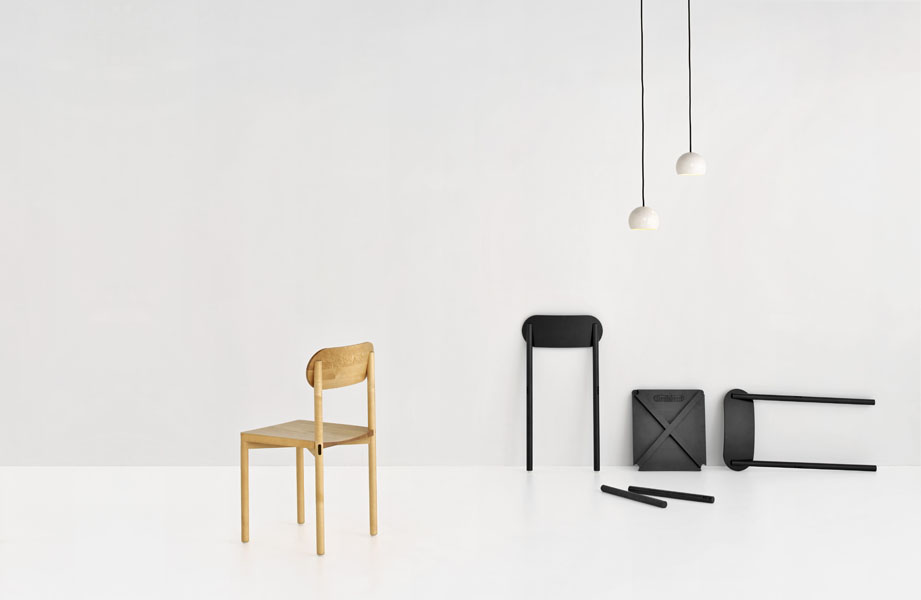 New Zealand design collective Resident made its Milan debut as part of Most. Jamie Mclellan, Gidon Bing, Simon James, Jason Whiteley and Nat Cheshire are the designers behind the brand, each having forged a name for themselves in their homeland. The establishment of Resident in 2011 has garnered the group a lot of attention since launching its inaugural collection in that same year at designjunction during London Design Festival. The Studio chair by Whiteley and the Bing pendant by Bing are two examples of the collective's pared-back aesthetic, which created waves at Milan. This exciting group of designers is well worth keeping an eye on.
Superheroes by Glimpt for Cappellini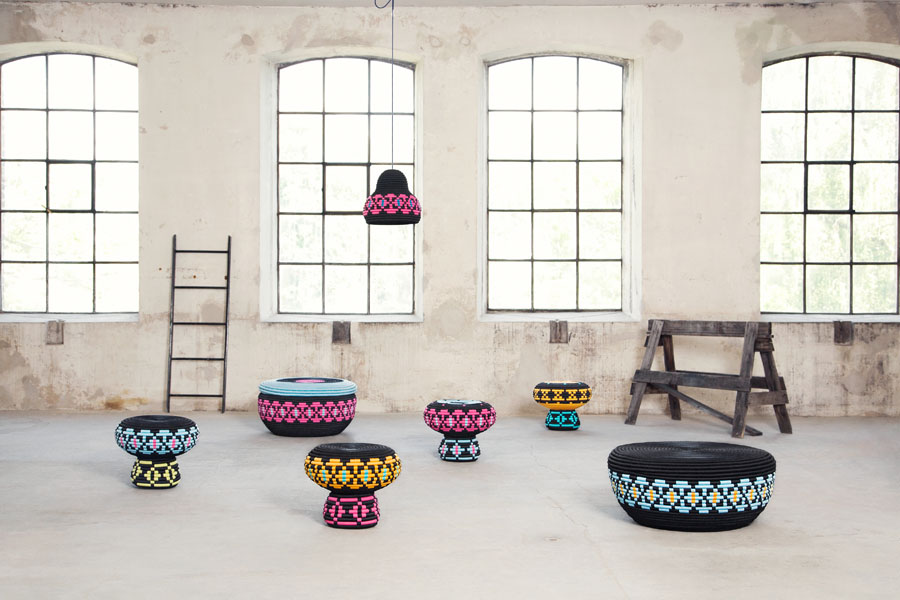 This incredibly appealing collection from Swedish design studio Glimpt is the genius of Mattias Rask and Tor Palm. Inspired to travel and work with artisans from other  countries, the two designers visited Vietnam and learned traditional weaving techniques from local craftspeople. The Superheroes collection of seating is based on a Vietnamese technique to make small bowls, where paper thread is rolled around seagrass. Rask and Tor also called on Swedish illustrator Malin Koort, who helped develop the patterns for the collection. The lightshade is currently a prototype, although there are plans for its production.
glimpt.se / corporateculture.com.au
Nido Stool by Studio Besau Marguerre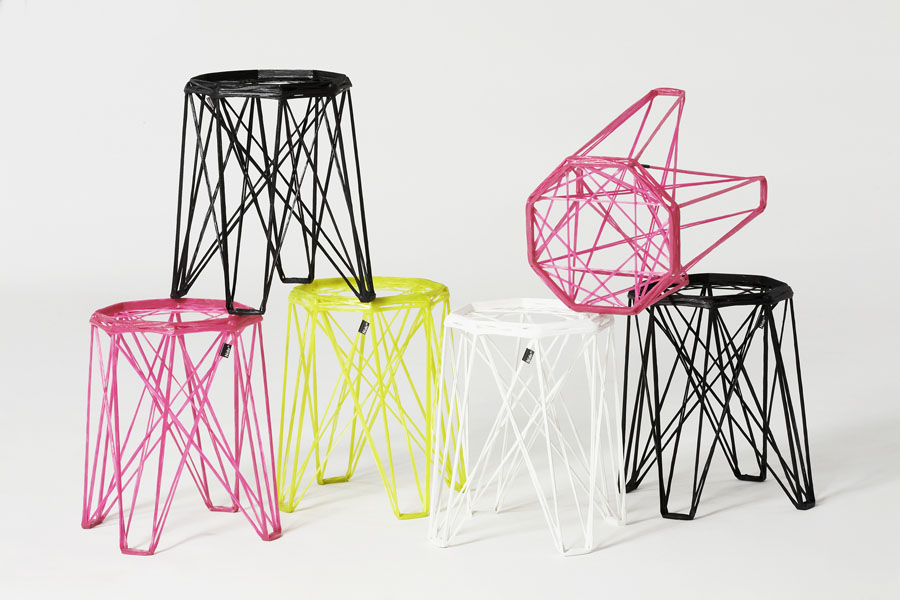 Designed by Hamburg-based designer Eva Marguerre this limited edition stool is a manufactured marvel, weighing in at just 900 grams. Constructed from fibreglass soaked in dyed polyester resin and wrapped around a pre-constructed form these surprisingly robust stools are suited to both indoor and outdoor use. Nido is just one of Marguerre and Marcel Besau's successful material experimentations, and the emerging studio also enjoys working with colour, which, from looking at Nido, is gloriously evident.
Delft Blue Jumper by Marcel Wanders for Moooi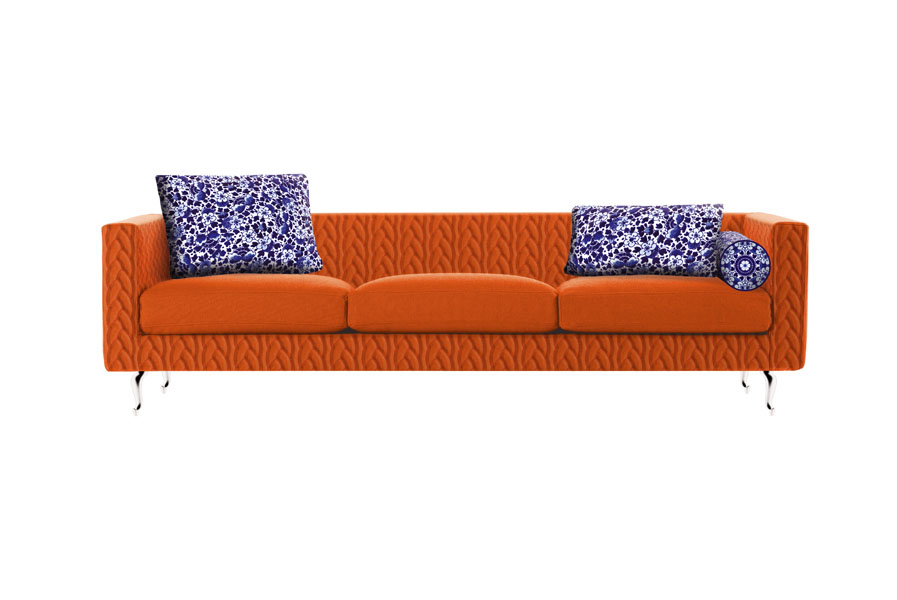 Marcel Wanders may very well have read our minds when he sat down to design this sofa. Looking like a favourite knitted woollen jumper, this lounge room essential just begs to have someone curled up on it with a good book and hot cup of tea. As with all Moooi products, Delft Blue Jumper is bold and sensual in its design, and colour has been strategically utilised so that there's no danger of the sofa being overlooked. The rich woollen upholstery contrasts with the porcelain-patterned cushions to achieve a look that is stylishly decorative. A sly attention to detail is in the feet, which come in an array of styles.
moooi.com / spacefurniture.com.au
Missoni for Bolon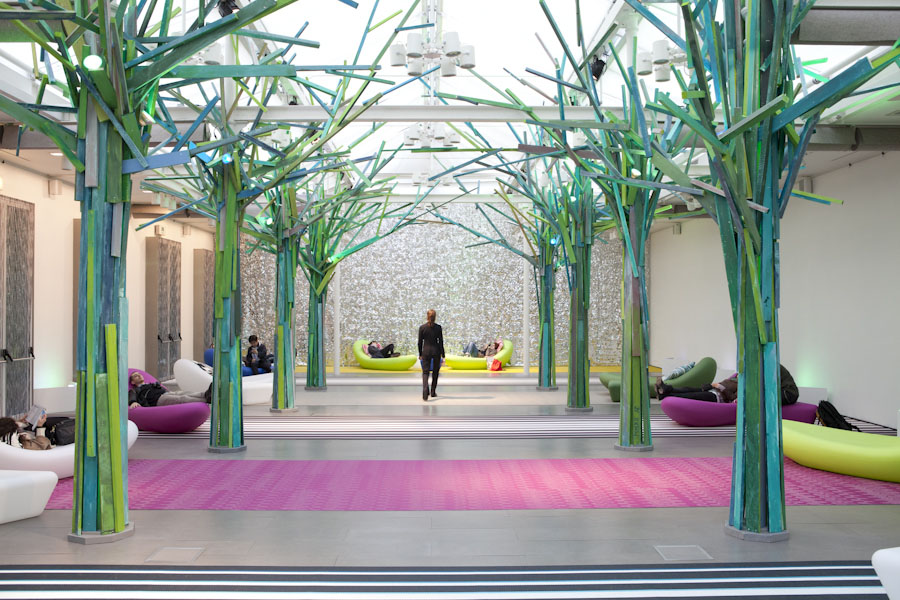 The Missoni showroom in Milan's Brera Design  District was awash, as one would expect, with the bright colours that characterise the Italian fashion house. Providing a tranquil space where visitors could sit and lounge, it also provided the opportunity to view the exciting new collaboration between Missoni and Bolon. The long runners of Bolon flooring show off Missoni's new designs for the collection in an array of deep hues and decorative patterning.