Article by Online Editor
Photography by Matt Biocich, Eva Fernandez
Designer
Australia's natural landscape has long been a creative bloodline for artists and, in turn, their visualisation and articulation of the landscape has connected the rest of us to this world, imbedding it deep within our collective cultural psyche.
Faultlines: Two Artists in Karijini is a small exhibition, neatly curated by Andrew Nicholls and Kara Pinakis, which continues this tradition. Following in the eminent footsteps of artists such as Fred Williams, Faultlines takes us into the remote Pilbara region in north Western Australia via the imaginations of New Zealand designer, David Trubridge, and emerging Perth-based artist and timber designer, Nick Statham.
The two artists journeyed into the scissor-sharp gorges and escarpments of Karijini National Park in 2011 as part of a creative residency program run by Western Australian cultural body, FORM. Their experiences led to a preoccupation with the philosophies and dichotomies of order, pattern, structure and serendipity in the natural world.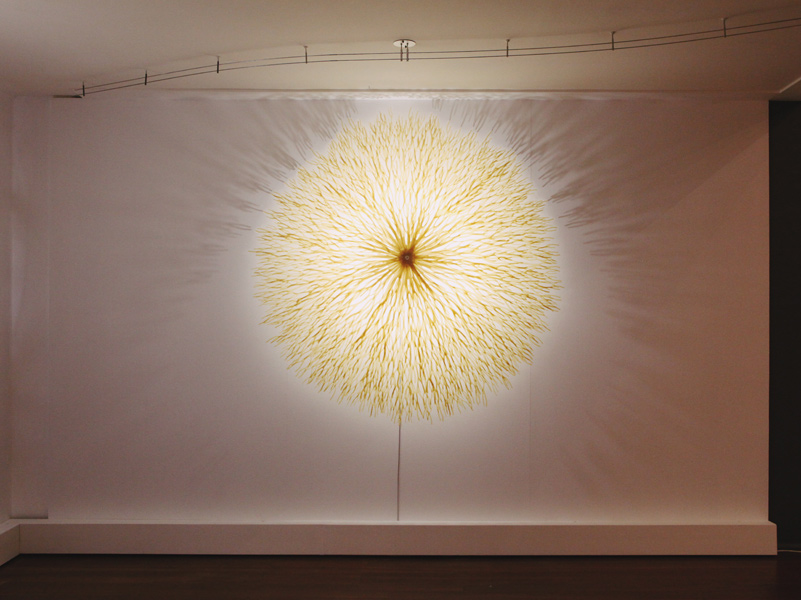 There is something wildly organic about Trubridge's contribution to this exhibition. His Tipu series of LED lighting installations comprise a balance of natural and sustainable synthetic materials, yet they spread across the gallery wall as though wholly, engorgingly alive. The word tipu is Maori for 'grow' and Trubridge's Pilbara is certainly an embracing one. It is always moving, breathing, stretching; it has a sense of wrapping and unwrapping, folding into and out of itself. His Acacia prototype also fits this description. A pendant light cocooned inside long fingers of timber, it takes its form from the burned remnants (Trubridge calls them "scorched skeletons") of the native acacia species after a desert wildfire.
Nick Statham uses the word "pristine" to describe his perception of the Pilbara wilderness and, through his lens, the Pilbara does, at first, seem that way. Statham's work appears measured, formal and in direct contrast to the tendrils and tentacles of Trubridge's forms. Statham's Geo works are a series of geometric, angular forms made from American walnut, ash, ply and timber veneers that suggest carefully considered pattern and repetition. His Prototypes are similar: satisfyingly solid, cubic masses of timber that can be held in the palm of a hand.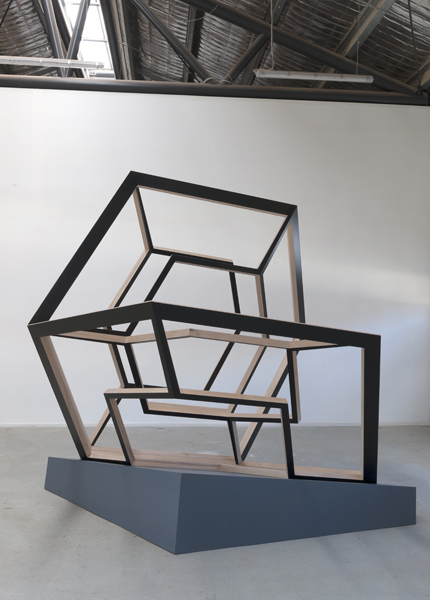 Yet while their aesthetic languages may be different, Trubridge and Statham's work is tied by a shared sense of the morphology and universality of primal, expansive landscapes such as the Pilbara. And after spending more time with individual works and within the exhibition as a whole, this commonality comes to the forefront. Rhythm and evolution is implicit in the repetitious forms of both artists, as is an insistent sense of things growing and contracting, overbearing and retreating.
In his artist statement Trubridge begins with: "In my hand I hold a small piece of rock from the Pilbara. Its level striations are a microcosmical version of the ancient land. If I were to place it outside on the ground, how long would it take to erode?"
In a symbiotic moment, Statham's statement also alludes to beginning with something that can be held in the hand. Referring to his blockish Prototype objects, he writes: "The starting point was a primal immutable element, a block, a metaphor for the wholeness and timelessness, and a point from which decomposition and regrowth could take place."
Evolution, erosion, decomposition and growth – this body of work evidences both artists' gut responses to a land the imposing largesse of which goes hand in hand with its intangibly small detail. And as artists with product design interests, the relationship between design and the immaterial realm is also, unsurprisingly, present here.
The intriguing potential of this relationship is emphasised in the exhibition installed alongside Faultlines. From the Atelier is an exhibition of furniture and lighting design made in the Midland Atelier creative hub in its five-year history. These functional objects are a refreshing counterpoint to Faultlines and, together, the exhibitions offer an insight into the multidimensional possibilities and interpretations of design.
Faultlines: Two Artists in Karijini and From the Atelier are on show at FORM Gallery in Perth from 14 June to 14 September 2013, as part of a series of exhibitions coinciding with the fifth anniversary of Midland Atelier.