Article by Online Editor
Photography by Tony Law
Designer
Above: The Chinaman's File rocking chair, designed by Trent Jansen for Broached East.
The hubbub of passing cars, engines revving and horns blazing, is a world away from the tranquil surroundings of Trent Jansen's studio on the edge of an escarpment on the south coast of New South Wales. His trip to the Indian subcontinent has turned out to be more of a holiday than a work expedition, but in his endeavour to define Australia's design and cultural identity, he's found a great resource.
"Travelling definitely helps," the young designer says of his practice. "India's functional objects are so influenced by material availability and the evolution of different techniques – by the caste system, in which a family is locked into a particular kind of craft for generations, but also by religion. It's so colourful, there's so much orange and pink and blue. There's a kind of flamboyancy that just isn't part of what we are as Australians. You can see where our differences lie and, through that process, identify our own cultural identity."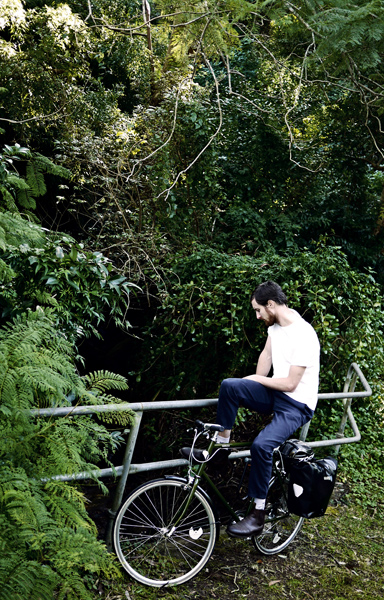 Back home, Jansen's practice has certainly developed in the eight or so years since he graduated from Sydney's College of Fine Arts. From the early success of his now ubiquitous Sign Stools and his Pregnant Chair – which retailed through Dutch brand Moooi – to more recent collaborations and limited edition pieces for Broached Commissions, there is both continuity and evolution.
Broached Commissions is the collaborative brainchild of Jansen, fellow designer Adam Goodrum and creative director Lou Weis. "Lou, Adam and I were talking about the possibility of putting together a limited edition design exhibition. We'd known Lou from a few projects and he seemed to be quite a savvy businessman.
"Lou decided that he'd like to help us do it and spearhead a new company that might facilitate that. Once Lou gets involved in something, he doesn't really muck around," Jansen says. "We spoke about a company that would begin to explore the identity of Australia, or how Australian design has evolved. Some other companies in the world have been able to encapsulate the design identity of a place: companies like Droog and Established & Sons, who have captured the idea of a Dutch or British identity, and managed to turn it into objects that represent that culture."
With a commitment to detailed research and cultural understanding, Broached Commissions is now up to its second edition, and has begun a number of private commissions. For Jansen, it provides an opportunity to pursue the research and development that's such a strong part of his design philosophy. "The budget that's available and the amount that you can charge for an object that's in a small series, or a one-off, allows quite a lot of creative freedom," he says. "It's far more about the story it can convey than all of those normal commercial constraints."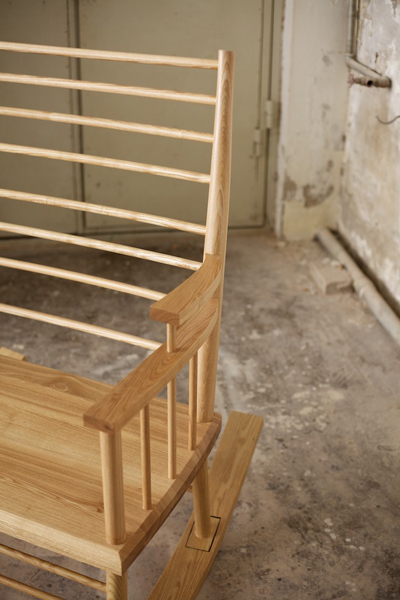 Jansen's piece for the Broached East collection, the Chinaman's File rocking chair, reflects the focus of this edition: Australia's relationship with China and Japan between the 1850s and 1900. His research began, however, with Bruce Chatwin's 1986 novel, The Songlines. "Chatwin would go to a place and learn as much about the indigenous culture as he could, then write a fictional novel," Jansen explains. For this part-fiction, part-investigation, Chatwin explores the nomadic culture of Indigenous Australians, referencing Dr John Bowlby's research into childhood development. Bowlby believes the motion of being carried by its mother has an innately calming effect on a baby. "He found that, even as adults, we still have this sort of genetic coding which makes that function soothing to us," Jansen says. "He surmises that it's this soothing motion that provides us with a space to consider, to think and to ponder."
Jansen applied this notion to the nomadic nature of the Chinese gold prospectors of the mid-19th century. To avoid the tax placed on Chinese migrants by the particularly xenophobic government of the day, ships would set down Chinese passengers just west of South Australia's eastern border, forcing them to trek over 300 miles to the gold fields of Victoria. For reasons unclear to Jansen, they would walk in single file, a trait that became known as the Chinaman's File. "It struck me that these men were economic nomads and would have been walking through this incredibly alien landscape, and it would have been this walking motion… the sort of motherly, feminine rocking… that brought them some sense of comfort."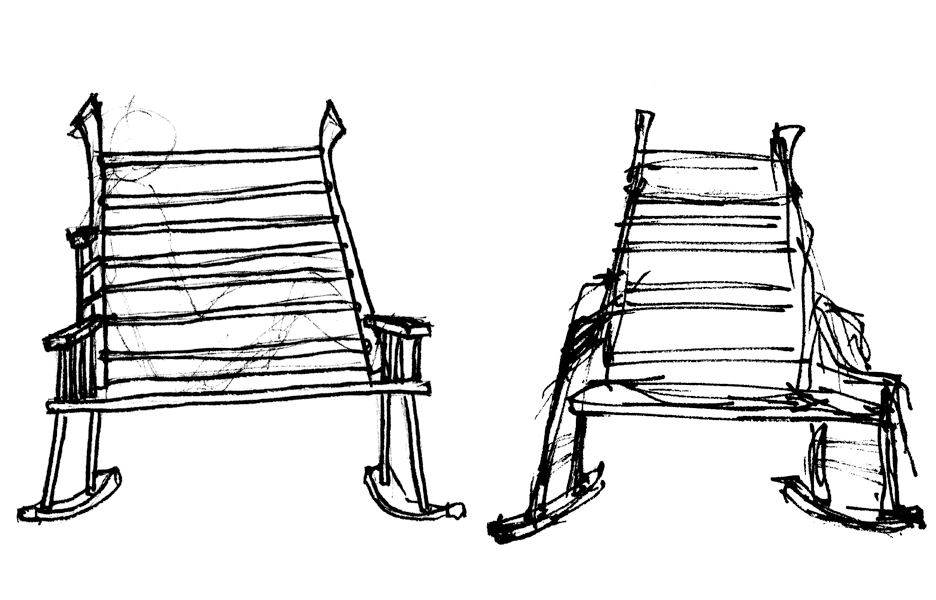 From there, Jansen undertook a filmic study of a woman carrying a baby on her back, tracking the trajectory of the child over a single step, and then converted this into the rocking motion for his chair. "Essentially, I've designed a chair for 16,500 Chinese diggers that died over 100 years ago. In a way, it's designed to bring them comfort."
As a result of such intensive research, Jansen has found his practice is both richer and more challenging. "I'm finding it harder and harder to see the merit in an idea that doesn't have that kind of depth, which makes life pretty difficult for me.
"We have so much stuff in our lives, we seem to rotate through things so quickly. I just don't want these things to come to that end. It's wasteful, for one thing, and it just doesn't appeal to me. I'm into things that can be around for a long time and that speak of a time and place, not be thrown away and forgotten about."
Broached East can be viewed at Broached Gallery, Lv 7, 388 Bourke Street Melbourne.

This article was originally published in Inside issue 76: The 'Out of Town' Issue.