Article by Online Editor
Designer Coco Flip
This article appeared in Inside magazine 72: Homegrown.
Above: Kate Stokes in the Coco Flip studio. Photo by Jackson Eaton.
The Compound Interest is a warehouse housing a growing number of creative studios in the heart of Collingwood. Anyone who's anyone in Melbourne's thriving design and art scenes rents a space there, so it makes perfect sense that Kate Stokes recently moved in.
The emerging designer has already turned heads with Coco Pendant, an elegant Victorian ash timber and spun aluminium light that was well received at the 2011 London Design Festival, and which has gone on to win a multitude of awards. She may not have a vast number of products under her belt as yet, but for Stokes the emphasis is on the process and resolving the product – no matter how long this takes. Churning out something new every two seconds just isn't her style.
Foregoing prodigious output for a thoughtful and considered design approach means that research plays a big part in her practice. Stokes is meticulous and thorough and leaves no stone unturned in regards to material exploration and experimentations in methodology. Trial and error may pepper her practice, but rest assured, the end result will be a product that is exactly right in every way.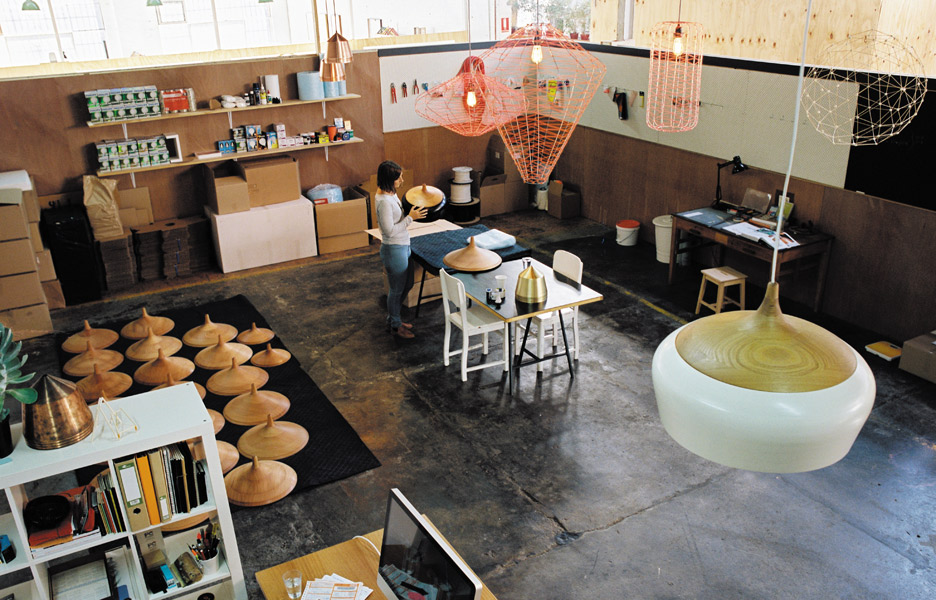 It lends her work a particularly elegant aesthetic, and for Stokes, conceptually, it's all about balance: "I'm drawn to simplicity in form; things shouldn't be overcomplicated, but neither should they be over-simplified. It's about knowing when to simplify and knowing when to embellish". It's perhaps this personal philosophy that has Stokes enamoured with Japan. Coco Pendant is inspired by a traditional Japanese spinning top, and having recently returned from a self-funded research trip, she is also inspired by the pace of the Japanese people, their sensibility and particularly considered way of doing things.
Travel is the other big player in Stokes' practice and it has been a constant in her life from the time she was 17 and she moved to Italy to work as a nanny, before living in Ireland and then Canada. She found herself back home in Perth where she studied industrial design at Curtin University, graduating in 2006. The course offered her the opportunity to go to Milan, and for Stokes it was her first notable exposure to the world of product design. She found the experience overwhelming – "the sheer mass of stuff at the fair" – but it did plant a seed. Upon graduating she worked as the creative design manager for Little Creatures Brewing and was able to contribute substantially to their interior projects.
It was the Little Creatures Dining Hall project that brought Stokes to Melbourne, and the move was as much about lifestyle choice as it was about career. Applying for the Australia Council's ArtStart grant and being awarded the $10,000 as a contribution towards starting her own independent practice was a huge financial boost for Stokes, not to mention an incredible confidence-builder. She was in Cambodia when she found out that her application had been successful and so she returned to Melbourne. Stokes began working on the branding for her new company in the State Library of Victoria and so Coco Flip was established in 2010.
Her approach to the business side of practice is very hands-on. It may come as a surprise to some to hear that every single Coco Flip product that goes out is hand packaged by Stokes, but such is the designer's attention to detail. She also works closely with local manufacturers and wholesales herself, although Australian export initiative Matilda has the license to manufacture Coco Pendant in Europe for distribution in select countries internationally. Of course, it's early days, and Stokes is aware that as the business grows she won't be able to do it all. But she does enjoy journeying to Melbourne's outer suburbs to meet with manufacturers, because it's important to the designer that she finds the beauty in what they do.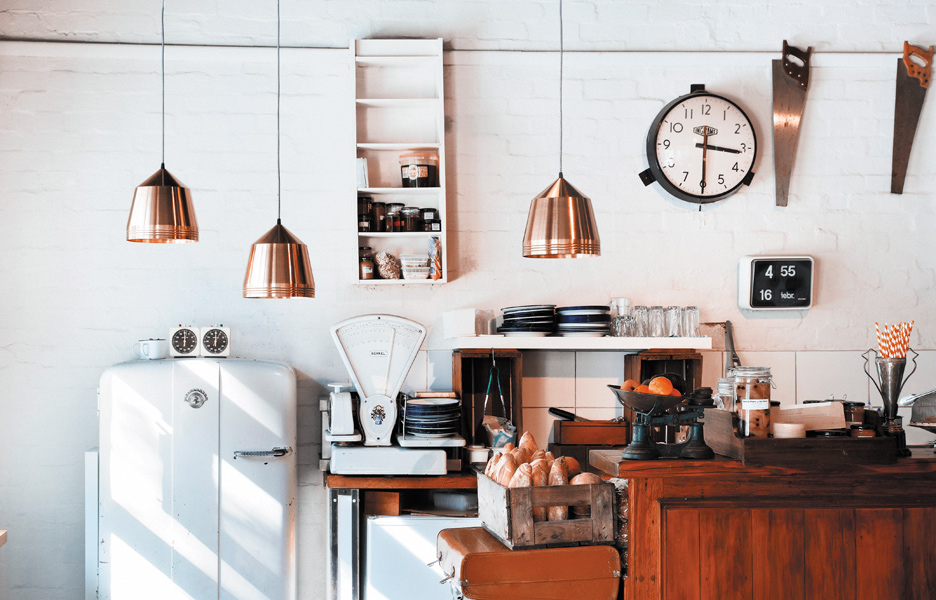 Last year Stokes spent six weeks in the New York studio of designers Rich Brilliant Willing and the experience showed her how a small collective of three work together. The experience was also notable for exposing her to technical advancements in product design. In 2011 she also released Mr Cooper, a spun copper pendant light that pays tribute to an era of invention when Robert Hooke experimented with sound transmission through a distended wire. The richly-hued shade cascades from a single ceiling plate and has already been specified in a number of new hospitality interior fitouts. Along with Coco Pendant (standard and mini) these are the three Coco Flip products currently in production.
Having received a second grant from the Australia Council in late 2011 to make new work, Stokes is currently developing a "family of products that investigates the idea of interdependence". She is interested in the contrast of materials and processes within the one product and so is experimenting with brass and copper, and looking at the potential of pairing both materials with concrete. The collection will begin to take shape over six months and promises to build on the success of Mr Cooper. For Stokes, it's "important to go out on a limb, because it's easy to play it safe and use tried and tested methods. But you can create something much more interesting if you remove yourself from the product's functionality, and then come back to it". This philosophy also echoes her travel motivation, which places priority on the experience of something new in order to enrich what it is she already has. "Travel brings out something in me that I don't get from one place. A lot of people think you have to go away to be successful, but you don't – you just have to engage."