Article by Online Editor
Designer Coco Reynolds
Having established Marz Designs in 2009 and recently heralded for her Thread Light at last year's LaunchPad Design Awards, Coco Reynolds is well on her way. Her playful and quirky design disposition places her among some of this country's most exciting emerging designers. What makes her stand out is her approach, which is an ongoing and rigorous search for balance between form and function.
Like many of Australia's most ambitious designers, Reynolds studied design in Europe, enrolling at Milan's Istituto Europeo Di Design after finishing a bachelor of design at the University of Canberra. That's when she embraced a new way of thinking about space and the things we tend to fill it with. Describing the experience as highly formative, Reynolds says her time spent in Europe gave her a more conceptual approach to design. "It was a completely different environment to study in," she says. "They're a lot more open to conceptual ideas…" Which isn't to say she doesn't pursue these ideas herself; she's just currently driven to make things that work, as opposed to simply introducing new products into an already saturated market.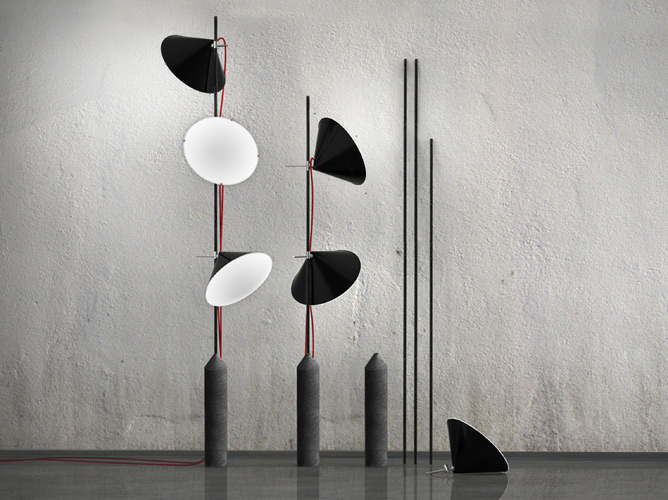 While Reynolds is influenced by European design, the Thread Light reveals its inspiration to be Tom Dixon's Cone Light tripod lamp. She has applied Dixon's 'polished industrial' aesthetic well, and the end result is a light that is straight-forward and accessible in its appeal. There is also an element of playfulness in her work. Reynolds' design calls for human interaction, and allows the end user to transform, adjust and move the simple, yet flexible, light in a number of subtle ways. She wanted to pare back the design as much as possible, while still aiming to offer the flexibility of a product that can be altered and expanded.
The lights themselves have a striking appearance. Consisting of a ready-made threaded rod, set in a heavy concrete base, to which you can attach any number of adjustable conical shades, the idea is for the lights to be completely modular. "You can buy different lengths of threaded rods, so it's completely adjustable and you can pretty much put it anywhere," Reynolds explains. "The idea is you can put it in any sort of space." When in-situ, Thread Light can be easily moved around the room, thus transforming a space, and by having the number of its shades changed, the design itself can also be transformed. This flexibility speaks to Reynolds' desire for balance between form and function.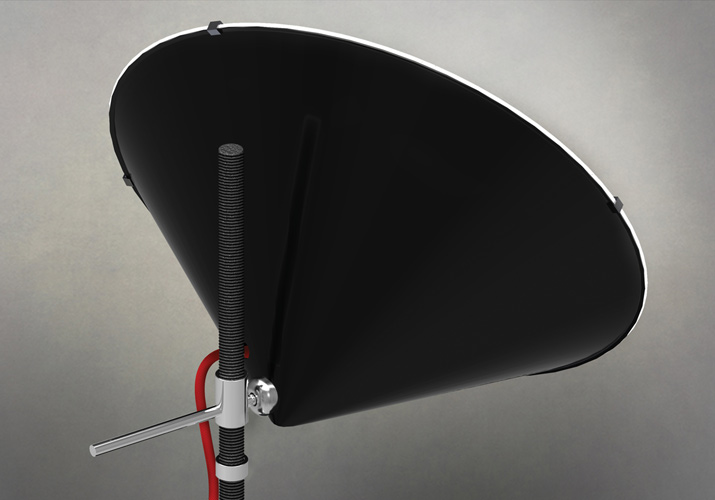 Most of her product portfolio is made up of lighting designs, but she does also produce other ranges. It is, however, the Thread Light, with its ability to easily and dramatically transform a space and its flexibility and breadth of implementation, that really shows Reynolds' potential as an emerging designer; one with a particular interest in lighting. "I seem to always be drawn to designing lights," she says. "I'm really intrigued by them. I think light itself is just so beautiful and the things you can do with it are almost endless. It's a lot more playful and a lot more fun to interact with… so I find it far more interesting than designing a chair."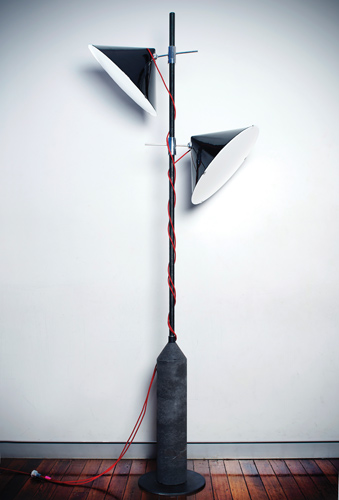 This passion is what underlies her young practice, and regardless of her classic schooling, she does not follow a set method or process. "I think every idea comes from a different place and a different time," says Reynolds. She's more concerned with what the ideas can do and how versatile they can be for the user.
Not all of the designs in Reynolds' portfolio have the same industrial aesthetic as Thread Light. Many of them, such as the concepts for Bad Egg bar stool and Tee Cups, appear more conventional because of material choices and proposed execution, and would look just as comfortable in an Ikea catalogue as in a designer showroom.
"As a designer, I think you really need to push the boundaries of function when making things that have purpose, improving an action, enhancing things and making life more beautiful," she says. "I know they always say 'form over function', but I think there needs to be more of a balance. It's a fine line."