Article by Online Editor
Designer
Above: Christina Waterson, 'Taking Flight', 2011, folded aluminium wall relief. Installation view, commissioned by Aurecon. Photo by Jon Linkins
Christina Waterson admits there remains confusion over whether she is a designer or an artist. Due to the abundance of work sprawled across the floor and adorning the walls of her studio, there seems little reason to doubt Waterson's artist mantle. But in the public sphere some doubt prevails, especially since she's also a trained architect who has practiced at Urban Art Projects and Cox Rayner Architects.
Born in Queensland's Bundaberg and raised in Sharon on the Burnett River (north-west of Bundaberg), Waterson is, in many ways, a product of her rural upbringing. She is affable and personable, carefree by nature, and generous. Recalling the small 'natural' characteristics of her childhood still fills her with a sense of enthusiasm and excitement. It's her bush upbringing, she believes, that has made her adeptly aware of her surroundings. And Waterson's upbringing also appears to have bred pragmatism – a resourcefulness that has in some measure been inherited. "My dad is a land surveyor", she says. "Growing up around his work and his passion for the land, I too have a sensitivity of the natural and an appreciation for the logic of the land."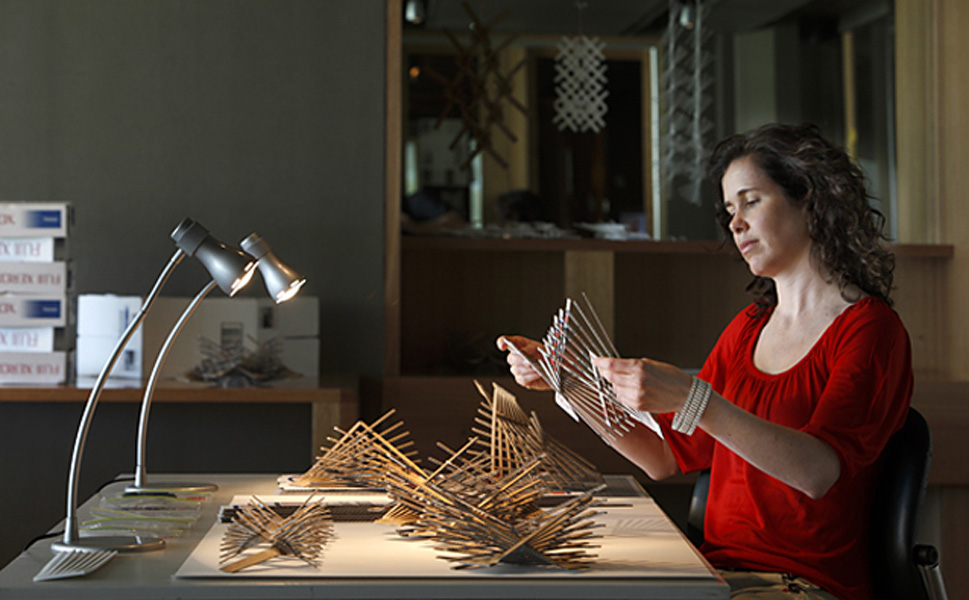 Pragmatism is one dominant feature of Waterson's work processes, which is what defines her practice. Her studio holds an array of tools that enables her to shape wood, leather, felt, and plastic. And all her functional and non-functional objects, sculptures and installation works are forged through some method of tactile craft such as cutting, carving, weaving, and layering. Initially, each piece is conceived using a number of small three-dimensional models or a series of sketches. These are then developed through experimentation, which involves shaping each design in a number of different materials. When happy with a prototype, Waterson takes it to skilled fabricators who, using durable materials, complete the process by making the work true to the intended scale.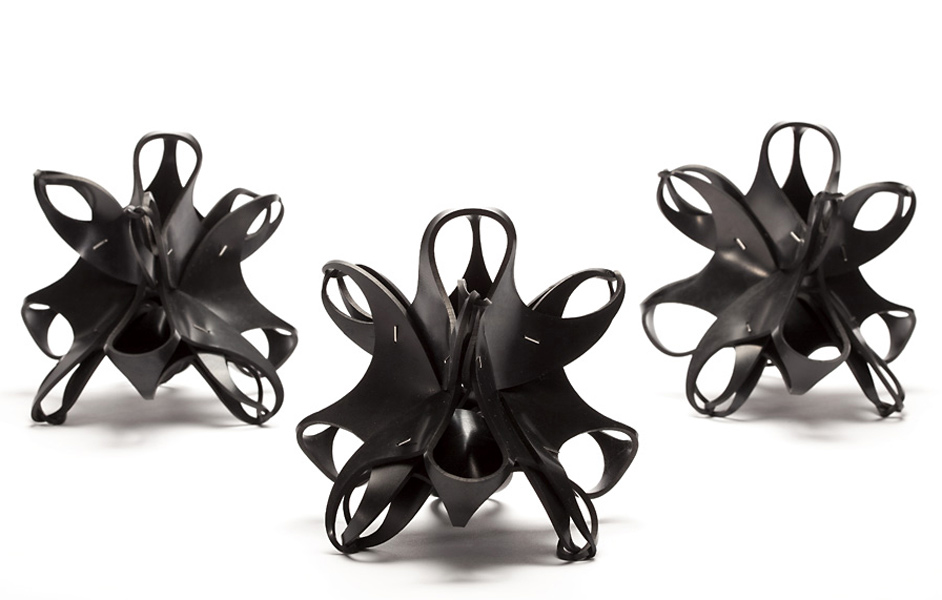 What separates the pragmatist from the aesthete, or the designer who creates for practical purposes from the altruistic artist, is the visceral in Waterson's approach to her work. To create and propagate artistry requires self-belief and intuition. While some may argue that artistry should rely on intellect, or on a philosophy, or on a determined endpoint, these need not play pivotal roles. Neither intellectual pursuits nor a singular philosophy appears to mould Waterson's art. Rather, she relies on intuition to determine the material and scale of the pieces. "I am listening and sensing all the time", she notes, "to ensure that the work responds to the material, the space around it and the individual."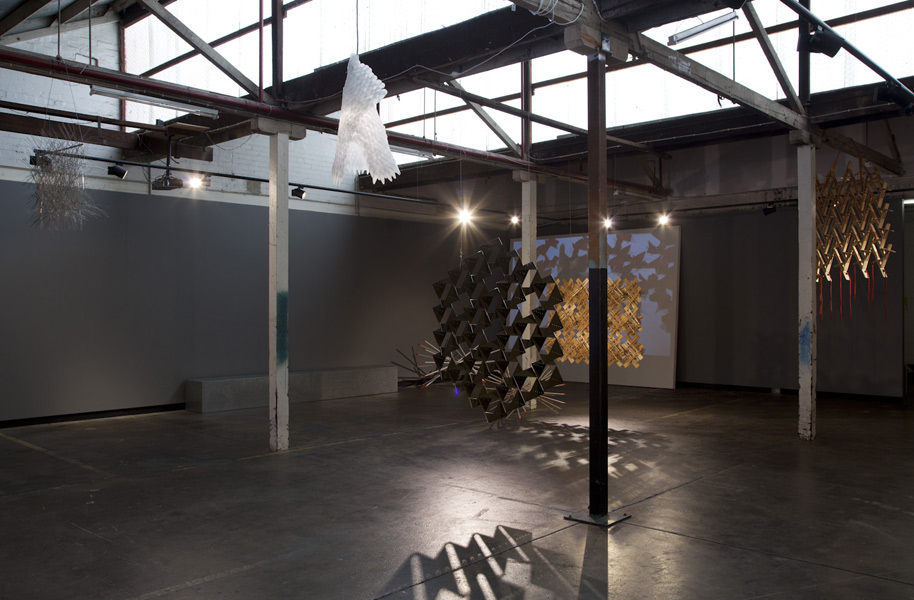 When Waterson discusses her recent exhibition, Trace, at Melbourne's Pin-up architecture and design project space, she is hesitant to load it with intellectual debate or an embedded philosophy. Trace examines the evolution of her art, exhibiting past work that has been forged using metal, wood and acrylic, but also highlighting more recent work that has been shaped into pliable substances such as leather and felt. Trace showcases her creative processes, noting the organic – even Darwinian – element to her work, where one sculpture inspires a second and a third. Each evolution, it seems, is an example of Waterson's longing to intimately know and understand each subtle difference in a change in material or scale. If there are messages contained in her art, Waterson believes they are individual and personal deciphers. And once the work is hung, it's the unexpected moments, like the way the light falls across it, which drives her to experiment further; experimentation that spurs Waterson to locate materials she has not previously used, or inspires her to move on to larger, bolder scales.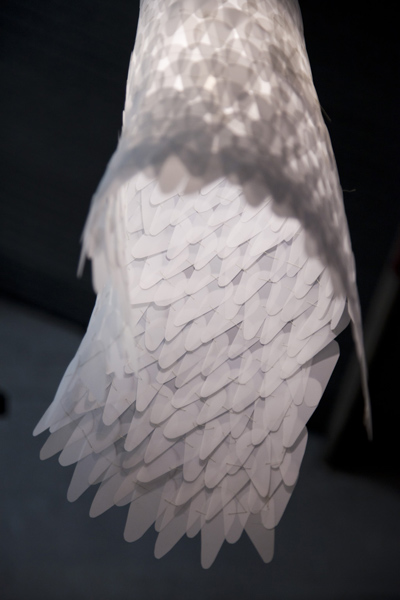 Ultimately, Waterson aims to reconfigure a person's perception of depth and place through her work. If there is one underlying intention within her art it is to transform preconceived notions of spatial depth. She attempts to reawaken in people an experience that surpasses the two dimensionality of a magazine photo or a computer screen. "Revealing the complexity and thickness of space not only makes us more aware of our surroundings and our own perception's limits," Waterson explains. "But it also opens up new potential in the way we see ourselves and in the way we think."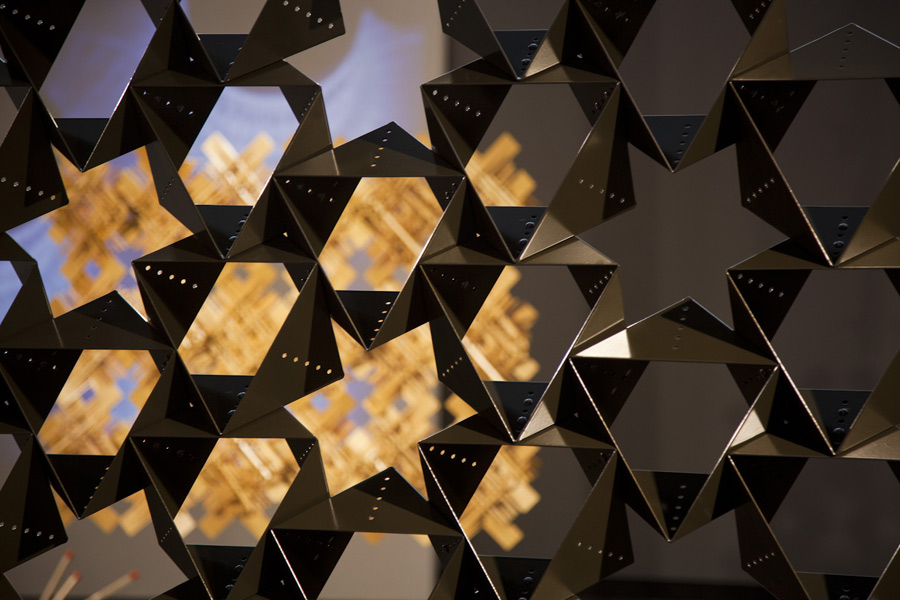 How she implements this artistic intention changes with each medium or commission. From the configurable interlocking objects of The Komodo Series, 2008, through to works such as Taking Flight, 2011, the folded aluminium wall relief that was developed into Trace's Scale Screen, 2012, each work or collection challenges the space in which it is set and the audience who participates in that space. Reinterpreting a spatial environment with sculptures and installations inspires Waterson; likewise, her pieces are meant to inspire those who participate in the reshaping. The two are harmonious, and while the end result may not always produce a philosophic conversation, it should reconfigure an audience's spatial awareness through the rebuilding of their vision and depth.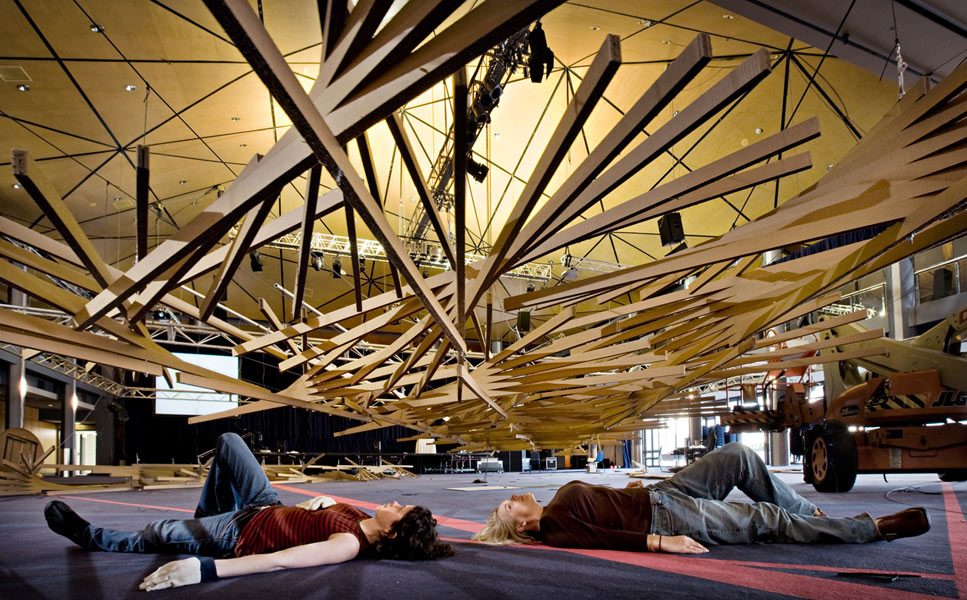 To date, and with the exception of her Array ceiling piece for the 2007 Queensland Australian Institute of Architects awards night, Waterson's pieces are relatively small compared to her preferred scale. She would like to see her art in a space as large as London's Tate Modern Turbine Hall, or installed across a city's infrastructure. Implementing such enormous projects means, for Waterson, that she will be able to truly evoke a communal response. For her, only this scale and context will allow her to wholly transform a person's sense of place and possibly dislodge or fracture a preconceived notion.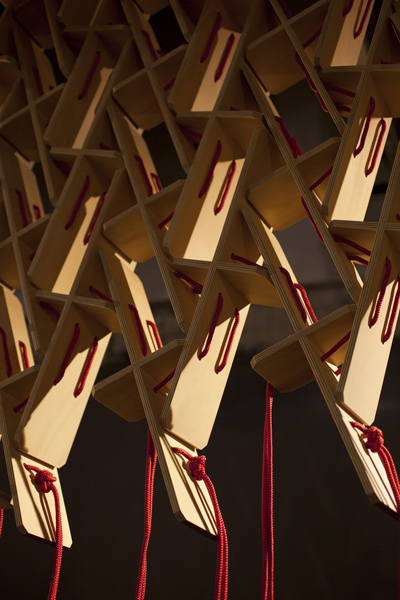 Upon receipt of the 2010 Churchill Fellowship, Waterson travelled to Japan, China, Turkey and London. She returned, she states, with a new vision, almost as a new self. The travel fostered a deeper understanding of her direction and role within the creative sector and the wider community. "I found through my fellowship that I re-evaluated not just past works but also my full range of skills, including writing and communication through blogging, discussion, presentations and photography." Projects such as Waterson's Tracepattern blog and her Why We Create series mark this shift and are the first in a series of projects she has planned for 2012.
And while her blog is already accessible, achieving her large-scale goals may take a little while longer. But given Waterson's growing list of accolades, this outcome is not unachievable. Her output is already prodigious and for someone who allows the properties of the materials she works with to direct her, it means she has no external constraints.
christinawaterson.com
tracepattern.wordpress.com