Article by Online Editor
Designer
The most intriguing exhibitions during Salone are usually held in unconventional spaces. Abandoned warehouses on shabby side streets provide backdrops for on-trend, temporary exhibitions. For one of the most stimulating events of this year's Salone to take place in La Rinascente, Milan's most prestigious department store, seems unusual. However, putting a movement of makers, who rarely receive even a glint of the international spotlight, centre stage in a commercial venue such as La Rinascente could be seen as a shrewd move.
Curated by London-based Beatrice Gallilee, Afrofuture stuck a brave foot into the world's most renowned design festival. In an event overrun by lamps and chairs silently shouting for consideration, Afrofuture offered something a bit different. Disregarding the option of staging an exhibition of 'African' design, Galilee instead lined up a programme of discussions, presentations and workshops to take place on the shop floor of the department store.
'What is an Afropolitan?' – the first question that host, writer Nana Ocran, put to the panel during Wednesday's Meet the Afrofuturists discussion – was greeted with mixed responses. The term, coined by rising literary star Taiye Selasi in her seminal essay 'Bye-Bye, Babar (or: What is an Afropolitan?)', was most succinctly defined by writer Hannah Pool who had just interviewed the author a few days prior: "A generation of Africans, largely in the diaspora, who combine their diasporic lives (living in London, New York, Milan) and also having a personal or professional connection with Africa." It seems that these so-called Afropolitans are playing a strong lead in achieving recognition for African design. The term 'African design' is the most obvious to use when talking about Africa and design, but the panel criticised its generalisation of a whole continent of designers – and rightly so.  As Pool put it, "Nigerian is very different to Sudanese. We need to understand that the same as we understand that European design is too broad a term".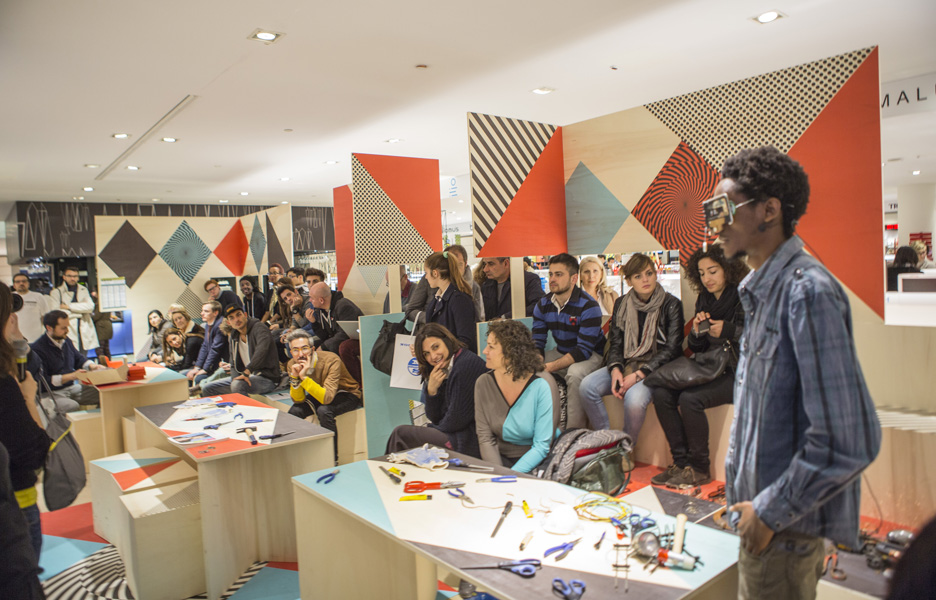 As in many of the relationships between the West and Africa, westerners need to be constantly mindful that they can't simply land in and 'fix' things. The same is true in the design world. Bringing in the tools and technology that are needed by Africans to drive design in their respective countries forward is appropriate; forcing our ideals on them is not. As the design director of Maker Faire Africa Jennifer Woolfe puts it, "we have to be careful with the term 'African design' and applying an African aesthetic. Let them develop their own design, without appropriating their aesthetics into our own".
Maker Faire Africa, who staged a workshop on the Thursday of Salone, is providing just this kind of support. Giving African designers the space and equipment to come and experiment with their designs and ideas is encouraging an atmosphere of creativity in places such as Lagos and Nairobi. Designer and activist Cyrus Nganga, technologist David Olaniyan and Jennifer Woolfe engaged visitors by asking them to create digital versions of Nganga's 'C-Stunner' glasses using found objects and scrap metal.
Visiting Afrofuture in the context of Salone made it glaringly obvious just how loud Africa, the second largest continent in the world, needs to shout to be heard over the din created by super brands in Italian and Dutch design. Yet without the customary spectacle of an exhibition, of objects to criticise or applaud, Afrofuture succeeded in creating a more lasting legacy. In the coming years, stands emblazoned with 'Kenyan design', or 'Nigerian design' should become standard at events like Salone. Or perhaps the designers of Africa won't have to travel quite as far as Milan; perhaps in the Afrofuture, the stage will have moved considerably closer to home.