Article by Online Editor
Designer
Above: Perth Arena, by ARM Architecture & Cameron Chisholm Nicol – Joint Venture Architects. Photo by John Gollings
The Australian Institute of Architects' (AIA) Western Australian Architecture Awards were announced at the state's Perth Concert Hall on Friday 5 July.
ARM Architecture & Cameron Chisholm Nicol – Joint Venture Architects took out the night's highest honour, the George Temple Poole Award, for their Perth Arena. Jurors commended the arena, boldly unique and complex in it's design, saying: "The building delivers an aesthetic unlike anything previously existing in Western Australia and, regardless of whether it is revered or reviled, it generates enormous interest and stands as an outstanding example of what architects contribute to the built environment."
The "great visual complexity" and "outstanding functionality" of the project saw Perth Arena recognised a number of times on the night, also taking home the Jeffrey Howlett Award for Public Architecture, the COLORBOND® Award for Steel Architecture and an Architecture Award in the Interior Architecture category.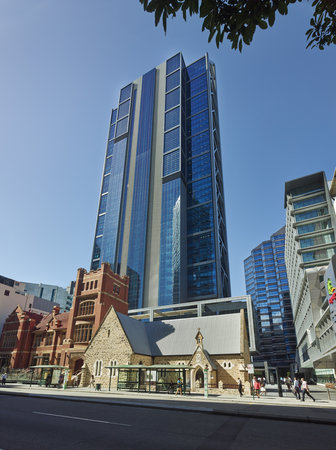 Another major city development taking out multiple awards on the night was Brookfield Place by HASSELL and Fitzpatrick + Partners. The commercial project was awarded the Margaret Pitt Morison Award for Heritage, the John Septimus Roe Award for Urban Design and the Ross Chisholm and Gil Nicol Award for Commercial Architecture.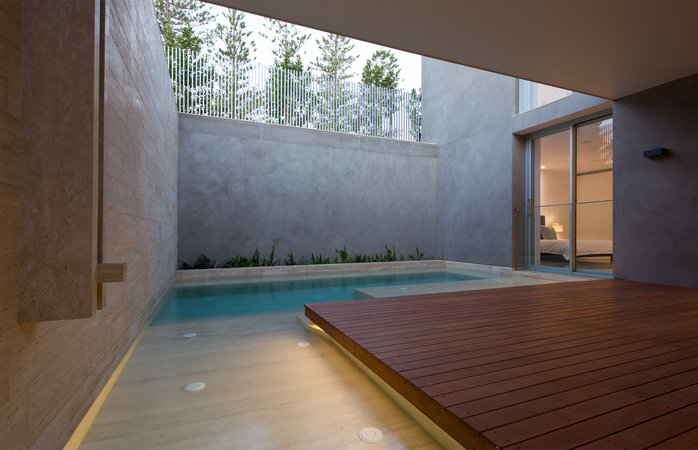 In the residential awards, Kerry Hill Architects' Campbell House was presented with The Marshall Clifton Award for Residential Architecture. Jonathan Lake Architects' Fremantle Additions was presented with The Peter Overman Award for Residential Architecture – Alterations + Additions, while Formworks Architecture took home The Harold Krantz Award for Residential Architecture – Multiple Residential for Lime Street.
The John Septimus Roe Anglican Community School (JSRACS) Kindergarten – Beechboro Campus by Brooking Design Architects received the Julius Elischer Award for Interior Architecture, while the Iwan Iwanoff Award for Small Projects was presented to Donaldson+Warn Architects for Kings Park Education.
All Western Australian projects that received a Named Award or an Architecture Award will progress to the 2013 National Architecture Awards to be announced in Sydney on 7 November.
For a full list of winners, see below.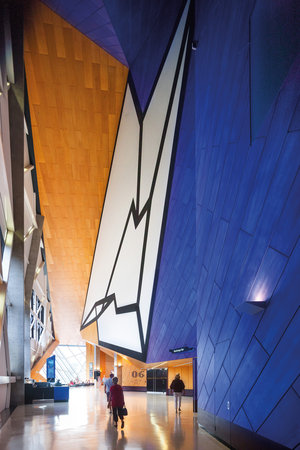 George Temple Poole Award
Perth Arena by ARM Architecture & Cameron Chisholm Nicol – Joint Venture Architects
The Jeffrey Howlett Award for Public Architecture
Perth Arena by ARM Architecture & Cameron Chisholm Nicol – Joint Venture Architects
Architecture Award
Baldivis Secondary College by JCY Architects and Urban Designers
The Office of the Premier and Cabinet Room by Cox Howlett & Bailey Woodland
West Kimberley Regional Prison by TAG Architects iredale pedersen hook architects Architects in Association
Commendation
All Saints' College Performing Arts Theatre by Parry & Rosenthal Architects
Guildford Grammar School Catalyst Building by CHRISTOU Design Group Pty Ltd
Dongara District High School by Bateman Architects in association with Design Inc
The Marshall Clifton Award for Residential Architecture
Campbell House by Kerry Hill Architects
Architecture Award
Forrest Street Residence by Chindarsi Architects and Osnat Harlap
Ingemar by Kerry Hill Architects
Commendation
A Suburban Beach House by David Barr and Ross Brewin – Architects in Association
Dress Circle Residence by Optimum Resource Architects
Quindalup House by Banham Architects
The Peter Overman Award for Residential Architecture -Alterations + Additions
Fremantle Additions by Jonathan Lake Architects
Architecture Award
Claremont House by Pendal and Neille
Commendation
Paddington Street by Mountford Architects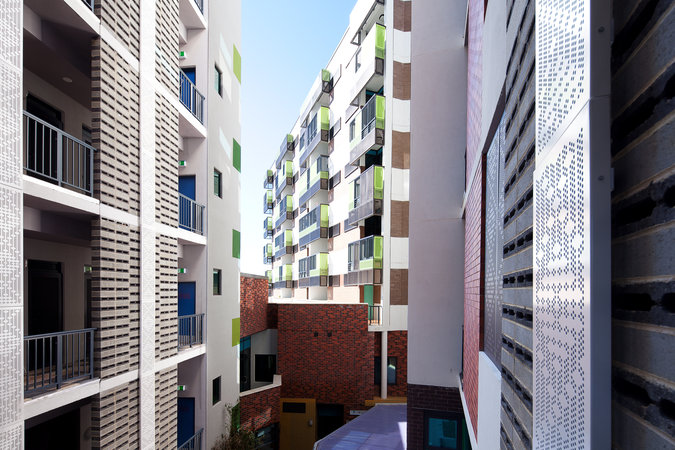 The Harold Krantz Award for Residential Architecture – Multiple Residential
Lime Street by Formworks Architecture
Commendation
Fitzgerald Street Housing Development by JCY Architects and Urban Designers
Building for Diversity by CODA Studio
East Kimberley Development Package Transitional Housing for the Department of Housing by iredale pedersen hook architects
Stockdale Lodge by Bernard Seeber Pty Ltd
The Margaret Pitt Morison Award for Heritage
Brookfield Place by HASSELL and Palassis Architects
Architecture Award
St George's College – Chapel & Dining Hall by Palassis Architects
Commendation
WA Ballet Centre – Former WA Institute for the Blind by Sandover Pinder Architects
The Office of the Premier and Cabinet Room by Cox Howlett & Bailey Woodland
The John Septimus Roe Award for Urban Design
Brookfield Place by HASSELL and Fitzpatrick + Partners
Architecture Award
Old Port of Arthur Head Reserve Upgrade by Donaldson+Warn Architects
Commendation
West Kimberley Regional Prison by TAG Architects iredale pedersen hook architects Architects in Association
The Ross Chisholm and Gil Nicol Award for Commercial Architecture
Brookfield Place by HASSELL and Fitzpatrick + Partners
Architecture Award
MG/GT Administration Building by CODA Studio and Mark Phillips Architect
Shiro Izakaya Restaurant Pavillion by The Buchan Group – Perth
Commendation
28 Troode Street by The Buchan Group – Perth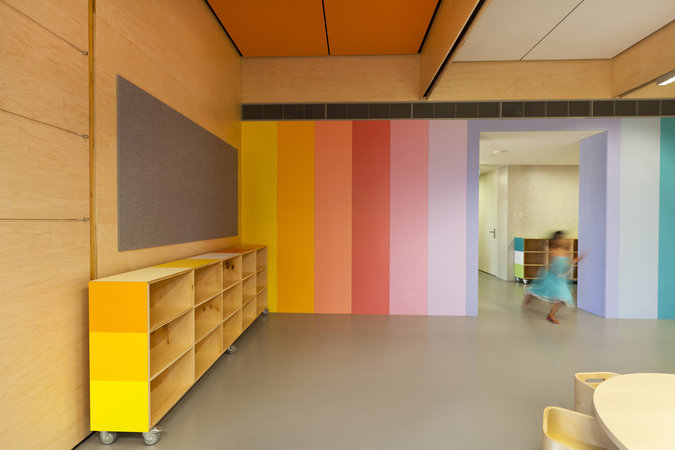 The Julius Elischer Award for Interior Architecture
John Septimus Roe Anglican Community School (JSRACS) Kindergarten – Beechboro Campus by Brooking Design Architects
Architecture Award
Perth Arena by ARM Architecture & Cameron Chisholm Nicol – Joint Venture Architects
All Saints' College Performing Arts Theatre by Parry & Rosenthal Architects
The Office of the Premier and Cabinet Room by Cox Howlett & Bailey Woodland
Commendation
The Merrywell by Taylor Robinson
BHP Billiton Workplace by HASSELL
0722 I Cedar House by Craig Steere Architects
The Iwan Iwanoff Award for Small Projects
Kings Park Education by Donaldson+Warn Architects
Architecture Award
Fremantle Additions by Jonathan Lake Architects
Perth Zoo Entry Upgrade by Chindarsi Architects
Commendation
Coghlan Road by Klopper & Davis Architects
The Deck – Café Lounge by The Buchan Group – Perth
The Wallace Greenham Award for Sustainable Architecture
West Kimberley Regional Prison by TAG Architect & iredale pedersen hook architects Architects in Association
Architecture Award
one2six ashton by Sorensen Architects
Commendation
Baldivis Secondary College by JCY Architects and Urban Designers
Colorbond® Award for Steel Architecture
Perth Arena by ARM Architecture & Cameron Chisholm Nicol – Joint Venture Architects
Commendation
ECU Joondalup Rain Screen by T & Z Architects
Mondoluce Lighting Award
Campbell House by Kerry Hill Architects