It's not only Governor General Quentin Bryce controversially flying in the face of the monarchists, John Warwicker, Professor of Design at Monash Art Design & Architecture and Founder of English design studio, Tomato, has designed a proposed new Australian republic flag as part of 'On Top of the World: Flags for Melbourne', Stewart Russell's project for Melbourne Now that commissioned 16 artists to create flags for specific sites and to hang in the Great Hall at the NGV.
At first glance the flag, which is flying atop the Exhibition Building this week, looks like the Aboriginal flag. But, look again. Warwicker's new design proposal is strikingly simple, essentially re-imagining the present Australian flag. It respects the genre of flag design and subtly reorders the existing elements.
"The change to a republic should – and will not – be one predicated on political and social upheaval, there will be no revolution, just a change in thinking and sense of self," says Warwicker. "In this context, the minor adjustments seem to be appropriate: a small change meaning a lot. Profundity sometimes comes from small adjustments rather than radical change."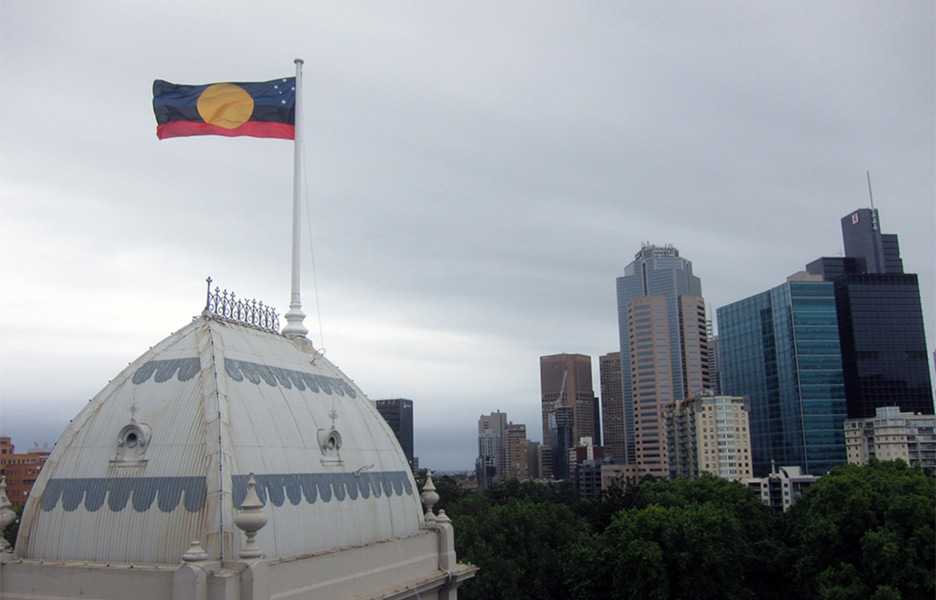 His design acknowledges the indigenous ground and people's relationship to the land. Also represented is the sky and the Southern Cross. "It's important that the new flag is inclusive to all Australians – past, present and future and a symbol of reconciliation between our Indigenous deep past and the relatively recent colonisation. This flag recognises both in, I hope, respectful harmony.
"The flag, with the sun, the symbol of life, renewal and hope, is shared between those that were here first, the historical immigrants, our current population and, of course, those that are to come. For the Indigenous population it is stability, the ever since and the ever more," Warwicker says.
He adds that the Southern Cross is representative of all travellers and all stars: "The stars are how we have navigated our way to Australia, so the Southern Cross represents the journey, the sun and the red ground represents the destination. The sun also represents the potential."
"It may be heretical," he continues, "but the latest research points to a migration from Sri Lanka/India some 35-40,000 years ago, as well as migration south from the land bridge north of present day Australia, so the design is resonant of the fact that we are all migrants and we have navigated our way to Australia by the stars."
Officially unfurled this week, Warwicker's design has approval from Harold Thomas, designer of the indigenous flag, and will fly above the Exhibition Building until 23 March 2014.
Other MADA artists involved in 'On Top of the World: Flags for Melbourne' are Professor of Fine Art Callum Morton (Haymarket roundabout), Tom Nicholson (Trades Hall) and Brook Andrew (Flinders St).
'On Top of the World: Flags for Melbourne' is on display in the Great Hall at National Gallery of Victoria NGVI.