Article by Online Editor
Designer
A university accommodation block made entirely from prefabricated shipping containers has opened at Canberra''s Australian National University (ANU). The project is the first large-scale application of container architecture in Australia.
Designed by Australian company Quicksmart Homes, the project was completed six months after the materials were ordered. Following a modular design, the building is made from prefabricated shipping containers built in China and shipped to Australia, before being transported by road to the site in Canberra.
The six-storey Laurus Wing is an extension to the university''s Ursula Hall, and features 70 units – a mix of one-bedroom apartments and studios – as well as additional spaces including a common room, laundry and bike storage. Each self-contained unit has individual bathroom and kitchen facilities, workspace with internet access, and a balcony.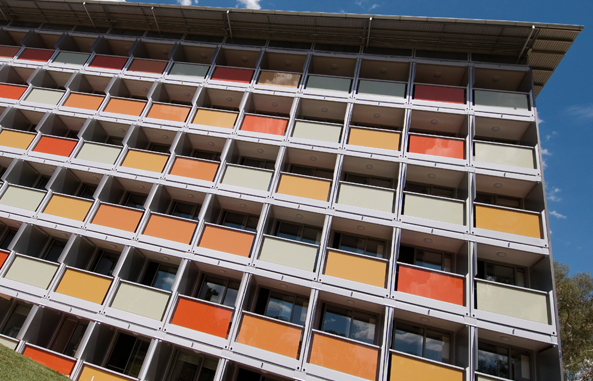 Quicksmart describe their system as a "fusion of prefabricated construction, intermodal transportation and modern architecture," with a flexible modular design that saves time on transportation and installation. Although the shipping containers are constructed new for the purpose – unlike many other green design ideas that reuse old containers – the company claims their buildings can halve construction times and save up to 20 percent on the price of traditionally constructed buildings.
The modular system also means the building can be added to and refurbished. It can also be recycled – the building can be dismantled and reused in a different location.
Quicksmart is now getting ready to begin the second stage of the university accommodation, which will provide a further 188 rooms. Both stages of construction are in partnership with Hutchinson Builders.
Quicksmart was started in Australia in 2007. This is their first project to be completed in Australia.