Article by Online Editor
Designer
Young designers Steven Vidovic and Kristina Taranto have been announced as winners of the People's Market & Flea design competition in Melbourne.
The winning design, entitled 'Recycled Garden', celebrates innovation and sustainability, intertwining a living garden with recycled objects and presenting everyday items in fresh ways. Employing high use of recycled materials, green roofs, and vertical greenery, the design also sees rainwater harvested through PVC pipes in order to maintain some of the vegetation on site.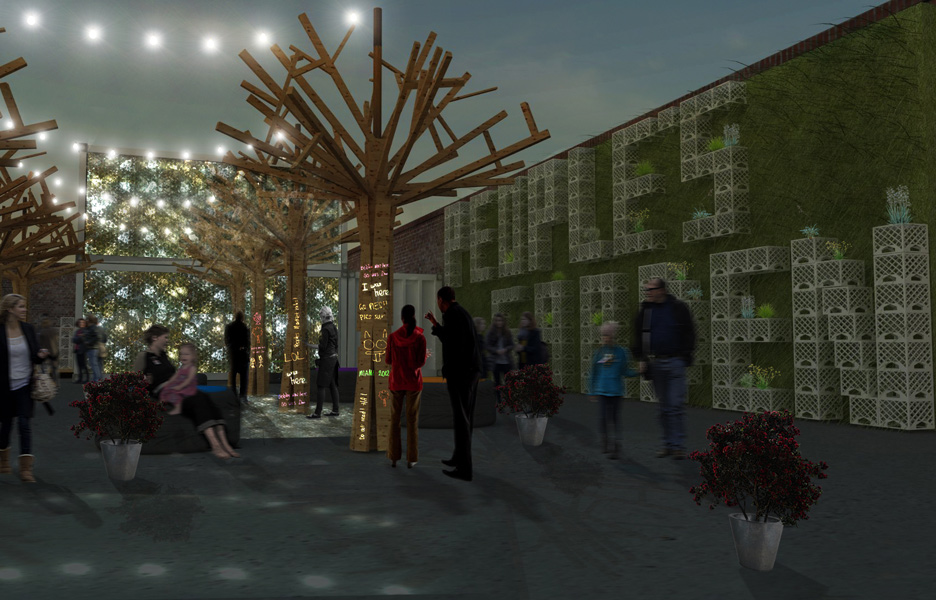 The competition for the market design, which will relocate this summer from Docklands to Collingwood, asked entrants to design an impressive and sustainable space for their summer pop-up using recycled materials, vertical greenery and environmentally friendly infrastructure. Entrants were asked to include shipping containers in their designs (for hawker-style street food and a bar) and to allow for retail spaces, greenery and seating arrangements for up to 200 people. The design also needed to make allowances for amenities, and to take into consideration the Saturday pop-up markets which require space for up to 30 market stalls.
According to Vidovic and Taranto, their design seeks to draw people into the 1100-square-metre space through activating its frontage and creating a 'welcome mat'. The fittings within their proposed site are fully portable, allowing them to be easily installed and removed from the site. The design also adapts to make room for events such as the Saturday pop-up market, live bands and an open air cinema.
Vidovic and Taranto are currently working with the People's Market & Flea organisers to bring the project to life for its opening in November.