Article by Online Editor
Designer
Above: The encounterculture, by Timothy Moore, Jono Brener, Qianyi Lim, Amelia Borg, Nicholas Braun, Alan Ting, Jane Caught, Jessica Brent
The winners of the annual Open Agenda competition organised by the School of Architecture at UTS have been announced.
Open Agenda is a national competition promoting "a new generation of experimental architecture", and focuses on developing the role of design research within architecture and the built environment. Intentionally broad in scope, the competition calls for proposals that would foster new discussions between architecture and the public realm.
The three winning proposals for 2012 are:
The encounterculture
Timothy Moore, Jono Brener, Qianyi Lim, Amelia Borg, Nicholas Braun, Alan Ting, Jane Caught, Jessica Brent
 Atmospheres of  Architecture
Robert Beson
 Bizarre Locations
Tina Salama
The encounterculture, a proposal from the team at architecture studio SIBLING, investigates ways in which architects can stimulate participation, and provoke unwilling participation.  The design team explain their proposal: "The key impetus of this exercise is to provide an alternative to the rational process of participation prevalent in architectural discourse, which often strives towards consensus. Consensus evokes a well-ordered world without violence or suppression. However, the opposite is actually the case; exclusion is at the centre: 'there is no totalization without exclusion.'"
Robert Beson's proposal, Atmospheres of Architecture, examines the effect of atmosphere or environment – encompassing gases, temperatures and gravity – on architectural typologies. "Understanding that atmospheres and organisms reference each other, the question then becomes how might we reconceive the organisation of architecture according to atmospheric forces, not as metaphor, but through morphological design processes?" Beson's research would explore what an atmospheric architecture might look like, and how an architecture composed of atmosphere would function.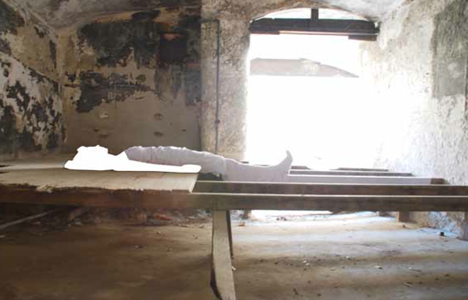 Bizarre Locations, a proposal submitted by Tina Salama, investigates spatial experience and ways in which an individual's spatial perceptions can be altered. Examining the work of artists including Olafur Eliasson and James Turrell, which blurs the boundaries between the body of the participant and the surrounding space, Salaman proposes the creation of a series of fictions, or provocations, that "create uneasy moments where the space of the body and the space of architecture/other/world has been compromised via a well planned performative action".
Two further proposals were given honourable mentions:
The Acephalous Mouth by Samaneh Moafi
8 bit lequeu by Jessica In and Gwyllim Jahn
The three winning proposals have each been awarded $2000 in funding to develop the research proposal in preparation for a publication, and for a public exhibition in Sydney in late October – to coincide with the Sydney Architecture Festival.