Article by Online Editor
Designer
Above: Darling Quarter by Francis-Jones Morehen Thorp (FJMT). Photo by John Gollings
The great and the good gathered at the historic Jones Bay Wharf on Thursday 27 June to recognise the most outstanding architectural projects to be produced in New South Wales in 2013. A total of twenty‐seven awards, eight prizes and fourteen commendations were presented.
Francis‐Jones Morehen Thorp (FJMT) scooped several awards for their Darling Quarter project: the Lloyd Rees Award for Urban Design, the Sir Arthur G. Stephenson Award for Commercial Architecture, the Milo Dunphy Sustainable Architecture Award and the inaugural City of Sydney Lord Mayor's Prize.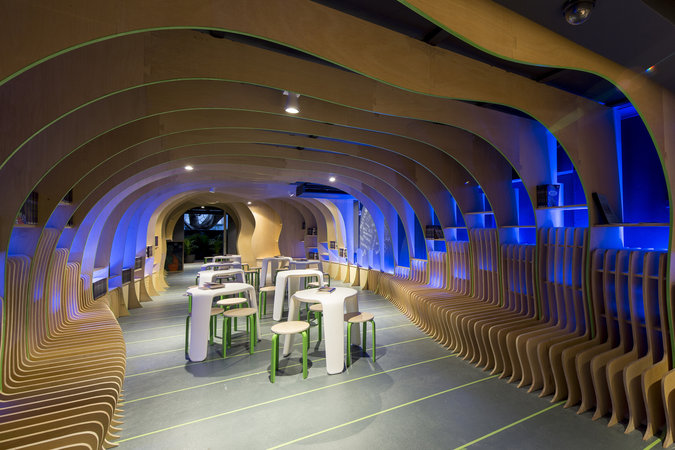 Such community engagement and an ability to "create more with less" was notable in the presentation of the NSW Premier's Prize, received by LAVA (Laboratory for Visionary Architecture) for their Martian Embassy project – the new home for not‐for‐profit creative writing centre, the Sydney Story Factory.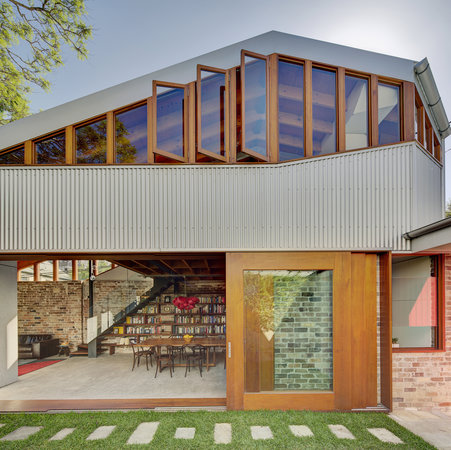 An appropriation of an existing shell of an old urban cowshed in Sydney's innerwest, Cowshed House by Carterwilliamson Architects won both an Architecture Award in the Residential Architecture – Houses category as well as Sustainable Architecture Award; together with a commendation in the COLORBOND® Award for Steel Architecture category. Notably, Andrew Burns, featured in AR129's One to Watch, was the recipient of this year's Emerging Architect Prize.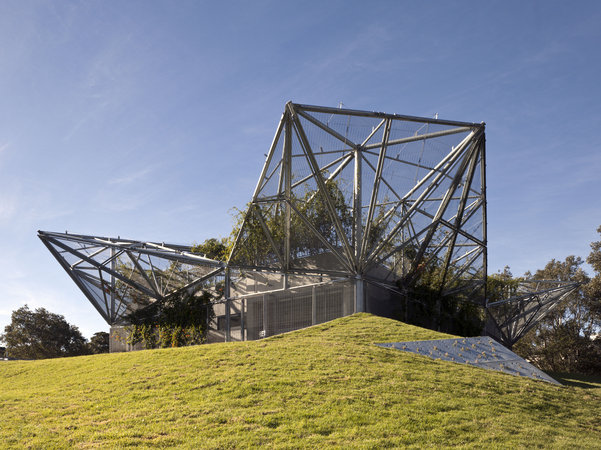 The night was capped by the most prestigious honour, the Sulman Medal for Public Architecture, presented to Collins and Turner (with City of Sydney) for the Waterloo Youth Family Community Centre – home to WEAVE (Working to Educate, Advocate, Voice and Empower), a local association supporting Waterloo's youth. The project also received an Architecture Award for Sustainable Architecture. A deserved winner, a practice that never ceases in its ability to engage with community through innovative and highly detailed design.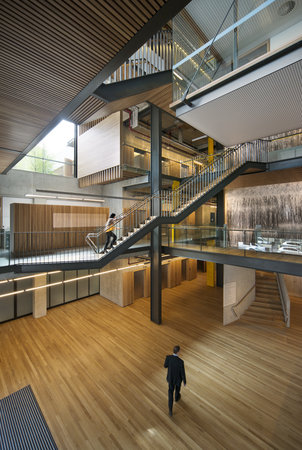 This year, over 170 entries were received from across New South Wales, with the named award and architecture award winners now progressing to the Australian Institute of Architects' National Architecture Awards to be announced on Thursday 7 November 2013 at the Sydney Opera House.
For a full list of winners, see below.
Sulman Medal for Public Architecture
Waterloo Youth Family Community Centre by Collins and Turner with City of Sydney
Commendation
Museum of Contemporary Art Redevelopment by Architect Marshall in association with the Government Architect's Office
Lloyd Rees Award for Urban Design

Darling Quarter by Francis‐Jones Morehen Thorp (FJMT) with Aspect Studios and Lend Lease
Award
Pitt Street Mall Public Domain Upgrade by Tony Caro Architecture
Sir Arthur G. Stephenson Award for Commercial Architecture

Darling Quarter by Francis‐Jones Morehen Thorp (FJMT)
John Verge Award for Interior Architecture

The Kinghorn Cancer Centre by BVN Donovan Hill
Award
Lilyfield Warehouse by Virginia Kerridge Architect
Commendations
85 Castlereagh St Sky Lobby & Entry by John Wardle Architects and Westfield Design and Construction
Woods Bagot Sydney Studio by Woods Bagot
Milo Dunphy Award for Sunstainable Architecture

Darling Quarter by Francis‐Jones Morehen Thorp (FJMT) with Aspect Studios, Lend Lease, E.G.O. Group and Davenport Campbell
Awards
Waterloo Youth Family Community Centre by Collins and Turner with City of Sydney
Cowshed House by Carterwilliamson Architects
Wilkinson Award for Residential Architecture – Houses

Tír na nÓg by Drew Heath Architects
Houses – Alterations and Additions
Awards
Cowshed House by Carterwilliamson Architects
Balmain House by Fox Johnston
Commendations
Bellevue Hill Residence by Tzannes Associates
Lavender Bay Boatshed by Stephen Collier Architects
Houses – New
Awards
St Albans House by Rory Brooks Architects
Flipped House by Marsh Cashman Koolloos Architects
Stewart House by Chenchow Little Architects
Gordons Bay Residence by Madeleine Blanchfield Architects
Commendation
Angophora House by Richard Cole Architecture
Aaron Bolot Award for Residential Architecture – Multiple Housing

29–35 Prince Street Cronulla by Candalepas Associates
Awards
Iglu Central by Bates Smart
Silk Apartments by Tony Caro Architecture
Telopea Social Housing by Turner
Commendations
Little Bay by Francis‐Jones Morehen Thorp (FJMT)
The Majestic by Hill Thalis Architecture + Urban Projects
Robert Woodward Award for Small Project Architecture

Art Gallery of NSW Forecourt Upgrade by Johnson Pilton Walker
Award
Yurong Public Amenities by Government Architect's Office
Commendations
Cook Park Amenities by Fox Johnston
Martian Embassy by LAVA (Laboratory for Visionary Architecture)
Crescent House by Andrew Burns Architect
Greenway Award for Heritage Architecture

Gowings and State Theatre Buildings Restoration and Hotel Conversion by Woodhead and Graham Brooks and Associates, Sydney
Creative Adaptation
Commendations
The Majestic by Hill Thalis Architecture + Urban Projects
Lavender Bay Boatshed by Stephen Collier Architects
Conservation
Awards
Hyde Park Barracks – Reconstruction of Gate Lodge Domes by Clive Lucas Stapleton & Partners
Conservation of the Convict Superintendent's House Cockatoo Island by Sydney Harbour Federation Trust
Award For Enduring Architecture
The AMP Building Sydney Cove by PTW Architects
COLORBOND® Award for Steel Architecture
Iglu Central by Bates Smart
Commendation
Cowshed House by Carterwilliamson Architects
Blacket Prize
Charles Sturt University National Life Sciences Hub by BVN Donovan Hill
NSW Premier's Prize
Martian Embassy by LAVA (Laboratory for Visionary Architecture)
City of Sydney Lord Mayor's Prize
Darling Quarter by Francis‐Jones Morehen Thorp (FJMT) with Aspect Studios and Lend Lease
NSW President's Prize
Sean O'Toole – UrbanGrowth NSW
Emerging Architect Prize
Andrew Burns – Andrew Burns Architect
Marion Mahony Griffin Prize
Helen Lochhead – Sydney Harbour Foreshore Authority
Adrian Ashton Prize For Writing And Criticism
Laura Harding – Architecture Australia/Hill Thalis Architecture + Urban Projects
David Lindner Prize
Nathan Etherington – Scale Architecture/University of Sydney