Article by Online Editor
Designer
HASSELL and Herzog & de Meuron have been declared the winners of the Flinders Street Station design competition in an announcement made by Victorian premier, Denis Napthine, this morning.
Dr Napthine reported that the jury was unanimous in its decision to award first prize to the submission, which offered "a beautiful and compelling integration of aspects of the original station design, strongly referencing its gateway status".
The proposal, a joint venture between Australian firm HASSELL and Swiss architects Herzog & de Meuron, features a series of vaulted forms informed by the ultimately unrealised proposal by the station's original architects, Fawcett and Ashworth.
The panel praised the public plaza at the centre of the proposal, commending the integration of transport hub with civic space, and also praised "the restrained height of the overall design" and the "strong historical resonance" inherent in the design.
The shortlisted entries were judged on:
Overall design merit
Transport function
Cultural heritage, iconic status and associated built form
Urban design, precinct integration and associated built form
Development delivery
Value for money
In acknowledgement of the high quality of all six shortlisted proposals, the jury panel also agreed that the prize money allocated for second and third place be distributed evenly to the other five shortlisted entries.
People's Choice Award
The proposal put forward by Eduardo Velasquez, Manuel Pineda and Santiago Medina – three University of Melbourne graduates, originally from Colombia – was victorious in the public voting.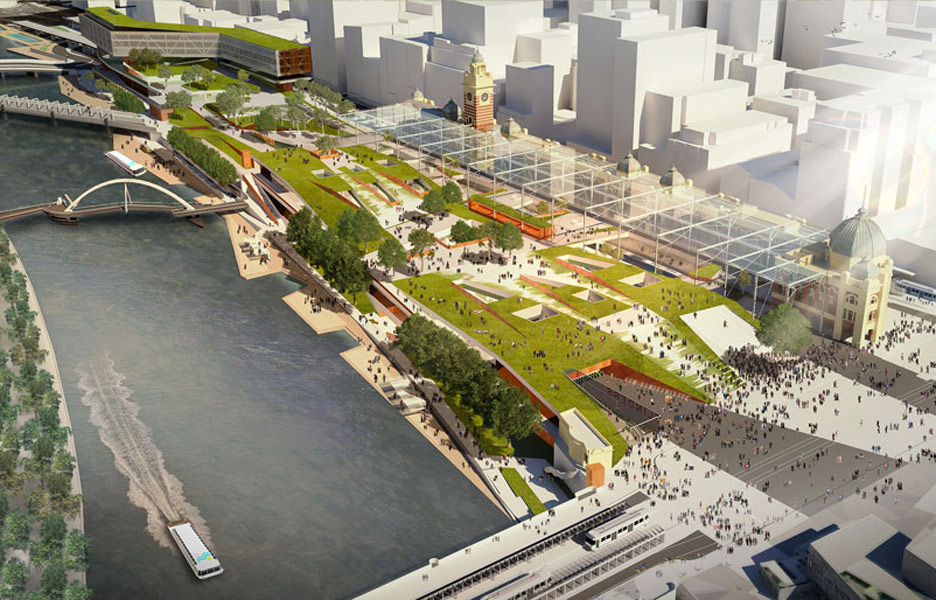 Minister for Major Projects, David Hodgett, said it was a "fairy tale win" for the trio, who competed against established local and international names to win the People's Choice Award.  Based on comments lodged with online votes, Hodgett said the open park provided on the roof of Velasquez, Pineda and Medina's submission, and the ways it integrated with Federation Square, proved particularly popular.
The People's Choice Award was decided by public votes cast online over a two-week period. The process attracted 18,974 voters from people in 161 countries, said Major Projects Victoria in a statement.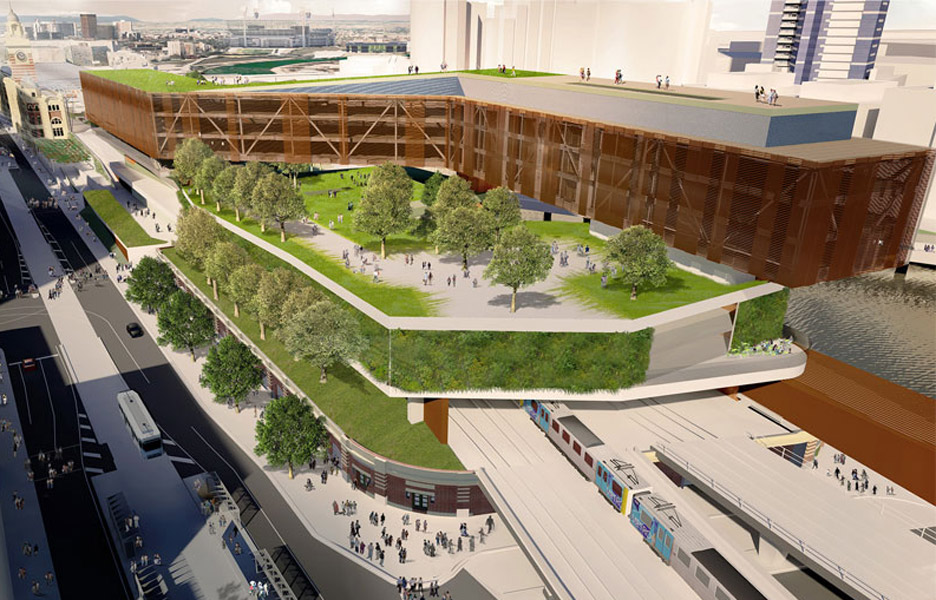 John Wardle Architects and Grimshaw came second in the People's Choice Award, while the judges' winner, HASSELL + Herzog & de Meuron, came third. NH Architecture came fourth, with proposals by Ashton Raggatt McDougall and BVN Donovan Hill with Zaha Hadid Architecture coming fifth and sixth respectively. (Read more about the six shortlisted proposals here.)
The competition jury was chaired by Victorian Government Architect, Professor Geoffrey London, with Professor Rob Adams from the City of Melbourne, John Curtis from the property industry, architect Cassandra Fahey, heritage specialist Peter Lovell, Gillian Miles and Corinne Cadilhac from the Victorian Department of Transport, Planning and Local Infrastructure, international architects Caroline Bos (stage 1) and Louisa Hutton (stage 2) and chef George Calombaris.
Following the announcement, all 118 submissions to the first stage of the competition (which closed in October 2012) have been published online. View all submissions at vote.majorprojects.vic.gov.au/entrants