In a fabulous old warehouse in Surry Hills, designEX exhibition manager, Kobe Johns breathed fresh and joyful excitement into designEX 2014 with several pivotal announcements. First, a change of location to Glebe Island. A peninsular, rather than an actual island, the new location is as large as the Convention Centre, but with a grittier engagement with Sydney's harbour and the grandeur of Anzac Bridge.
It is a stunning choice of location and its announcement in a warehouse seemed fitting, in that it serves as a reminder of the roots of design and the actual processes behind the showroom results.
Next Johns announced a whole rethink of the talks program, which, as she acknowledged, was overly long last year. 2014 will see a sleek three-day program comprising talks and workshops designed to realise the concepts discussed in a fluid progression of the day.
Drum roll… The keynote speaker for 2014 is Lidewij Edelkoort. Reputed as the leader of trend forecasting, Edelkoort will present her much anticipated 2015 forecast. Margriet Vollenberg and Margo Konings of Dutch practice Organisation In Design, will speak about the Australian and New Zealand design exhibition, The Other Hemisphere, which they co-curated with Australian designer and curator, Sarah K, and which will be presented at Ventura Lambrate in Milan 2014.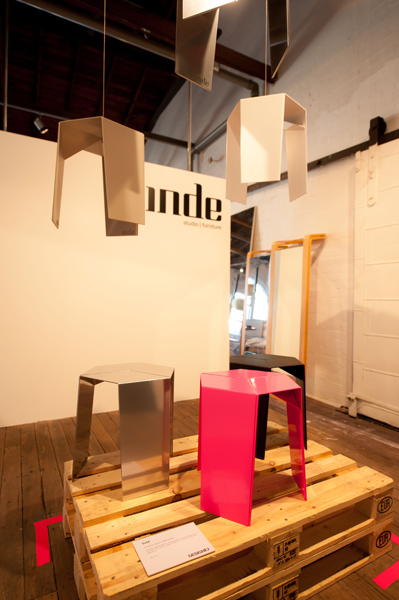 Drawing on furniture displayed in last year's Nest, curated by Anne-Maree Sargeant, the designEX launch served as a timely reminder of the excellent calibre of design being produced in Australia. Dowel Jones's lamp, Mr. Dowel Jones, for example is impressive for its combined simplicity and elegance. Adam Cornish's work for Alessi, Trinity, was very generously displayed by Cornish to reveal the process from prototype through production to final product, and beautiful it is.
Jonathan Ingram's (INDE Studio) furniture was another excellent inclusion, with his hot pink folded metal stool, Fold, a favourite.
Perhaps the announcement most likely to bring a smile to the lips of designers and clients alike is the collaboration between Corporate Culture and George Livissianis (Apollo and Longrain). Great food, great design – what more could you want!
For more information, visit: www.designex.info