Sign up for our newsletter
There are few designs more definitively Danish than Poul Henningsen's PH Artichoke lamp of the 1920s. This, along with the PH5 are quintessential to the meld of pragmatic solution and pared back aesthetics this great nation of design embodies. Similarly Kay Bojesen's flatware from the same period is refined, balanced, elegant and a pleasure to use. Almost a century later both Henningsen and Bojesen are enjoying a renaissance with Louis Poulsen Lighting revisiting the PH range in fresh colours, while Bojesen's granddaughter has reissued the foundational range to critical review. Arne Jacobson's Swan and Egg chairs of the 50s are similarly applauded and remain as comfortable as they are sculpturally resolved.
Within a curatorially designed exhibition espousing the virtues of Danish design, these objects certainly have a place of great import. The convolutions of the exhibition, however, are overly dense making little sense of the why. To clarify, the exhibition is sponsored by The Danish Agency for Culture and Ministry for Foreign Affairs of Denmark, with the Sydney Opera House, the Danish Arts Foundation and The Danish Trade Council as partners. Compounding this is the need to exhibit trade, craft, art and icon, while simultaneously presenting a departure from trade show style exhibition.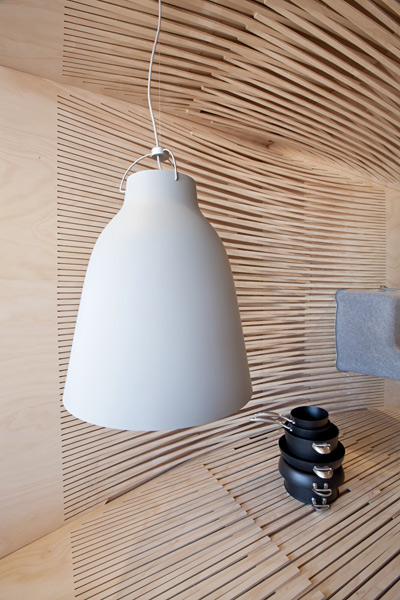 Australian architect, Gerard Reinmuth (Terroir) was selected as co-curator with Karen Kjærgaard of Denmark. Focusing in the Jørn Utzon designed western windows of the Opera house as the exhibition space. In keeping with Reinmuth's advocacy for cross-generational practice, six young architects were engaged to each create a themed display that draws from a range of objects crossing a century of Danish design. To these, a lamp and piece of art were added, while the hall itself hosted various furniture. These convolutions aside, the objects and innovations themselves are independently of an exceptional calibre, as are the architects and curators involved.  The Onecollection Council Chair (2011) for example is a delightful contemporary take on the classic form of Danish seating, as is Hay's Nobody Chair (2010) available through Corporate Culture. The contemporary lighting from Lightyears (Corporate Culture) is also exceptional, particularly the Caravaggio Lamp (2005) displayed in Claus Pryds' Pragmatism window.
Interestingly, where the number of objects to be displayed was the least, the result is the most adamant statement of Danish design. For example, in the Materiality display, Thomas Bo Jensen has created a simple stepped box to pedestal the exhibited objects. In breaking the central void, Bo Jensen creates an intimate and inviting space. Moreover, it allows Fritz Hansen's Swan Chair (Corporate Culture), a bespoke carpet by ege (Spence & Lyda), an orange and black Bering -3˚ L Sleeping Bag (2011) and the PH5 lamp in olive and black from Louise Poulsen Lighting (Living Edge) to be showcased in a dialogue of simple sculptural forms, that allows each to shine.
Danish Design At the House is on view in the western foyer of the Sydney Opera House until November 11 to coincide with the 40 year celebrations of Utzon's design.
40.sydneyoperahouse.com/danish_design_at_the_house.aspx
Based around King Living's engineered steel frame, the new Zaza sofa blends form and function with detachable backs and arms.