Above: The tinsel chandelier at the King Kong after party by Creative Services and CONFETTISYSTEMS. Photo by Shannon Morris
Inspired by the twinkling, light-covered houses that line Melbourne's streets at Christmas time. Arts Centre Melbourne has commissioned renowned production designer and artist Christian Wagstaff to create Deck the Houses.
Arts Centre Melbourne's lawn will be the site of a new Christmas cottage installation Deck the Houses from Wednesday 20 November 2013 to Sunday 5 January 2014.
Reminiscent of the popular Bouquet gladioli installation in July 2012, the free pop-up artwork that promises to be a visually spectacular art installation featuring a metallic mirrored house frame, which will then be decorated with illuminating Christmas lighting concepts.
Debuting in 2013, Deck the Houses will be an ongoing annual Christmas event. Over the next three years different artists will be commissioned to add to the outdoor installation, which will eventually grow and expand into an entire Christmas village on Arts Centre Melbourne's lawn.
As a child, travelling between his parents' homes in Blackburn and St Kilda on the tram, Wagstaff witnessed the construction of Arts Centre Melbourne and would often reimagine the rooms of his childhood home as theatres. Deck the Houses is a reference to Wagstaff's childhood and is a chance for him to recreate the 'theatrical' house of his youth on the site that inspired his love of the theatre.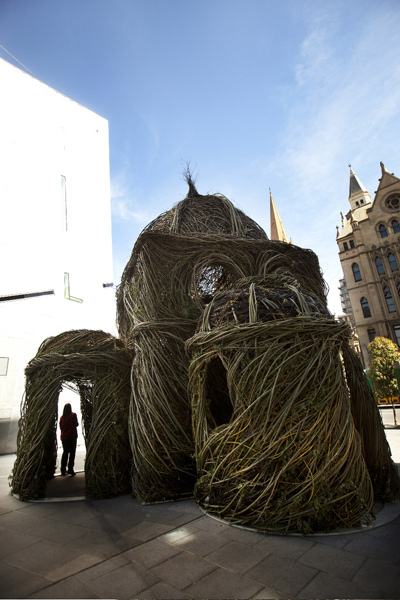 Recently, Wagstaff's company Creative Services collaborated with US designer Patrick Dougherty to create Stickwork – a cartoonish castle constructed out of woven sticks, reeds and branches – which was on display at Federation Square in late 2012. In 2013, Wagstaff also collaborated with US-based CONFETTISYSTEMS to create the tinsel chandelier, which formed the New York City skyline out of hanging slivers of tinsel, at the King Kong after party.
Christian Wagstaff's creative career, beginning at the age of 18, spans 22 years in the industry. Over that time,  Wagstaff's work has encompassed art projects, film and television, live theatre, special events, attractions and interior design projects for world-renowned organisations, including the Spring Racing Carnival, Crown Casino and the King Kong hand installation at Eureka Skydeck.