Article by Online Editor
Designer
Above: Translational Research Institute by Wilson Architects + Donovan Hill (Architects in Association). Photo by Christopher Frederick Jones
Winners of the 2013 Brisbane Regional Architecture Awards were announced on Friday at the Brisbane Convention and Exhibition Centre.
One One One Eagle Street by Cox Rayner Architects and the Translational Research Institute by Wilson Architects + Donovan Hill (Architects in Association) were jointly awarded the John Dalton Building of the Year Award along with regional commendations.
Forming the centrepiece of a trio of towers marking the renowned precinct, originally masterplanned by Harry Seidler, Cox Rayner's riverside commercial tower won the jury over.
"This project ingeniously resolved complex planning constraints to realise a highly engaging and distinctive architectural centrepiece. The organic structural-led design solution overtly expresses itself to create a uniquely sculptural building that transcends normal commercial imperatives and delivers an exemplary new landmark tower," noted the jury.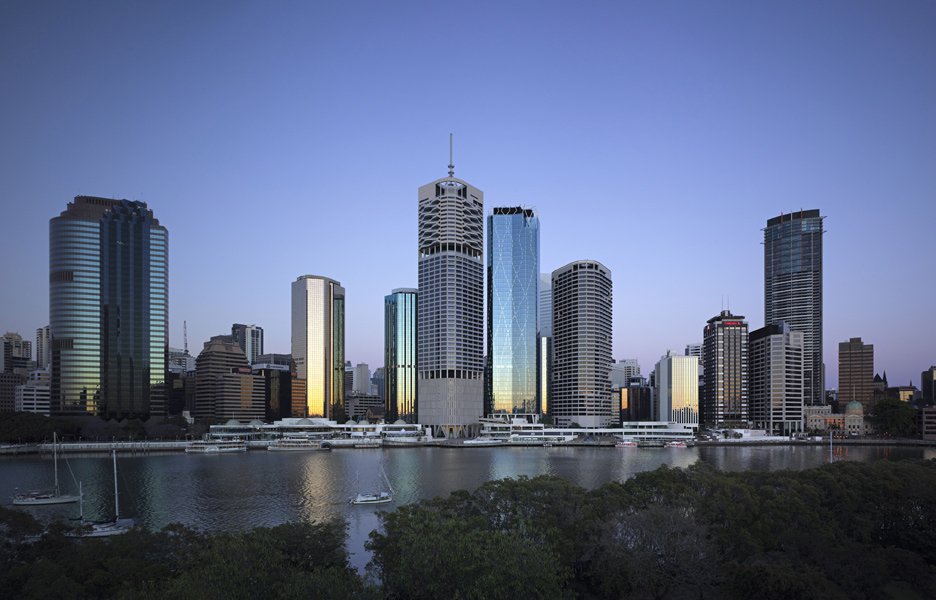 The Translational Research Institute by Wilson Architects + Donovan Hill (Architects in Association) features a landscaped outdoor room, providing respite from the intensity of research.
"A great sense of generosity and enjoyability is ingrained into every aspect of this laboratory building. It offers a series of lavishly-crafted spaces across a range of scales that redefine not only the cramped campus in which it is located, but also the laboratory building typology itself," said the jury.
Loucas Zahos Architects' Taringa House received the House of the Year Award as well as a regional commendation. An original worker's cottage, Taringa House has been expanded with a juxtaposed new addition by Loucas Zahos Architects to accommodate family activity while retaining the traditional frontage, to allow the home to remain firmly settled in the existing street fabric.
"A dramatic sectional idea connects an original timber cottage to the lost terrain of the back yard gully superbly. Drawn down into the site one is introduced to a grounded double height space elegantly sitting into the adjacent landscape. A beautifully crafted house displaying sophisticated tectonics with simplicity and warmth," said the jury.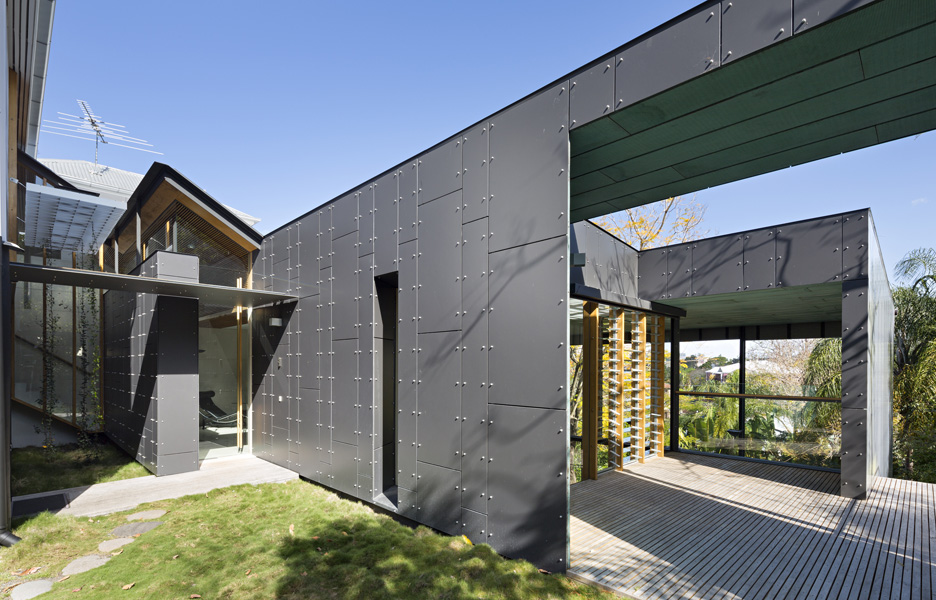 Queensland 2013 Awards Jury Director, Mark Damant, and Regional Jury Coordinator, Sarah Rush, presented the Regional Commendations to Brisbane winners at the Awards ceremony at the Brisbane Convention and Exhibition Centre. Fifty-one entries from the original 95 entered were awarded regional commendations on the night, and will now progress to the Queensland Architecture Awards taking place in Brisbane on 21 June.
See below for the full list of award recipients and regional commendations:
JOHN DALTON BUILDING OF THE YEAR AWARD
One One One Eagle Street, by Cox Rayner (joint winner)
Translational Research Institute, by Wilson Architects + Donovan Hill (Architects in Association) (joint winner)
HOUSE OF THE YEAR AWARD
Taringa House, by Loucas Zahos Architects
REGIONAL COMMENDATIONS
PUBLIC ARCHITECTURE
BCEC on Grey Street, by Cox Rayner Architects
Fitzgibbon Community Centre, by Richard Kirk Architect
Holy Family Multipurpose Hall, by Ferrier Baudet Architects
Queen Elizabeth II Courts of Law, by Architectus in association with Guymer Bailey Architects
Translational Research Institute, by Wilson Architects + Donovan Hill Architects in Association
URBAN DESIGN
Finding Country Exhibition 13th Venice Architecture Biennale 2012, by Kevin O'Brien Architects in association with the Finding Country Collective and Venti di Cultura
SW1 South Bank, by Cox Rayner Architects in association with several architects on individual buildings including Bureau Proberts Allen Jack & Cottier JMA Architects and Haysom Architects
COMMERCIAL ARCHITECTURE
ABC Brisbane Accommodation Project, by Richard Kirk Architect
Circa CT1, by Arkhefield
Energex Headquarters, by Cox Rayner Architects in association with BVN Donovan Hill
Kane Constructions Office, by Marc&Co Architects and COARCHITECTURE
Motorama Moorooka, by W.I.M Architects
One One One Eagle Street, by Cox Rayner Architects
Wesley House, by Fulton Trotter Architects in association with Architectus
RESIDENTIAL ARCHITECTURE – HOUSES
Archibald Street House West End, by Kevin O'Brien Architects
Bisley Place House, by James Russell Architect
Cedar Creek House and Studio, by Bligh Graham Architects
Chelmer House, by Bligh Graham Architects
NA House Fairfield, by Reddog Architects
One Wybelenna, by Shaun Lockyer Architects
Taringa House, by Loucas Zahos Architects
RESIDENTIAL ARCHITECTURE – MULTIPLE HOUSING
Brisbane Common Ground, by Nettletontribe
Constance Street Affordable Housing, by Cox Rayner Architects
Richmond Apartments, by MODE DESIGN Corp
The Village at Coorparoo, by S3
SMALL PROJECT ARCHITECTURE
Boston Street House, by James Russell Architect
Cloud Mountain – Stage for the National Architecture Conference 2012, by PHAB Architects
Keperra House, by A-CH (Atelier Chen Hung)
New Farm Studio, by Bligh Graham Architects
Newmarket Valley-House, by Owen and Vokes and Peters
Trellis House, by Aardvarc
Unit 23, by Daarc
West End Ferry Terminal, by Cox Rayner Architects
INTERIOR ARCHITECTURE
Circa Energex NMO, by Arkhefield
Energex Newstead Riverpark Workplace, by BVN Donovan Hill in association with Cox Rayner
Gadens Lawyers, by Hassell
One One One Eagle Street Foyer, by Cox Rayner Architects
Queensland Museum Refurbishment, by Cox Rayner Architects
Translational Research Institute, by Wilson Architects + Donovan Hill Architects in Association
SUSTAINABLE ARCHITECTURE
Brisbane Common Ground, by Nettletontribe
Chelmer House, by Bligh Graham Architects
Constance Street Affordable Housing, by Cox Rayner Architects
m3architecture office, by m3architecture
One One One Eagle Street Foyer, by Cox Rayner Architects
Translational Research Institute, by Wilson Architects + Donovan Hill Architects in Association
Trellis House, by Aardvarc
PRIZE FOR ART & ARCHITECTURE
400 George Street Foyer Art and Architecture, by Cox Rayner Architects
BCEC on Grey Street, by Cox Rayner Architects
Queen Elizabeth II Courts of Law, by Architectus in association with Guymer Bailey Architects
Queensland University of Technology (QUT) Kelvin Grove Library Upgrade – Book Canopy, by Peddle Thorp in association with James Cubitt Architects
Webber House Walkway Screen, by Michael Kennedy