Article by Online Editor
Designer
Sign up for our newsletter
Some of Australia's largest and most high-profile architecture practices have been included in a 'top 100' global survey of the world's architecture firms. Practices including HASSELL, Woods Bagot, HBO + EMTB and Cox Architecture were named in the World Architecture 100 (WA 100), a compendium of the world's biggest practices, compiled by UK-based magazine Building Design.
Woods Bagot was the highest ranked Australian practice by size and the strongest on a global stage – making the top ten regional lists (ranked by regional income) for Australasia, Central Asia, Central and Eastern Europe. However on the regional scale, HASSELL was revealed to be the largest earners in the Australasian region – earning US$94m, almost double that of second-placed Woods Bagot (US$53m).
Top 100 by size
In the table for Top 100 Architects, with rankings determined by the number of architects employed at each firm, Woods Bagot was the highest placed Australian firm – ranked 14th in the world with 581 architects employed and an annual fee income of US$130-139m. HASSELL sits in 30th position on the same table and is the second largest Australian practice, employing 384 architects and earning an annual fee income of US$110-119m.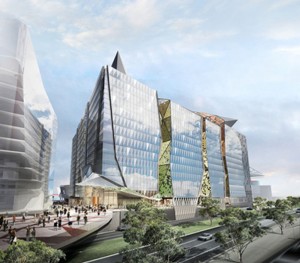 HBO + EMTB came 38th on the global list and 3rd locally, with 283 architects employed and a fee income of $80-89m, while Cox Architecture sits in 45th position with 232 architects employed and a fee income of $60-69m.
The Buchan Group was a new appearance on the WA 100, ranking fifth in Australia and 75th overall with 135 architects employed. Also included were Suters Architects (ranked 81st, with 119 architects employed and a fee income of $20-29m) and Thomson Adsett Architects (89th, 100 architects employed, fee income of $20-29m).
Regional Rankings
In the Regional Top 10 – ranking practices according to earnings in the region – HASSELL was the number one practice, with a fee income of US$94m. Woods Bagot came second with US$53m, followed by Cox Architecture (US$51m), HBO + EMTB (US$28m) and Suters Architects (US$20m). Non-local practices completing the list of top Australasian earners included Populous, Archetype Group, Foster & Partners, HKS Inc, Leo A Daly and DWP.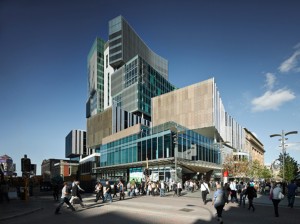 Market Sectors
In terms of market sectors, with rankings determined by income per sector, HASSELL was included in the top 10 for Business Parks/Offices, Criminal Justice, Transportation and Urban Design. Meanwhile, Woods Bagot were listed in the top ten for Business Parks/Offices, Cultural, Defence, Hotels, Leisure and Masterplanning.
Compiled annually, the Building Design World Architecture Survey reports on the biggest global architecture firms. All rankings are compiled using data and information supplied by participating practices. The full survey ranks firms by size and income (recording both global and regional earnings), as well as by sector and expertise. For information on the WA 100, visit www.bdonline.co.uk/wa-100
Main image: HASSELL, EcoSciences Precinct, Brisbane QLD. Photo by Christopher Frederick Jones
unltd is a new lighting technology by ambience, which allows creative lighting possibilities that have never been possible before.