Article by Online Editor
Designer
Above: Gibbons Rent laneway project opening party. Photo by Mickey Lee.

Taking place in a previously neglected area of inner London, the Gibbons Rent laneway project – designed by young Australian architect Andrew Burns in collaboration with British landscape designer Sarah Eberle – opened the London Architecture Festival on the weekend to wide acclaim.
Drawing inspiration from laneways in inner Sydney and Tokyo, the project is an exercise in the regeneration of an 85-metre-long cut-through known as Gibbons Rent, providing useful lessons in how to build communities for inner city councils around the world.
"Particularly in urban areas, people are hungry for the connectedness that nature represents," says Sydney-based Burns, who won a competition in May to develop the project. "What we have done is create a clear structure or geometry – we call it a harlequin – which then provides the opportunity for the community to engage with and embellish the geometry and complete the scheme."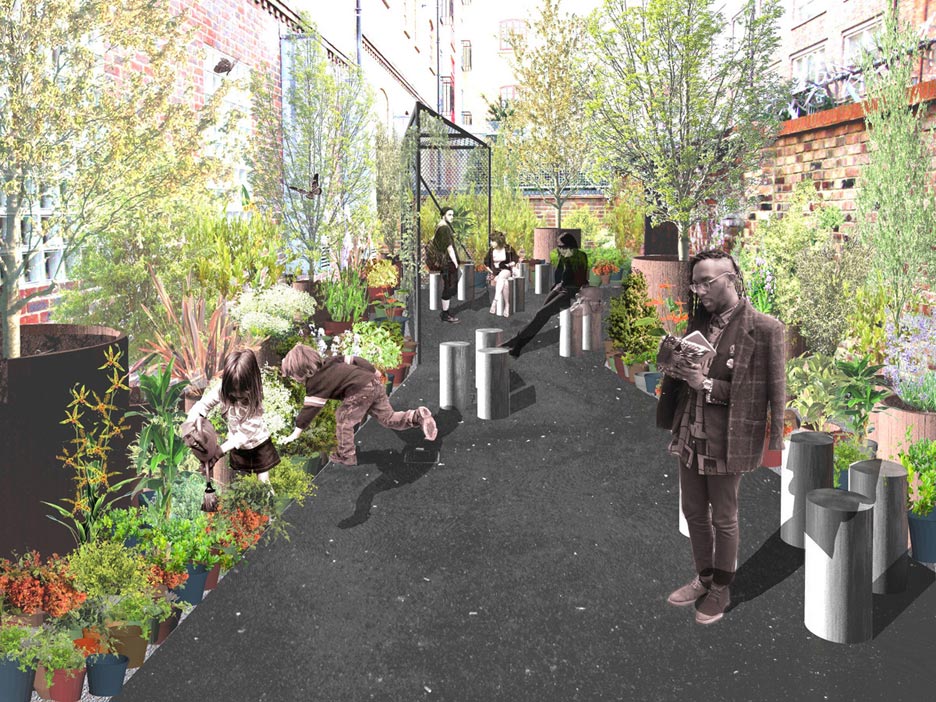 Large pots are places throughout the laneway, planted with trees and other foliage, and the local community is invited to come in and complete the scheme. Schools, businesses and community groups are encouraged to each bring a pot and plant it under the guidance of Sarah Eberle.
"I see this 'strategy of incompleteness' – this invitation to the community to engage with and complete the project – as critical. It is something that is most often overlooked by councils and property developers. As a result, the outcome usually excludes people rather than engages them," says Burns.
The project will become a permanent community garden, with the space also set to host events, food stalls and market gardens later in the year.
Director of The Architecture Foundation in London, Sarah Ichioka, says of the project: "It is a core part of our mission to improve the quality of the built environment, and the Gibbon's Rent transformation will do just that, making a positive, playful and permanent contribution to this hitherto neglected corner of London."
The project was made possible with the support of Team London Bridge, Southwark Council, The Peter De Haan Charitable Trust, NSW Architects Registration Board and Farebrother Chartered Surveyors.
The London Architecture Festival closes on Sunday 8 July.