With clients as prestigious and diverse as Zaha Hadid, Luciano Giubbilei, Xavier De Chirac and Andy Sturgeon, this family-run Belgian company is going from strength to strength. At heart is a deeply ingrained quality intrinsic to the handcrafted materials from which the large-scale sculptural forms are created.
Using unglazed German clay that has been naturally coloured with oxide, each iteration has a shape, texture, weight and density of colour that is unique. This is further enhanced by the designed surface and shape being informed by the strong parental personalities of Annette and Willy Janssens.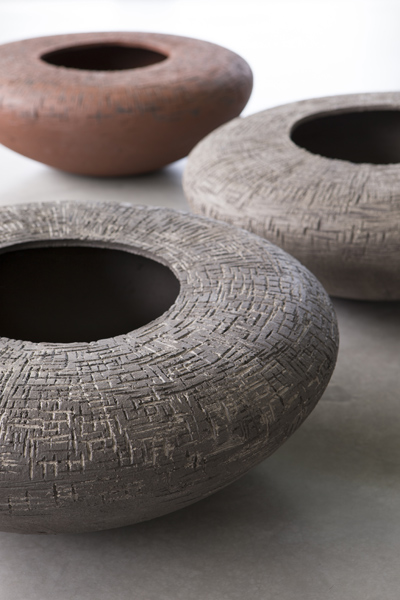 Effectively, the curved forms and surface work are created by Annette, while the straight lined and hard edged work is courtesy of Willy. The strong signature of Annette's surface gestures is of singular importance in the design. Free of stylistic or figurative elements, there is no strong association with any period, thereby allowing the work a timelessness necessary to such large pieces. Moreover, the unglazed surface, when marked in such a fashion, raises ridge lines of textured material that add further depths of colour and nuanced shade to the surface.
Dries and Ward Janssens joined their parents in the family company more than a decade ago and have since expanded the range to include both bespoke architectural commissions and a selection of ready-made objects.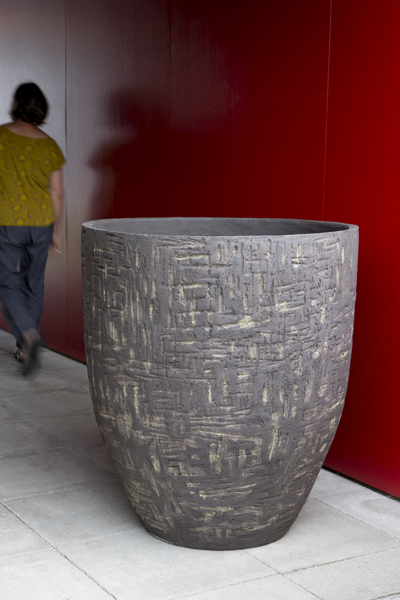 The range of possibilities is virtually unlimited. For example, the Atelier design team – including Willy, Annette and Pierre Vanherrewege – has designed and crafted round sculptural forms in a variety of sizes to be used as seating. It has also created a spectacular spa bath for the Backstage Hotel in Zermatt, Switzerland and planters of enormous dimensions to visually anchor a grand private residence in Abu Dhabi (Italian architect, Deborah Trombetta).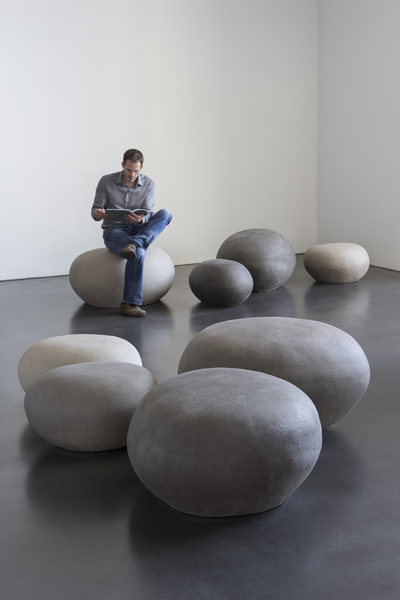 Interestingly, the Abu Dhabi project required a brighter white than the grey tone of the established range and, at the architect's request, a bespoke colour was created. The resultant colour is a beautiful shade of creamy glowing white and arguably better suited to warmer climates. It has now been added to the range. The ready-made products comprise a range of moderate-sized planters in a variety of textures, shapes and tones. This range has recently been expanded with the Max series of oversized planters – the creation of which required technical issues to be resolved, as well as those of a standardised aesthetic. Technically, the process requires the steady control of a large mass of clay through handcrafting before drying and firing, which takes three days.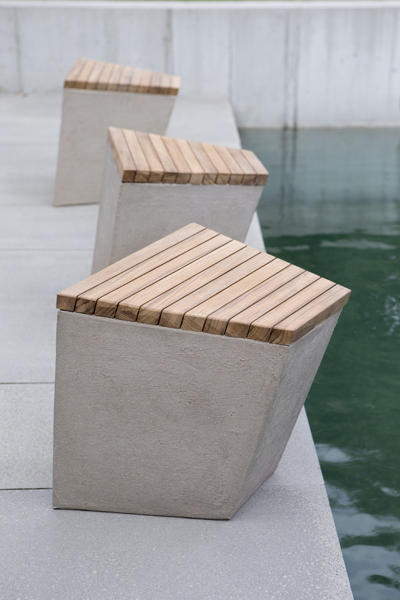 Atelier Vierkant remains an entirely family-run operation with every project addressed directly by Dries and Ward from initiation to the delivery phase. During the creative phase, architects are invited to the atelier to work directly with Annette and Willy to learn what the material is capable of doing and what limits can be pushed.
As Dries Janssens explains, "My father says to try something new. If it doesn't work, no matter, you have still learned something for next time." He also points out that while he and his brother are travelling, the phone in the atelier will generally be answered by his father.
For more information, or to contact these incredible craftspeople, please visit www.ateliervierkant.be.