Article by Online Editor
Designer
Subscribe to Our Newsletter
The Royal Children's Hospital in Melbourne by Billard Leece Partnership and Bates Smart has been awarded with top honours at the Australian Interior Design Awards (AIDA), receiving the Premier Award for Interior Design Excellence and Innovation at the 2012 awards.
The ninth annual awards were announced at a ceremony at Doltone House in Sydney on Friday 27 April. In all, 15 awards were presented – with Victorian projects winning many of the top prizes.
More than 100 architects and interior designers were involved in the delivery of the new Royal Children's Hospital in Melbourne (main image, photo by Shannon McGrath). Taking design cues from the neighbouring Royal Park, the interior of the new hospital acknowledges the beneficial role of nature in the healing process – and offers children a tactile and engaging environment. Jurors praised the project's ability to "extend the experience of the power of interiors into the public realm further than any other project this year". In addition to the Premier Award, Billard Leece Partnership and Bates Smart's project was also honoured in the Colour in Commercial Design and Public Interior Design categories.
Elenberg Fraser's design for Vue de monde – Shannon Bennett's restaurant on the 55th floor of the Rialto tower in Melbourne – was the winner of the Sustainability Advancement Award, with jurors noting the restaurant's approach to handling food waste as well as the focus on sourcing locally produced furniture. The project was also the recipient of the Hospitality award.
HASSELL's Chasing Kitsune, a pop-up food truck serving Japanese food and drink during Victoria's 2011 State of Design Festival, was presented with the Installation Design Award, while the winner of the Workplace Design Award was Russell & George for Paper Stone Scissors – a graphic design studio, also in Melbourne.
Sydney projects proved stronger in the residential categories, with Anthony Gill Architects' Potts Point Apartment and Smart Design Studio's Tusculum St terrace, both located in Sydney, sharing the Residential Design Award. Smart Design Studio were also victorious in the Colour in Residential Design category, while Atticus & Milo's Huntingtower in Hawthorn, Melbourne was the winner of the Residential Decoration Award.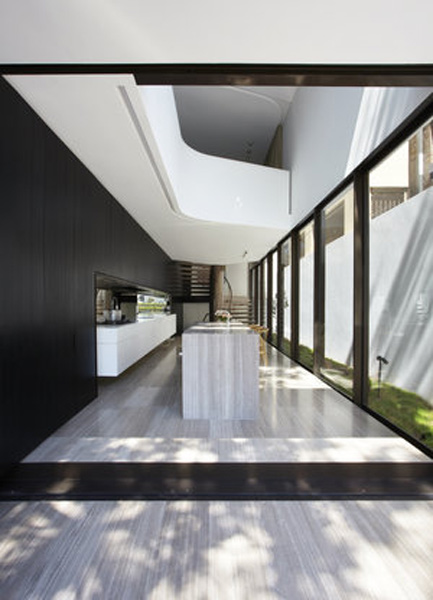 For the second time in six months, Anthony Gill was recognised in the Emerging Interior Design Practice category – after also receiving the IDEA 2011 Emerging Designer Award last November.
Two international projects were honoured this year. Hecker Guthrie's Graze & Kha restaurant in Singapore was named Best International project, while Landini Associates' Loblaws Maple Leaf Gardens food store in Canada was the winner in the Retail Design category.
The AIDA is an annual awards program co-presented by the Design Institute of Australia (DIA), designEX and Artichoke magazine.
PREMIER AWARD FOR INTERIOR DESIGN EXCELLENCE AND INNOVATION
Billard Leece Partnership and Bates Smart, The Royal Children's Hospital, VIC
SUSTAINABILITY ADVANCEMENT AWARD
Elenberg Fraser, Vue de monde, VIC
RESIDENTIAL DESIGN AWARD
Anthony Gill Architects, Potts Point Apartment, NSW
Smart Design Studio, Tusculum St, NSW
Commendation
Noxon Giffen, Manning Road House, VIC
Clare Cousins, Brick House, VIC
Robert Mills Architects, Sorrento, VIC
Carr Design Group, South Yarra Residence, VIC
RESIDENTIAL DECORATION AWARD
Atticus & Milo, Huntingtower, VIC
Commendation
Greg Natale Design, Astor Apartment, NSW
Bates Smart, V6 Concavo Display Suite, VIC
RETAIL DESIGN AWARD
Landini Associates, Loblaws Maple Leaf Gardens, Canada
Commendation
The Uncarved Block, Melbourne Central, VIC
The Uncarved Block, The Galeries Victoria, NSW
Matt Gibson Architecture + Design, Oscar & Wild, VIC
HOSPITALITY DESIGN AWARD
Elenberg Fraser, Vue de monde, VIC
Commendation
Hecker Guthrie, The Old Library, NSW
SJB Interiors (NSW), Scarlett Restaurant, NSW
Russell & George, Mister Close, VIC
Matt Gibson Architecture + Design, Ramen Ya, VIC
Anthony Gill Architects, Berta Restaurant and Bar, VIC
Travis Walton (interior design) and Rohan Newman (graphic design), Pretty Please, VIC
WORKPLACE DESIGN AWARD
Russell & George, Paper Stone Scissors, VIC
Commendation
Hola Projects, Skilled Medical, VIC
here studio, Hub Melbourne, VIC
Group GSA, Credit Suisse, NSW
HASSELL, George Patterson Y&R, VIC
Oxigen with Woods Bagot, Oxigen, SA
PUBLIC INTERIOR DESIGN AWARD
Billard Leece Partnership and Bates Smart, The Royal Children's Hospital, VIC
Commendation
Searle x Waldron Architecture, Annexe – Art Gallery of Ballarat, VIC
McBride Charles Ryan, PEGS Junior School for Boys, VIC
INSTALLATION DESIGN AWARD
HASSELL for Chasing Kitsune, VIC
Commendation
DesignOffice, Nishi Display Suite, ACT
Liminal Spaces, The Barbarians, TAS
A-CH (Atelier Chen Hung), Scrumptious Reads, QLD
COLOUR IN RESIDENTIAL DESIGN AWARD
Smart Design Studio, Tusculum Street, NSW
Commendation
Russell & George, Stepped House, VIC
Thomas Jacobson, Paddington Terrace, NSW
COLOUR IN COMMERCIAL DESIGN AWARD
Billard Leece Partnership and Bates Smart, The Royal Children's Hospital, VIC
Commendation
Regional Associates, Kyambura Lodge, Uganda
Searle x Waldron Architecture for Annexe – Art Gallery of Ballarat, VIC
Elenberg Fraser, Vue de monde, VIC
Travis Walton (interior design) and Rohan Newman (graphic design), Pretty Please, VIC
EMERGING INTERIOR DESIGN PRACTICE AWARD
Anthony Gill Architects, NSW
Commendation
Studio Moore, VIC
Travis Walton, VIC
Ten23 Architects, VIC
BEST OF STATE – RESIDENTIAL DESIGN
NSW – Anthony Gill Architects, Potts Point Apartment
Qld – Renato D'Ettorre Architects, Azuris
Vic – Robert Mills Architects, Sorrento
WA – rad architecture, Brisbane Street Additions
SA – William Burton Architects, North Adelaide Residence
BEST OF STATE – COMMERCIAL DESIGN
NSW – The Uncarved Block, The Galeries Victoria
VIC – Billard Leece Partnership and Bates Smart, The Royal Children's Hospital
WA – CODA Studio, CODA Studio
ACT – DesignOffice, Nishi Display Suite
SA – Oxigen with Woods Bagot, Oxigen
QLD – A-CH (Atelier Chen Hung), Scrumptious Reads
TAS – Liminal Spaces, The Barbarians
BEST INTERNATIONAL
Hecker Guthrie, Graze & Kha, Singapore